I wondered why the Elders Ensemble program so consistently portrayed the elders as somber and withdrawn. There's a strange sort of reflexive ageism in the notion that old people don't live actively in the present.
The Bang Group's Dance Now/Boston at Oberon, 2 Arrow Street, Cambridge, MA on May 7. Elders Ensemble of Prometheus Dance at the Dance Complex, Mass. Avenue in Cambridge, MA (closed)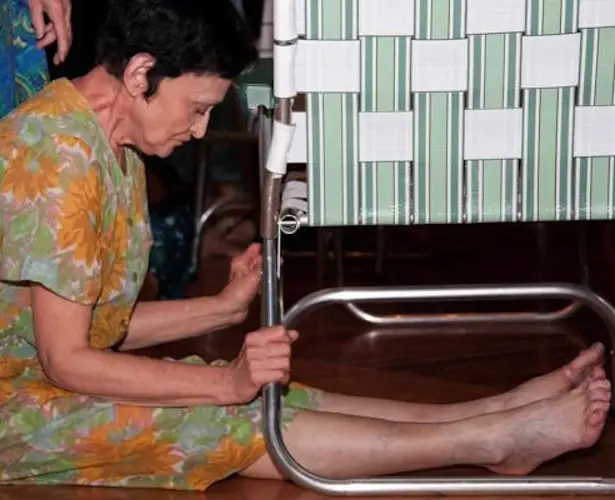 by Marcia B. Siegel
Dancing has opened up a lot in the last few decades, to include people who never meant to dance and those who have little access to it. A simple movement vocabulary of gesture, locomotion, and gamesmanship has developed to challenge newcomers without requiring them to master a lot of technical feats. Dance for people can look simplistic or juvenile, but it can also be profound.
The Elders Ensemble of Prometheus Dance marked its 10th anniversary at the Dance Complex over the weekend with a performance by the nine Elders dancers, plus younger members of Prometheus. The dances were choreographed by Prometheus co-directors Diane Arvanites and Tommy Neblett, and by Elders member Anne Tolbert. All of them seemed to take place in the women's minds — as reflections on the past or premonitions of the future.
The most vigorous dancing was supplied by the younger contingent, but several of the Elders looked able to shake a leg themselves. At moments, evoking their past seemed to impel bursts of high energy, but more often they engaged in soft meanders and consoling gestures.
In Neblett's The Past is a Foreign Country, five Elder women performed individual gestures, which later seemed to become the basis for traveling movements and ways of relating to the others. Four younger women danced to folk music from various Eastern European countries, perhaps representing memories to which their older selves were bidding farewell. Escape Artist and Memory had similar themes.
Anne Tolbert's Other Rooms was inspired by a landmark of late modern dance, Anna Sokolow's Rooms from 1955. Again, the women inhabited separate spaces, tried to relate, saw visions of themselves as seductive young dancers. A band of faceless black-clad figures trudged across the background a couple of times. I thought of them as the women's future ghosts.
The poignant closing piece, co-choreographed by Arvanites and Neblett, showcased the Elders, each with her own beach chair, moving through the space to miscellaneous reminiscent music. They each gave a small monologue, beginning with "When I was a little girl. . ." that told something about their lives and careers. Then they exited one by one, leaving the empty chairs behind.
I wondered why this program so consistently portrayed the elders as somber and withdrawn. There's a strange sort of reflexive ageism in the notion that old people don't live actively in the present. But Arvanites and Neblett did make a rousing dance for the Elders in 2011; they were still performing Parish Blues a couple of years ago. It's available on YouTube in case anyone would like to see the stereotype overturned.
Last year David Parker, a Boston native who's still involved in the dance life here, started producing a cabaret series called Dance Now/Boston. He brought his company, the Bang Group, from New York, and invited a couple of local choreographers to contribute. This year the series was expanded to four performances, with works by locals Peter DiMuro, Courtney Peix, and Cathy Young, and a guest artist from New York, Deborah Lohse. The repertory was different for each performance; I attended the Sunday matinee before heading up the line to the Complex.
Parker and his Bang partners, Jeff Kazin, Amber Sloan, Nik Petry, and Tommy Seibold, are not only accomplished dancers but smart stylists. They've glossed iconic ballets, musical comedies, and popular song. Their irreverent but loving dances incorporate characters and lyrics we all know, inviting us to recognize the references and share the fun.
Two years ago, Parker got interested in seeing if he could set tap dancing on other rhythmic sources besides conventional jazz, pop, or ballet music. He started with Steve Reich's severe and brainy "Clapping Music." Now he's onto Morton Feldman. Sunday the Bang dancers previewed Quartet for Tap Dancers, a work-in-progress based on Feldman's "For John Cage," for piano and violin. Introducing it, Parker noted that Feldman's changing metres and deliberate silences were a source of new tap ideas. Instead of actually playing the music, the company danced it.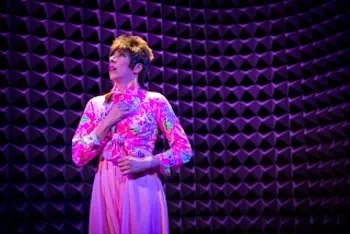 Starting with bare stepping, pivot turns, gestures of the arms and torso, the dance at first reminded me of Twyla Tharp's 1970 The Fugue, an intricate trio in silence that drew your attention to movement themes and variations. But Parker's Quartet soon escalated into slides and more complex traveling phrases, and became more than compositional virtuosity. Like Feldman's unheard music, the dance consisted of short phrases with pauses in between. Sloan and Kazin heaved into slow motion and continued moving head to head. Nik Petry tapped while doubled over on his hands and feet. No sustained rhythm developed, but as you listened to the tapping, you could hear conversations, choruses, music almost.
In Oberon's tiny stage and cabaret setting the Bang Group shows can look more like skits than full-out dances. Sunday brought a showing of Peter DiMuro's Mambo Italiano, with DiMuro as a genial host at a spaghetti joint and Nicole Pierce, Irene Lutts, and Michael Figueroa as the patrons, mostly accompanied by hackneyed Italian pop songs. The Bang dancers previewed a piece based on famous movie numbers like "All I do the whole night through is dream of you," with Allison Manning recalling Debbie Reynolds in Singin' in the Rain as a cutie in the most banal of all tab chorus lines.
Deborah Lohse was more of a standup performer than a dancer. She appeared first as True Dee, perhaps her alter ego, in a pink top and pajamas over pink tights. The title of the piece, To All Those I Have Loved and Who Have Loved Me at Some Point or Postcard to My Ex-Husbands, gives you an idea of Lohse's comedy. Tall and lanky, she did disconnected, awkward but dancelike moves to a lover's lament by Fiona Apple.
Later in the afternoon Lohse reappeared in a spangly jacket and hot pink short-shorts. Dividing the audience into sections, she orchestrated a series of moves by each group of civilians. "I've never seen this many people doing my choreography before!" Lohse exclaimed. As is customary in audience-participation pieces, she coaxed a man up on stage with her. I guess she picked him because she noticed he had excellent hip rotations in the audience-participation part. Once on stage with her, he proved not only a great extemporaneous mover, but a veteran dancer-choreographer, Bill Evans, to Lohse's amazement.
---
Internationally known writer, lecturer, and teacher Marcia B. Siegel covered dance for 16 years at the Boston Phoenix. She is a Contributing Editor for the Hudson Review. The fourth collection of Siegel's reviews and essays, Mirrors and Scrims–The Life and Afterlife of Ballet, won the 2010 Selma Jeanne Cohen prize from the American Society for Aesthetics. Her other books include studies of Twyla Tharp, Doris Humphrey, and American choreography. From 1983-1996 Siegel was a member of the resident faculty of the Department of Performance Studies, Tisch School of the Arts, New York University