Arts Fuse critics select the best in film, theater, music, dance, visual arts, and author events for the coming week.
By The Arts Fuse Staff
Film
Boston Area Film Schedules — What is playing today, Where and When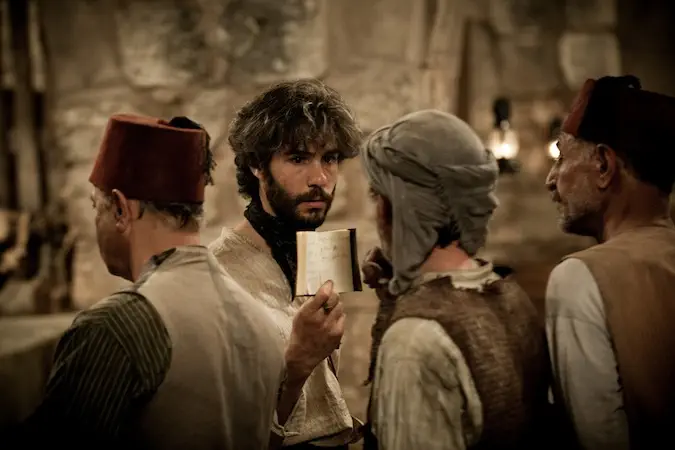 Belmont International Film Series
Sunday April 19 & April 26
West Newton Cinema, West Newton, MA
This enterprising series, which has moved from the Cabot Theater (temporarily closed) to West Newton Cinema, is in its 14th year. The screenings are on consecutive Sunday evenings.
April 19: The Finishers (France, Belgium): A determined teenage boy confined to a wheelchair pesters his unemployed father into entering an Ironman contest. After multiple attempts to reach his non-communicative father, the son finally convinces him to start training, and the two begin a grueling  program that reaps unexpected rewards. The story was inspired by Boston Marathon participants Dick Hoyt and his cerebral palsy-stricken son, Rick.
April 26: The Cut (International) This is the final film of great Turkish-German director Fatih Akin's trilogy on love. Tahar Fahim (A Prophet) stars as a husband and father who is initially deported by the Turkish authorities from his native village and then forced into punishing labor in the desert. After surviving mass murder by luck and through an act of kindness, he loses his family, speech, and faith. But when he learns that his twin daughters may still be alive, he embarks upon a challenging journey from Asia to the US.
The series continues through May 11th.
The Independent Film Festival of Boston
April 22rd – 29th
Somerville Theater, Brattle Theater, Coolidge Corner Theater, UMass Boston
This festival will screen 107 films as well as present panels, parties, and guest appearances. The festivities begin with The End of the Tour, which is based on Rolling Stone reporter David Lipsky's critically acclaimed memoir about his unforgettable encounter with the late writer David Foster Wallace. Thursday's offerings include Andrew Bujalski's latest film, Results, and Greta Gerwig in Mia Hansen-Løve's (Goodbye First Love) Eden. A selection of the festival's music documentaries include Heaven Adores You about Elliott Smith, Theory Of Obscurity: A Film About The Residents, Morphine Journey Of Dreams, about the titular band, and You Are What You Play, about the heyday of rock radio DJs, featuring Charles Laquidara and others.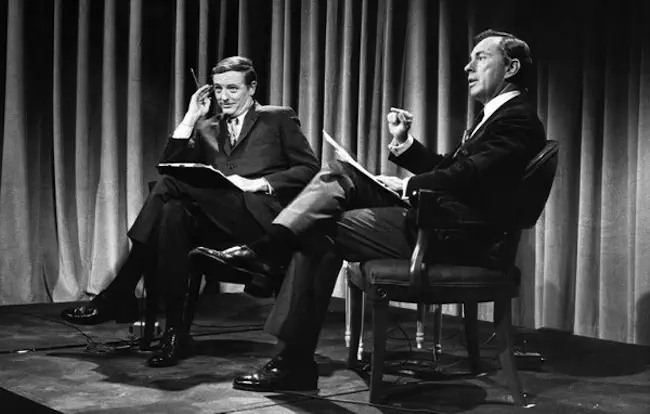 The Tribe, screening on Friday, is an astonishing Ukranian film about a boarding school for the deaf told entirely in sign language. On Saturday, the Brattle Theatre will screen Best of Enemies. Anyone who recalls the nationally televised 1968 debates between Gore Vidal and William F. Buckley Jr. will adore this documentary, which is a great piece of media history. Also highly recommended is The Look Of Silence, Joshua Oppenheimer's companion to The Act of Killing — in many ways it is an even more powerful film than its predecessor. Closing the IFFB at the Coolidge Corner Theatre is Me And Earl And The Dying Girl, which received a standing ovation at Sundance.
On Saturday April 25 at 2:45 p.m. at the Somerville Theatre (in Moviehouse 5) IFFBoston and the Karen Schmeer Fellowship will present "Radical Collaboration: The Director/Editor Relationship." It is a free event moderated by Jeanne Jordan (Troublesome Creek) with director Debra Granik (Winter's Bone) and editor Victoria Stewart (Stray Dog). They will discuss the process of bringing the story of Stray Dog to cinematic life. A screening of Stray Dog, a ticketed event, will take place at 12:15. The discussion will immediately follow.
Check schedule for panels and appearances. An interview with organizers Nancy Campbell and Brian Tamm appears in the Arts Fuse.
New Directions in Chinese Animation
Friday, April 24 at 7 pm.m.
Institute of Contemporary Art Boston, MA
Digital technology and state-sponsorship have encouraged Chinese animators to explore new possibilities via stop-motion, print-making, hand-made collage, ink, painting, graphic design, and digital algorithm. The program presents a mix of visual artists, filmmakers, and independent/experimental animators, most of whom were born after 1980. Filmmakers Lei Lei and Chai Mi will attend in person. Presented in conjunction with the Balagan film series and Crows & Sparrows, a series that selects new cinema from East Asia for art-house audiences.
A Chance to Dress
April 29th at 7 p.m.
Museum of Fine Arts, Boston, MA
Dr. John Southard, a world renowned geologist and professor at MIT, is an open cross dresser. The film focuses on the difficulties he faced when he came out to his friends, family, and colleagues, But it also looks at joy that comes after leaving a lifetime of secrecy behind. This is a story about a respected educator whose struggle offers us an enlightening lesson about human possibility. A discussion with the director and Dr. John Southard and his wife Jean follows the screening.
— Tim Jackson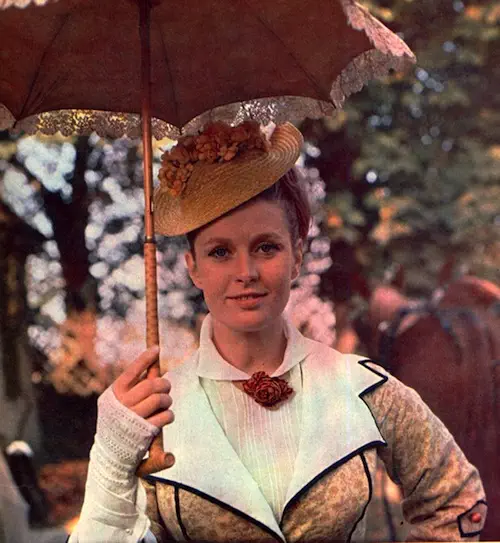 The Doll, directed by Wojciech Jerzy Has
April 25 at 7 p.m.
At the Harvard Film Archive, Cambridge, MA
A good, mind-expanding time was had by all who attended the recent HFA screening of Has' 1964 dreamscape The Saragossa Manuscript. The director followed up that film with an ambitious adaptation of what many critics consider to be the finest Polish novel of the nineteenth century. The Doll, Bolesław Prus' panoramic 1890 examination of social decay, focuses on the self-destructive passion of a successful middle-aged businessman who falls in love with a frigid society 'doll.'
— Bill Marx
---
Dance
Look, Look Again / Dance Installation
April 22, 23, 24, 25 at 7:30pm, April 24 at 12pm, and April 25 at 3 p.m.
Ipswich Moving Company Studio
Ipswich, MA
A feast for the creative mind, Ipswich Moving Company's Look, Look Again (created in collaboration with East End Artists) gives its performers free reign, while turning its home studio into a lively art gallery. Witness dancers suspended over the audience, interpretive choreography inspired by the work of artists Alexander Calder and Nicholas Nixon, and the live creation of new artworks on paper made from the performers' gestures.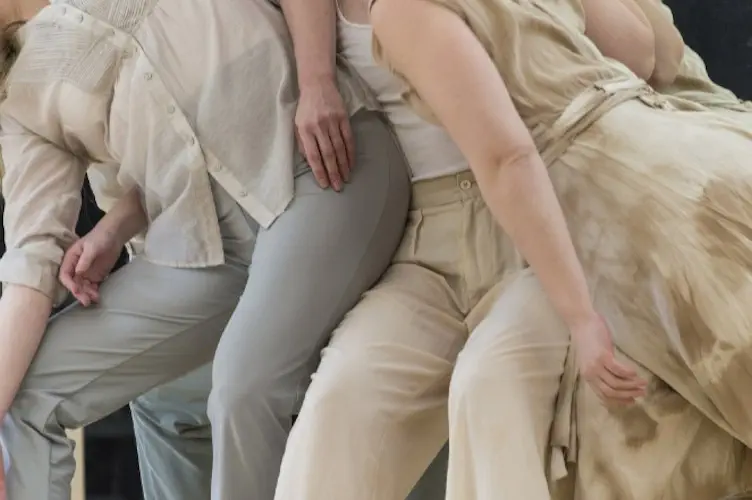 Here At Last
Thursday, April 23 at 7:30 p.m.
Multicultural Arts Center
East Cambridge, MA
Back Pocket Dancers' Here at Last is a mixed bill, ranging widely in terms of choreography, age, and conceptual narrative. With performers from the ages of 25 to 92 taking the stage, the evening celebrates the company's successful five years of "entertaining, inspiring, and informing elders."
Bernstein Festival of the Creative Arts
April 23-26
Brandeis University
Waltham, MA
Brandeis University's annual Bernstein Festival of the Creative Arts offers four days of community-oriented events  (dance, theatre, film, music, and visual art) appropriate for all ages. Special dance highlights include Fafali: Music and Dance from Ghana (Thursday, April 23 at 7 p.m.), Culture X (celebrating diversity through dance, music, and spoken word on Saturday, April 25 at 7 p.m.), and the festival's "Super Sunday" (Sunday, April 26 from 1-5 p.m.), providing four hours of continuous free performing arts.
Nino de los Reyes
Friday, April 24 at 7:30 p.m.
Regattabar at the Charles Hotel
Cambridge, MA
Nino de los Reyes, one of Spain's most notable and youthful flamenco dancers, will  provide an intensely rhythmic treat for Boston viewers. Local audiences may remember him from his recent collaboration with choreographer Peter DiMuro and fellow performer Elver Yariza for Public Displays of Motion.
— Merli V. Guerra
---
Visual Art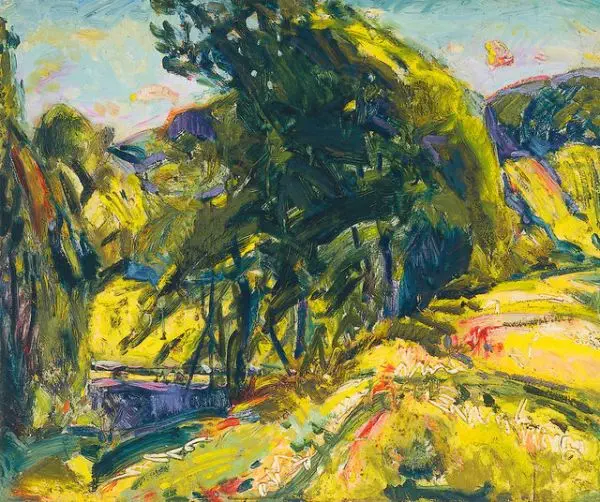 Alfred Maurer: At the Vanguard of Modernism
April 25 – July 31
Addison Gallery of American Art, Andover, MA
The American painter Alfred Maurer (1868-1932) is perhaps best known for escaping from success.
Son of Louis Maurer, a German immigrant lithographer and painter who had a distinctly old school taste, Alfred joined his father's lithography firm as a teenager and later studied and lived in Paris, the city he probably loved the most. In his twenties and early thirties he painted in a conventional, late Victorian realist style. In this mode, Alfred won a string of awards, including first prize at the 1901 Carnegie International Exhibition (Thomas Eakins and Winslow Homer were on the jury) and a gold medal at the International Exposition in Munich.
Then, abruptly, at the age of thirty-six, Maurer abandoned this promising, if somewhat unchallenging, career and switched to a distinctly modernist style, influenced by the cubist and fauvist painters then unsettling the Parisian art world and prominently represented in the legendary collection of his friends, Leo and Gertrude Stein.
The change of allegiance won Maurer the respect of an avant-grade elite, including Alfred Stieglitz, John Marin, Arthur Dove, Marsden Hartley, and John Marin, but the disdain of almost everyone else, including American art critics and his own outraged father, who refused his support when Alfred returned from Paris at the start of World War I. Years later, shortly after his still estranged father died at the age of 100, Alfred hung himself. He was sixty-four.
As with so many pioneering American modernists, Maurer died in relative obscurity only to have his posthumous reputation climb steadily higher and higher. The Addison Gallery's major exhibition of over 70 of his works this spring reviews the scope of Maurer's career, exploring the themes and experiments of his painting and the key contributions he made to a crucial phase of American modern art.
The 2015 James and Audrey Foster Prize
April 21 – August 9
Meleko Mokgosi: Democratic Institution
April 21 – August 9
Institute of Contemporary Art, Boston, MA
The ICA claims that Public art and artist-run galleries in Boston are enjoying one of their periodic revivals. To encourage the process, the ICA devotes this year's James and Audrey Foster Prize exhibition to "performance and collaborative modes of art-making." Curators of the exhibition met with artists, curators, and others who know the Boston art scene well and chose four "artists of exceptional promise in Greater Boston" — Richard DeLima, kijidome, Vela Phelan, and Sandrine Schaefer — to share the spotlight.
Meanwhile, the ICA's Buttonwieser Gallery features the work of award-winning Botswana native Meleko Mokgosi, whose images raise ordinary African scenes of children, dogs, mothers and others to monumental status. Divided into five sections, each exploring a different perspective on democracy, the pieces on view were all created for the exhibition. This is Mokgosi's first solo show.
— Peter Walsh
---
Theater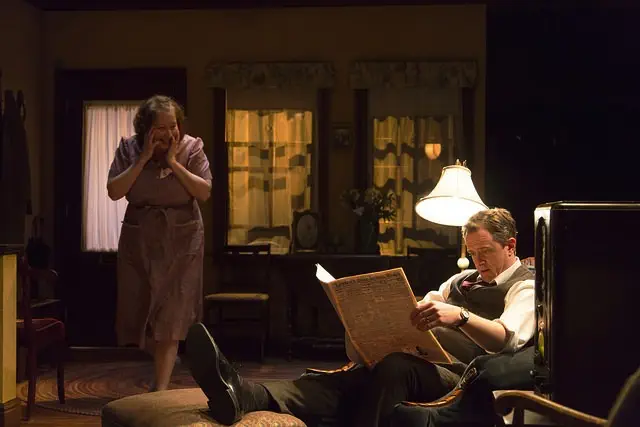 Come Back, Little Sheba by William Inge. Directed by David Cromer. Staged by the Huntington Theatre Company at the South End / Calderwood Pavilion at the Boston Center for the Arts, Boston, MA, through May 2.
In this intimate production of William Inge's play about frustrated lives in '50s Middle America, celebrated director David Cromer "invites audiences into Doc and Lola's home and examines how our yearning for the past can get in the way of living in the present." Arts Fuse review
City of Angels Music by Cy Coleman, lyrics by David Zippel, book by Larry Gelbart. Directed by Spiro Veloudos. Staged by the Lyric Stage Company, 140 Clarendon Street, through May 2.
"Set in the seductive Hollywood of the 1940s, City of Angels chronicles the misadventures of Stine, a disillusioned young novelist attempting to write a screenplay for a tyrannical movie producer. As his marriage falls apart, we follow Stine's film alter-ego, the dashing detective Stone, who is haunted by the memory of the girl that got away." The Lyric Stage cast includes Leigh Barrett, Ed Hoopman, and Jennifer Ellis. Arts Fuse review
Kimberly Akimbo by David Lindsay-Abaire. Directed by Allison Olivia Choat. Staged by Moonbox Productions at the Boston Center for the Arts Plaza Theatre, 539 Tremont Street, Boston, MA, through April 25.
A revival of the "heartwarming and quirky coming-of-age play from Pulitzer Prize-winning South Boston native David Lindsay-Abaire (Rabbit Hole)."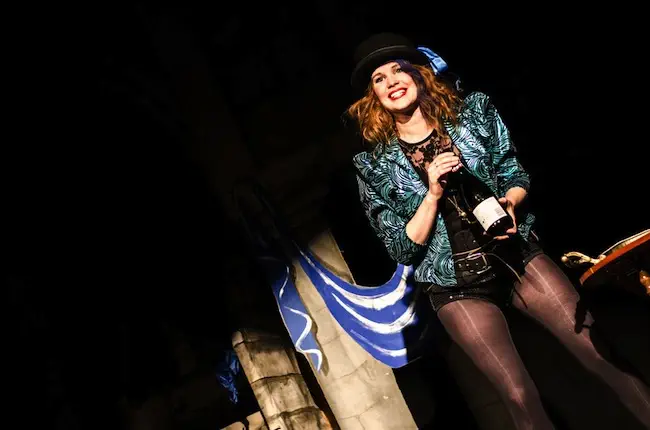 Shit-faced Shakespeare, written and performed by Magnificent Bastard Productions at the Davis Square Theatre, Somerville, MA, through May !.
If only my late great theater critic friend Arthur Friedman were alive to see this! He would no doubt be delighted with the opportunity to watch one member of a British company perform A Midsummer Night's Dream while drunk out of his or her mind, doing the Bard while blotto, so to speak. Some critics in England loved this show; Edinburgh Fringe Festival audiences adored it. According to the press release, audience members will be given a chance to encourage thespian over-drinking and there will be partial nudity, 'ill-fated' crowd surfing, simulated sex acts, transvestitism, etc. Can The Donkey Show withstand this kind of competition?
Ulysses On Bottles by Gilad Evron. Translated by Evan Fallenberg. Directed by Guy Ben-Aharon. ArtsEmerson presents a production by the Israeli Stage at the Jackie Liebergott Black Box at the Emerson/Paramount Center, Boston, MA, through April 25.
A high-caliber Boston cast (Jeremiah Kissel, Will Lyman, Karen MacDonald, Daniel Berger-Jones and Ken Cheeseman) is featured in the North American premiere of Evron's "poetic and poignant examination of lives in conflict." The script won the Israel Theater Prize for Best Original Play in 2012. Arts Fuse review
Boxer Shorts, An evening of plays by Samuel Beckett, Tennessee Williams, Harold Pinter, and Diana Raznovich. Directed by Kyler Taustin (Brown Box Artistic Director), Anna Trachtman (Brown Box Associate Producer), and Darren Evans (Theatre on Fire Artistic Director). Staged by Brown Box Theatre Project at the Atlantic Wharf, 290 Congress Street, Boston, MA, April 24 through May 3.
"An evening of enchanting and interrogative short plays that explore the space between sleeping and waking, thinking and knowing, living and dying."
The Voices of We by Robbi D'Allessandro. Staged by 333 Productions at the the Boston Playwrights' Theatre, Boston, MA, April 25 through May 9.
The world premiere of a play "that explores the challenges women face in today's sociopolitical and economic climate." "The diverse and richly authentic characters" in the script "face the daunting challenges inherent in the fight against domestic violence, and struggle for reproductive rights, self-defined gender identity, motherhood, positive body image, and more." All proceeds from the performances of this show "will be donated to organizations that support the advancement of women and women's issues."
The Outgoing Tide by Bruce Graham. Directed by Charles Towers. Staged by the Merrimack Repertory Theatre at the Nancy L. Donahue Theatre, 50 E. Merrimack Street, Lowell, MA, April 23 through May 17.
Charles Towers' ends his tenure as MRT Artistic Director with this production — took up the reins in 2001. Graham's drama deals with a family in transition: "tormented by the menacing grip of an aging mind and with an uncertain future ahead, Gunner Concannon has a plan for his and his family's future – but it is not what his wife Peg and son Jack had in mind."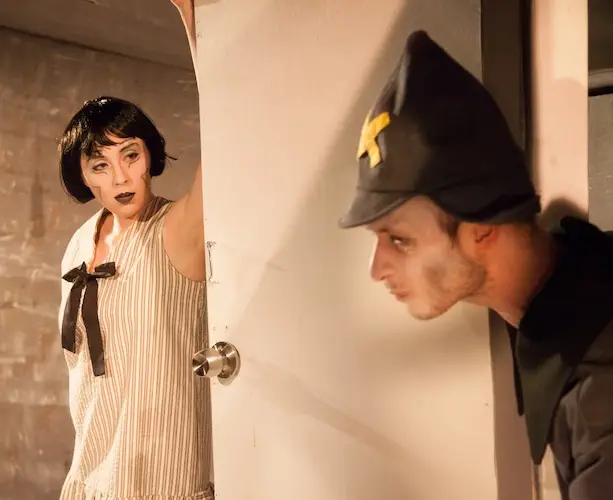 BETTY BAM!, an adaptation of Daniil Kharms' play Elizaveta Bam. Translated by Zoya Derman. Directed by Matthew Woods, Joey C. Pelletier, and Michael Underhill. Staged by imaginary beasts at the Plaza Black Box at the Boston Center for the Arts, Boston, MA, through May 2.
The imaginary beasts return to the surrealistic writings of Kharms, who was one of the many unfortunate casualties of the Stalinist era. (This production is the second part of the company's Daniil Kharms' Project.) I found the tone of the company's earlier production of Kharms material too broad and slapstick-y, but I will definitely take in the staging of this dramatic rarity, which no doubt "defies classification." Kharms was a genius at whipping up linguistic insanity, though underneath the inventive craziness is political outrage and a deep sadness.
The Knight of the Burning Pestle by Francis Beaumont. Directed by Mary Parker. Staged by Theatre@First at Unity in Davis Square, Somerville, MA, from April 23 to May 2.
First performed in 1607, this script is a spirited send-up that was recently revived in London (at the indoor space at Shakespeare's Globe) to enthusiastic reviews. Here is the Guardian's critic on the play: it is a "burlesque of citizen drama and chivalric romance … that depends heavily on audience intervention. The joke is that a Strand grocer and his wife turn up to see a play called The London Merchant and then demand that a heroic role be found for their apprentice, Rafe." An interesting project for an all-volunteer community theatre …
— Bill Marx
---
Classical Music
Cosi fan tutte
Presented by New England Conservatory
through April 21, 8 p.m.
Paramount Theater, Boston, MA
Mozart's brilliant opera – the least performed of the trilogy he wrote with Da Ponte – receives a fully staged production from NEC opera students. Stephen Lord conducts, Joshua Major directs.
Carte Blanc
Presented by Symphony Nova
April 24, 6:30 p.m.
Old South Church, Boston, MA
Symphony Nova's season concludes with a striking mix of Britten (Sinfonia), Vaughan Williams (The Lark Ascending), Respighi (Ancient Airs and Dances III), Bloch (Concertino), and Dubois (Cavatina).
Handel's Agrippina
Presented by Boston Baroque
April 24 and 25, 7:30 p.m.
Jordan Hall, Boston, MA
Boston Baroque wraps up its current season with Handel's early opera seria. Susanna Phillips and David Hansen headline the cast. Martin Pearlman conducts the orchestra and chorus.
Act 3 of Siegfried
Presented by the Boston Philharmonic Youth Symphony
April 26, 3 p.m.
Symphony Hall, Boston
The BPYO concludes its third season with the epic third act of Wagner's Siegfried. Alwyn Mellor sings Brünnhilde, and Stefan Vinke, Siegfried. Deborah Humble and Mark Delavan rounding out the cast and Benjamin Zander conducts.
— Jonathan Blumhofer
Chameleon Arts Ensemble of Boston
Gloria Chien & Elizabeth Schumann, piano 4-hands
April 19 at 4 p.m.
Goethe Institut, Boston, MA
Chameleon Arts Ensemble offers a reprise of Gloria and Elizabeth's "earth-shattering" rendition of The Rite of Spring, as well as Debussy's own evocation of ancient gods and exotic rituals in Six épigraphes antiques. Also on the program: Steven Stucky's Allegretto quasi Andantino (Schubert Dream), and Schubert's Grand Rondo in A Major, Op. 107, D. 951.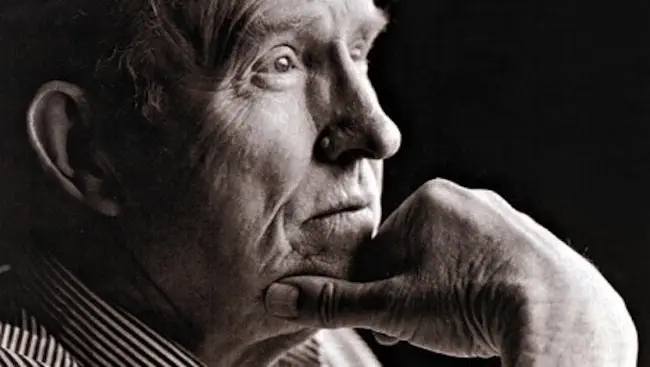 Berio, Chen, Messiaen, Stucky
April 22 at 8 p.m.
New England Conservatory, Jordan Hall, Boston, MA
Free
Each year John Heiss recruits students interested in performing 20th-and 21st-century music to join the NEC Contemporary Ensemble. "For their final concert of the season, Heiss has programmed a new work by NEC doctoral student Yi Yiing Chen; Messiaen's Quartet for the End of Time, written in a German prisoner of war camp in 1941; and works from intervening decades." Of interest on the program for American poetry lovers: Steven Stucky's "Four Poems of A.R. Ammons."
Ashmont Hill Chamber Music
April 25 at 3 p.m.
At Peabody Hall, Parish of All Saints in Dorchester, MA
Violinist Robert Mealy and harpsichordist Avi Stein perform a program entitled "The Birth Of The Sonata: Virtuosic and Passionate Chamber Works from the 17th and 18th centuries."
Spring Fling
Chamber Orchestra of Boston
April 25 at 7:30 p.m.
At the First Church, 66 Marlborough St., Boston, MA
On the program: Boccherini's Cello Concerto No. 3 in G (with cellist Rafael Popper-Keizer); Franz Schreker's Intermezzo, Op.8; Evan Ziporyn's Be-in; Shostakovich's Prelude and Scherzo, Op. 11, and Bruch's Octet in B flat, Op. posth.
— Susan Miron
---
Jazz
Greg Hopkins Big Band
April 19, 7 p.m.
Beat Hotel, Cambridge, MA.
The superb trumpeter, arranger, and composer Greg Hopkins sets his big band to the music of Duke Ellington. Hopkins's wise, detailed arrangements – and sharp players – should serve the Master well.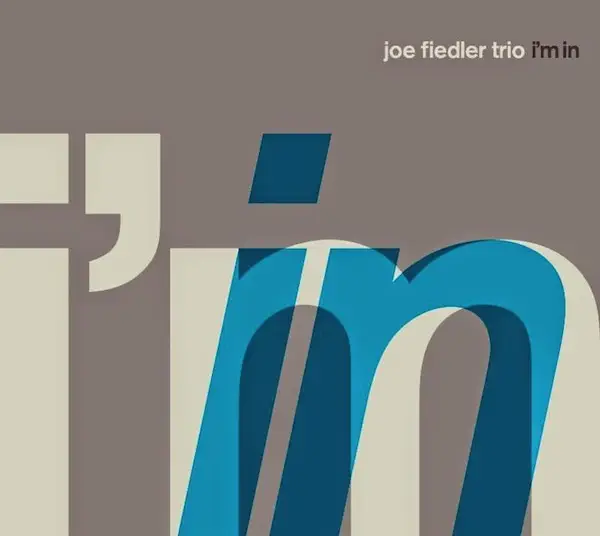 Joe Fiedler
April 23, 7 p.m.
Lily Pad, Cambridge, MA.
Trombonist and composer Joe Fiedler's day job is as musical director for Sesame Street. The rest of his resume extends from Wycleff Jean and Jennifer Lopez to Maria Schnieder, Cecil Taylor, the Mingus Big Band, the Satoko Fuji Big Band, and the Captain Beefheart Project. He has a whole bag of extended-technique tricks at his disposal, and a broad, fully-informed vocabulary that recalls forebears like Roswell Rudd and Ray Anderson. (One of the tracks on his new disc is called "Don Pullen.") He's on the road celebrating the release of his new I'm In (Multiphonic Music) with the core trio from that album, bassist Rob Jost and drummer Michael Sarin.
Jazz Week '15
April 24-May 3
Various locations
Boston's annual Jazz Week, organized by the non-profit JazzBoston, this year focuses on "Jazz in the Neighborhood," with special attention paid to the historical contributions of Mattapan and Roxbury to the Boston jazz scene. The week of events kicks of today with a "jazz walking tour" of Lower Roxbury, organized by Discover Roxbury and making stops as some of the famous venues of yore. The free tour begins at 11 a.m. at the MBTA's Ruggles Station, Tremont Street staircase. The week also includes a gala dance party (see April 25), house concerts, an International Jazz Day invasion of City Hall and the City Council chambers on April 29, and a Jazz Journalists Association "Jazz Hero" award presentation at Wally's to teacher, composer, and bandleader Mark Harvey (Aardvark) on May 3. For a full Jazz Week schedule.
Pablo Ablanedo OCTETo
April 25, 5:30 p.m.
Lily Pad, Cambridge, MA.
The talented Argentine pianist'/composer Pablo Ablanedo convenes his stellar nine-musician OCTETo: flutist Fernando Brandão, trumpeters Phil Grenadier and Jerry Sabatini, reed players Daniel Ian Smith and Rick DiMuzio, guitarist Eric Hofbauer, bassist Fernando Huergo, and drummer Bertram Lehmann.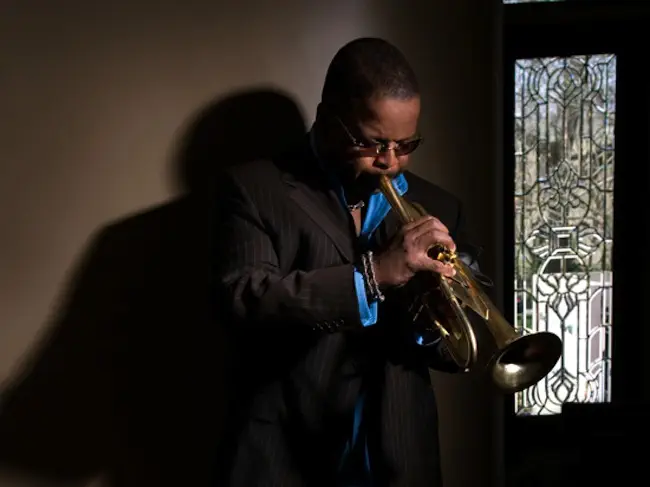 Terence Blanchard and Ravi Coltrane Quartet
April 25, 8 p.m.
Berklee Performance Center, Boston, MA
Trumpeter and composer Blanchard swings into town with his new E-Collective: guitarist Charles Altura, pianist Fabian Almazan, bassist Donald Ramsey, and drummer Oscar Seaton. Coltrane fronts a quartet with pianist David Virelles, bassist Dezron Douglas, and drummer Jonathan Blake.
The Jazz Composers Alliance Orchestra and String Theory
April 25, 8 p.m.
Eliot Hall, Jamaica Plain, MA.
The mighty JCAO presents new works by their resident composers and welcomes the ensemble Strings Theory, with 5-string violinists Mimi Rabson and Helen Sherrah-Davies, cellist Junko Fujiwara, and guest violist David Wallace.
Makanda Dance Party
April 25, 8 p.m.
Hibernian Hall, Boston, MA.
The Makanda Project – dedicated to the music of the late Makanda Ken McIntyre, and usually in a concert format – tonight hosts a free dance party in a ballroom setting, turning their attention to calypsos, ballads, swing, and other body-moving grooves. They'll be joined in this gala Jazz Week event by Mickey Davidson and Dexter Jones, who will act as "taxi dancers" for the unaccompanied as well as lead "a line dance especially designed for this occasion."
Dave Bryant Quartet
April 27, 8:30 p.m.
Outpost 186, Cambridge, MA.
Ornette Coleman Prime Time keyboardist Dave Bryant does a keyboard-and-strings thing with violinist Gabriel Solomon, cellist Jeff Song, and bassist Jacob Williams.
Patrice Williamson
April 29, 7:30 p.m.
Regattabar, Cambridge, MA.
Patrice Williamson's fidelity to true jazz singing doesn't box in her – it only makes her more special, with flawless technique, great swing, keen focus on lyrics, and a rich contralto. She presents a program called "Celebrating Ella" with pianist Mark Shilansky, bassist Keala Kaumeheiwa, drummer Ron Savage, and, as special guest, trumpeter Sean Jones.
— Jon Garelick
---
Roots and World Music
Pederito Martinez Quartet
April 25
Johnny D's, Somerville, MA
Percussionist and Cuban expat Martinez has made a lot of fans in New York with his sleek Afro-Latin combo. Last year he released two albums, the flamenco influenced Rumba De La Isla and an eponymous disc which highlights the skills of the versatile quartet he'll be bringing back to Johnny D's. The late show includes a pre-concert salsa lesson hosted by MetaMovements Latin Dance Company.
When Cultures Converge featuring the Olivia Pérez Collellmir Group & KontraQuartet
April 25
Arts at the Armory Café, Somerville
Classically trained Spanish piano virtuoso Collellmir adds a flamenco touch to her chamber jazz. KontraQuartet features a Columbian harpist, a Turkish vocalist and the first gayageum player ever admitted to the New England Conservatory.
Don't Think I've Forgotten Cambodian Rock 'n Roll Revue
April 24 through 30 at Showcase Cinemas, Lowell, MA
April 25
Sompao Maes Hall, Lowell, MA
Psychedelic rock collectors have long championed the intoxicating garage rock records that came out of Cambodia in the '60s and '70s. But these vibrant recording have a tragic backstory — many of the artists were murdered during the genocide committed by the Khmer Rouge.
A new documentary explores the legacy of Cambodian rock as told through the handful of survivors. The film is being screened for a week at Lowell's Showcase Cinemas and celebrated with a live concert featuring the Baksey Cham Krong Band and the Drakkar Band. Also on hand will be Sinn Sethakol, the grandson of Cambodian superstar Sinn Sisamouth and Chhom Nimol, who sings in the LA-based Cambodian rock revival band Dengue Fever. Tickets to the show include a four-course Cambodian meal. Kudos to the filmmakers and organizers for realizing that a film and event like this belong not just on the international film fest circuit but also in the heart of the Cambodian-American community.
— Noah Schaffer
---
Rock
Jeff Beck
April 19
Orpheum Theatre, Boston, MA
The great Brian May refers to Jeff Beck as "The Guv'nor," so who are the rest of us to argue? Beck is undoubtedly one of the best to ever pick up the guitar and, if nothing else, his is the ultimate lineup of the Yardbirds (yes Clapton and Page fans, I went there. Come at me). On top of that, the ornate, cozy, Orpheum is the perfect place to see the legend.
They Might Be Giants
April 23
House of Blues, Boston, MA
According to the They Might Be Giants website, all shows on the duo's current tour "are strictly for adults." I'm sure a simple Google search could tell me more, but I'm having too much fun coming up with (unprintable) reasons for what this is all about. If you want to find out for yourself, you'll have to head to the House of Blues. Just remember to hire a babysitter.
Rock 'n' Roll Rumble Semifinal Rounds
April 23-24
TT the Bear's Place, Cambridge, MA
Boston's annual battle of the bands continues and is on to the semifinals. Groups to reach this stage in the past include New Highway Hymnal, Sidewalk Driver, Freezepop, Morphine, the Lemonheads, and the Del Fuegos. From that list alone, it's clear that the next great Boston band could be playing at TT's this week.
Manic Street Preachers
April 24
The Sinclair, Cambridge, MA
The Manics are on a too long list of classic '80s and '90s British bands that never had a huge impact on the States. This is a shame for the group, but a bonus for American fans who get to see them live, up close, and personal. Last summer was the 20th anniversary of their seminal album The Holy Bible, so fingers crossed for a Sinclair setlist that features a healthy dose of those tunes.
Upcoming and On Sale…
Rock 'n' Roll Rumble Finals (5/1/2015, TT the Bear's Place); Sufjan Stevens (5/4/2015, Citi Performing Arts Center); Faith No More (5/11/2015, Orpheum Theatre); Kasabian (5/15/2015, House of Blues); Primal Scream (5/17/2015, Royale); Crosby, Stills and Nash (5/19/2015, Citi Performing Arts Center); Palma Violets (critic's note: "The Greatest Live Band in the World") (5/19/2015, Great Scott); Boston Calling (featuring Beck, Pixies, My Morning Jacket) (5/22-24/2015, City Hall Plaza); The Who (5/24/2015, Mohegan Sun Arena); Conor Oberst (6/5/2015, House of Blues); Noel Gallagher's High Flying Birds (6/6/2015, Boston Opera House); Lana del Rey (6/9/2015, Xfinity Center); Florence + the Machine (6/10/2015, Blue Hills Bank Pavilion); Best Coast (6/12/2015, Paradise Rock Club); Paul Weller (6/13/2015, Paradise Rock Club); Spoon (6/18/2015, House of Blues); Rush (6/23/2015, TD Garden); Morrissey (6/24/2015, Hanover Theatre for the Performing Arts); Buffalo Tom (6/26 and 27/2015, The Sinclair); Huey Lewis and the News (6/27/2015, Indian Ranch); Melvins (6/27/2015, Paradise Rock Club); Brian Wilson (with Rodriguez) (7/2/2015, Blue Hills Bank Pavilion); U2 (7/10, 11, 14, 15/2015, TD Garden); Green River Fest (featuring Steve Earle, Punch Brothers, and tUnE-yArDs) (7/10-12/2015, Greenfield Community College); Mudhoney (7/11/2015, Brighton Music Hall); Billy Joel (7/16/2015, Fenway Park); Foo Fighters (7/18-19/2015, Fenway Park); Modest Mouse (7/23/2015, Blue Hills Bank Pavilion); Interpool (7/23-24/2015, House of Blues); Bombino (7/27/2015, The Sinclair); Willie Nelson & Family (8/21/2015, Blue Hills Bank Pavilion); AC/DC (8/22/2015, Gillette Stadium); Counting Crows (8/23/2015, Blue Hills Bank Pavilion); Death Cab For Cutie (9/11/2015, Blue Hills Bank Pavilion); Bob Mould (9/23/2015, The Sinclair); Mark Knopfler (10/9/2015, Orpheum Theatre); Ringo Starr and His All Star Band (10/23/2015, Citi Performing Arts Center); The Who (10/29/2015, TD Garden)
— Adam Ellsworth
---
Author Events
Joseph Stiglitz
In Conversation with Robert Kuttner
The Great Divide: Unequal Societies and What We Can Do About Them
April 20 at 7 p.m. (Doors open at 6:30 p.m.)
First Parish Church, Cambridge, MA
$5 tickets
It took an unprecedented financial collapse, but wealth inequality around the globe has finally become an issue of major concern to a growing number of Americans who are alarmed at the widening gap between the haves and the have-nots. Nobel Prize-winning economist Joseph Stiglitz and Boston Globe writer Robert Kuttner will come to Harvard Square to read and discuss Stiglitz's latest analysis of American inequality – its origins, dimensions and its national and worldwide consequences.
Mary Ruefle
April 21 at 7:30 p.m.
Weinstein Auditorium, Wright Hall, Smith College, Northampton, MA
Free
The celebrated poet visits Smith College as part of its author reading series. Madness, Rack and Honey, a collection of Ruefle's lectures, was published to great acclaim in 2012. Poet Tony Hoagland describes Ruefle's poetics as a combination of "the spiritual desperation of Emily Dickinson with the rhetorical virtuosity of Wallace Stevens."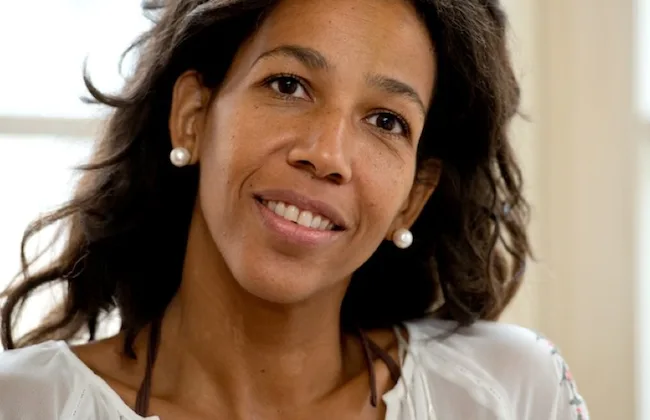 Jennifer Teege
My Grandfather Would Have Shot Me: A Black Woman Discovers Her Family's Nazi Past
April 21 at 7 p.m.
Harvard Book Store, Cambridge MA
Free
Plucking a book about Nazi Germany off the shelves, the German-Nigerian Teege learned more than she bargained for as she read through its pages. After recognizing photos of her family members, Teege discovered a horrifying secret — her grandfather turned out to be the infamous Amon Goeth, "the butcher of Plaszow," the Nazi commandant portrayed by Ralph Fiennes in Schindler's List. Her book details her stunned reaction to this fact, and how she came to a sense of acceptance and liberation.
Helen O'Donnell
The Irish Brotherhood: John f Kennedy, His Inner Circle, and the Improbable Rise to the Presidency
April 22 at 7 p.m.
Newtonville Books, Newtonville MA
Free
Plenty of glittery ink has been spilled about the Kennedys as American mythology, style and charisma the inevitable focus. O'Donnell, a journalist and author, takes the reader inside the tougher and more realistic innards of Camelot. She is the granddaughter of Kenny O'Donnell, a blue collar political aide of the Kennedy administration who, along with Bobby Kennedy, Larry O'Brien, and Dave Powers worked behind the scenes to elect JFK.
Jason Rodriguez
In Conversation with J.L. Bell
Colonial Comics: New England 1620- 1750
April 22 at 7 p.m.
Harvard Book Store, Cambridge MA
Free
Considering that the Puritans were notoriously opposed to graven images of any kind, it's amusing that they are now receiving the graphic novel treatment. In an event co-sponsored by Mass Humanities, prize-winning author and illustrator Jason Rodriguez will read and discuss his multifaceted, illustrated history of early Massachusetts with local author J.L. Bell.
Nathan Gorenstein
Tommy Gun Winter: Jewish Gangsters, A Preacher's Daughter, and the Trial that Shocked 1930's Boston
April 22 from 6:00-7:30 p.m.
Boston Public Library, Boston MA
Free
Nathan Gorenstein, a two-time Pulitzer Prize nominated journalist, tells the tale of a pair of gangster brothers. an MIT graduate and a preacher's daughter who competed for public attention with the likes of John Dillinger, Pretty Boy Floyd, and Bonnie and Clyde. Their crime spree led to the longest murder trial in MA history, combining a potent brew of sex appeal, ethnic tensions, and bloodshed that remains unique in the history of '30s Boston.
T.C. Boyle
The Harder They Come
April 22 at 6 p.m. (Doors open at 5:30)
Brattle Theatre, Cambridge MA
$5 tickets
The prolific T.C. Boyle has won a large and devoted fan base for his fiction, which includes dozens of novels and short story collections. His latest volume examines the roots of American violence and anti-authoritarianism in a family chronicle that's set in contemporary Northern California. The cast of characters include a Vietnam Vet, his unstable son, and his son's anarchist lover.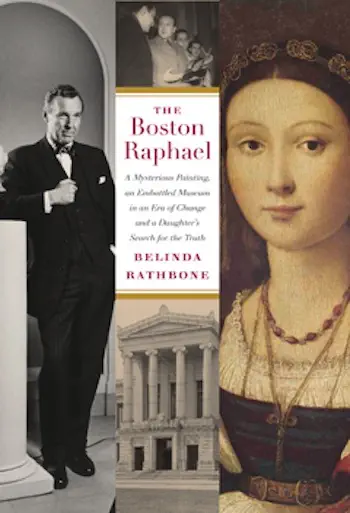 Belinda Rathbone
The Boston Raphael: A Mysterious Painting, an Embattled Museum in an Era of Change & A Daughter's Search for the Truth
April 27, 7 p.m.
Brookline Booksmith, Coolidge Corner, Brookline, MA
In 1969, the MFA acquired an unknown and extremely rare painting attributed to Raphael. Suddenly, a transatlantic controversy erupted over its authenticity and the museum's right to ownership. Sitting in the middle of the storm was Basil Rathbone, the MFA's charismatic curator, who faced the biggest crisis of his thirty-year career. His daughter comes to Coolidge Corner to tell the true story of the painting, the MFA, and the controversy that changed Rathbone's life.
Shelia Heti
Writers on Writing Series
April 28 from 2:30-3:30 p.m.
McCormack Family Center, Brown University, Providence RI
Free
Sponsored by Brown's Department of Literary Arts, the widely-acclaimed novelist (Ticknor, How Should A Person Be?) playwright (All Our Happy Days Are Stupid) and anthologist (Women in Clothes) will read from her work and discuss her writing process.
— Matt Hanson