Julia Fischer's account of Brahms's Violin Concerto with the Boston Symphony Orchestra (BSO) this weekend was nothing if not dynamic and impressive.
By Jonathan Blumhofer
Julia Fischer is surely one of the great violinists of her generation. She possesses brilliant technique and displays deep musical sensibilities. Her intonation is flawless and her stage presence demonstrates a mature, confident artist: she knows exactly what points she wants to get across and she has the intelligence and chops to do so powerfully and memorably.
Fischer's account of Brahms's Violin Concerto with the Boston Symphony Orchestra (BSO) this weekend was nothing if not dynamic and impressive. That Fischer's is a youthful, energetic take on the score was apparent from the start: she ripped into the opening solo passagework with ferocious intensity and never really looked back. Tempos were, on the whole, brisk. Sentimentality – a trait seemingly foreign to Brahms the man, but one that might creep into any number of interpretations of his music – was wholly absent.
On the contrary, there were several sections (especially in the first movement) when Fischer's playing became notably aggressive, but these never sounded harsh or felt inappropriate. Rather, they served the double-purpose of blasting away any cobwebs that might have gathered in the mind about the music and of setting up a charismatic partnership between Fischer and the BSO under longtime-favorite guest conductor Charles Dutoit. If this is a concerto for "violin against orchestra" (as it has been said), Fischer made for a particularly steely, formidable protagonist.
Dutoit is one of the greatest conductors of French music on record; Brahms was, perhaps, the most antithetical of 19th-century German composers to Gallic style and content. Yet the orchestral playing Dutoit drew out of the BSO in this Concerto on Saturday emphasized just those elements – especially timbre – so traditionally valued by composers on the other side of the Rhine. It was at times a downright luxurious accompaniment, always a powerfully lyrical one. Keisuke Wakao earned a well-deserved bow for his lovely account of the famous second-movement oboe solo. Throughout, balances between soloist and orchestra (which held nothing back at the big moments) were finely tuned.
If this reading had any shortcoming, it was an occasional lack of the sense of spaciousness and mystery that one can find in this music. But its qualities more than made up for those deficiencies: it was brash, lively, and exciting. It made – and left – and impression. I won't forget it anytime soon. Fischer, whose stamina as a performer knows no bounds, rewarded the huge and sincere ovation that followed with a crackling account of Paganini's Caprice no. 24.
Saturday's concert began with Dutoit directing a crisp performance from a reduced ensemble of Stravinsky's spunky Dumbarton Oaks Concerto. Written in 1938, at the height of his neo-Classical period, Dumbarton Oaks offers a rather strange juxtaposition: the musical model of the Brandenburg Concerti (snatches of which are quoted within) married to Stravinsky's expressive asceticism.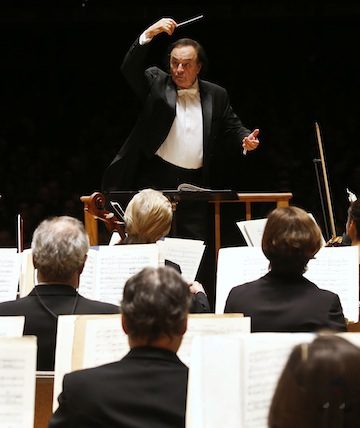 Not that it lacks for charm. Indeed, there's plenty to be found in the score and much of it came across on Saturday night. Echoes of Bach popped out of the first movement textures before being swallowed back into them. The slow middle movement danced with off-balance grace. And the finale, whose chugging rhythms gently recall the ground-shaking Stravinsky of the 1910s and '20s, bounced with great energy.
Even so, there's something cold and distant about some of Stravinsky's neo-Classical work. One can easily admire the craftsmanship, virtuosic flair, and bright energy of Dumbarton Oaks. But it lacks the warmth and depth of similar pieces by composers like Haydn and Mozart. Saturday's masterful performance didn't fully compensate for that shortfall.
Also expressively distant is Debussy's Images, which, this weekend, got its first complete BSO performances since 1975. Saturday's reading was brilliant and often quite beautiful, but it also demonstrated the wisdom of extracting single movements from this sprawling score for concert programs. Simply put, Debussy's musical depictions of England ("Gigues"), Spain ("Iberia"), and France ("Rondes de printemps") don't make as convincing a symphonic argument corporately as they do individually. There's too much repetition of texture and gesture. Collectively, Images is certainly a banquet for the ear. But it also calls to mind Johann Reichardt's observation about Beethoven's famous, four-plus-hour long, unheated, December 1808 concert (which saw the premieres of the Fifth and Sixth Symphonies, along with a number of other major works): it's a reminder of "the truth that one can easily have too much of a good thing."
Of course, there were plenty of good things to be found in (and celebrate from) Saturday's performance. The hazy opening bars of "Gigues," for instance, were warm and colorful as ever, evoking the Riviera at least as much as the rolling hills of Northumberland. The rhythms of the opening part of "Iberia" snapped tautly and the lush nocturne in the middle unfolded with cool sensuality. And "Rondes" tripped along exuberantly. The BSO, especially with Dutoit at the helm, can really do no wrong in this repertoire. Discursive a piece as it can be, this Images was brilliantly played: consistently sumptuous but marvelously transparent. Concertmaster Tamara Smirnova, principal viola Steven Ansell, and principal oboe John Ferrillo were but three of many excellent orchestral soloists.
Next week, Dutoit caps off what has been a rich, remarkable month of insightful and often wonderful programming from the BSO by leading the orchestra's first performances of Karol Szymanowski's opera King Roger. It's one of two major operatic events in Boston in March (the other being Boston Lyric Opera's Katya Kabanova): don't miss either of them.
---
Jonathan Blumhofer is a composer and violist who has been active in the greater Boston area since 2004. His music has received numerous awards and been performed by various ensembles, including the American Composers Orchestra, Kiev Philharmonic, Camerata Chicago, Xanthos Ensemble, and Juventas New Music Group. Since receiving his doctorate from Boston University in 2010, Jon has taught at Clark University, Worcester Polytechnic Institute, and online for the University of Phoenix, in addition to writing music criticism for the Worcester Telegram & Gazette.