The actors in the central roles are extremely fine, particularly Kathleen McElfresh's beautifully nuanced performance as the anguished Bridget O'Sullivan.
The Second Girl by Ronan Noone. Directed by Campbell Scott. Staged by the Huntington Theatre Company at the Calderwood Pavilion at the Boston Center for the Arts, Boston, MA, through February 21.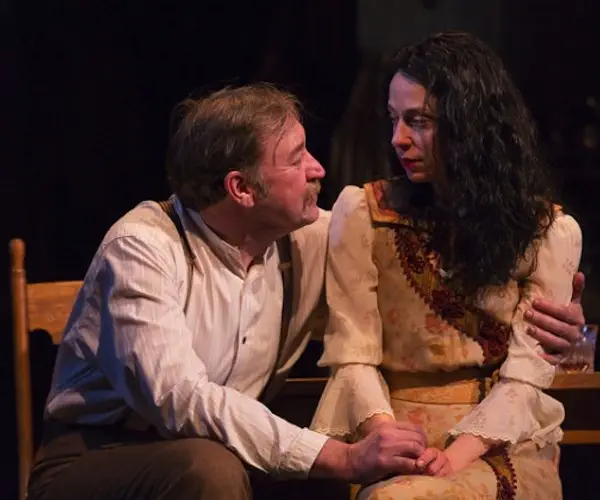 By Bill Marx
I am of two minds regarding Ronan Noone's play The Second Girl. On the one hand, the script is a sensitively observed, solidly structured character study that focuses on the trials and tribulations of a pair of female Irish immigrants working as domestic servants in turn-of-the-century America. Despite some soap-operatic interludes and a familiar theme (the pain of acclimating to the New World), its characters are given moments of affecting dignity and masochistic self-awareness (which elevates The Second Girl well above Downton Abbey blood-curdling sentimentality), while its looks at the drawbacks of class and gender are all the more effectively made because they are not harshly underlined. The actors in the central roles are extremely fine, particularly Kathleen McElfresh's beautifully nuanced performance as the anguished Bridget O'Sullivan, with MacKenzie Meehan providing just the right amount of rebellious charm as the younger, more hopeful Cathleen O'Leary. Campbell Scott directs with adept attention to psychological detail, while Santo Loquasto's set (a lived-in kitchen) and costumes smack of authenticity.
Yet after sitting though the play I couldn't help but feel let down by Noone's reluctance to take advantage of what promised to be a much more dynamic evening of theater. The dramatist chose to put his Irish women servants in the household of the Tyrones, the haunted clan that is at the center of one of the greatest American plays ever written — Eugene O'Neill's Long Day's Journey into Night. The Second Girl is set in the Tyrone summer home in August 1912, the location and time period of O'Neill's text, which has a small role for a maid named Cathleen and in which Bridget, a cook, and Smythe, a garage assistant appointed chauffeur, are mentioned. As Noone's versions of Cathleen and Bridget prepare meals in the kitchen, gossip, and hurl charges and counter-charges at each other, we hear the voices of Mary Tyrone and others in the family when the door to the dining room is opened. The servants tell us something about their masters from time to time: Cathleen is being trained to act in the plays of Shakespeare by James Tyrone Sr., who is encouraging her efforts to better herself, while Mary's drug addiction is alluded to. But O'Neill's major characters are kept off stage — upstairs and downstairs do not meet, at least not in front of us.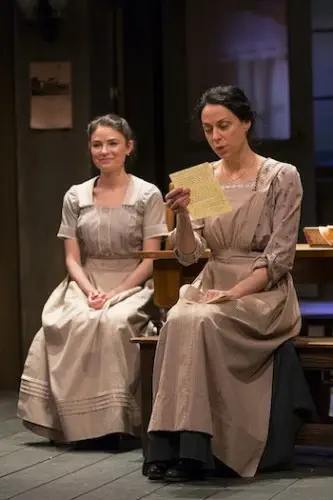 I am sure there are reasonable dramaturgical and economic reasons (this is a three-actor play) for this peek-a-boo treatment of the Tyrones, but I couldn't stop wanting to have the kitchen invaded by O'Neill's giants, to see Cathleen and Bridget grapple with the Tyrones mano a mano. Yes, it would have been nervy, risky, maybe even foolhardy for Noone to have his Irish servants deal with O'Neill's characters in front of us. (And, yes, critics would have been quick to pounce on an attempt to put words in the mouths of the Tyrones.) The dramatist decided not to go that far and for me, it is a loss. Existential resonances (despair, addiction, dysfunction) are established between the two worlds, but the presence of the Tyrones would have elevated a tidy drama about the dilemmas of the underclass into something far more exciting and dramatically unpredictable.
Instead, Noone generates a rather conventional dramatic situation. It turns out that Jack Smythe, the chauffeur, played with a laid-back earnestness by Christopher Donahue, is fed up with his insulting treatment and is ready to head off across the country to take advanage of a money-making scheme. The rub is that the widower cares for Bridget and wants to take her with him — she recently collapsed drunk at his door late at night and he is convinced that she needs to start afresh, like him. Meanwhile, traumatic news from the Old Country (revealed via a letter read to Cathleen by Bridget) shocks the younger woman into establishing a new relationship with America. Of course, we learn why Bridget is such a bitter workaholic, filled with a debilitating nostalgia for her homeland yet unable to dream of retiring. None of these revelations are particularly challenging or surprising, though Cathleen is a survivor of the sinking of the Titanic.
The Second Girl winds up pretty well where you would have predicted after the first scene, particularly given that Donahue and McElfresh don't generate much sexual tension between them. Each of the three characters represent a different way of being in America — ranging from survival based on the (delusional?) promise of new opportunities to making it through the day with the assistance of booze and melancholic resignation. The play hugs its modesty tightly; its a pleasant, polite, and moving portrait of the 'marginal' that is content to be reassuring rather than audacious — which is a shame, given that, just in the next room, the volcanic Tyrones are sitting around with nothing to do.
---
Bill Marx is the Editor-in-Chief of The Arts Fuse. For over three decades, he has written about arts and culture for print, broadcast, and online. He has regularly reviewed theater for National Public Radio Station WBUR and The Boston Globe. He created and edited WBUR Online Arts, a cultural webzine that in 2004 won an Online Journalism Award for Specialty Journalism. In 2007 he created The Arts Fuse, an online magazine dedicated to covering arts and culture in Boston and throughout New England.