May Father Comes Home From the Wars (Parts 1, 2 & 3) fill the Loeb Drama Center to the brim and then some. In the battle for artistic excellence at the A.R.T., it's an opportunity to score one for the real thing.
Father Comes Home From the Wars (Parts 1, 2 & 3) by Suzan-Lori Parks. Directed by Jo Bonney. Presented by the American Repertory Theater and the Public Theater at the Loeb Drama Center, Cambridge, MA, through March 1.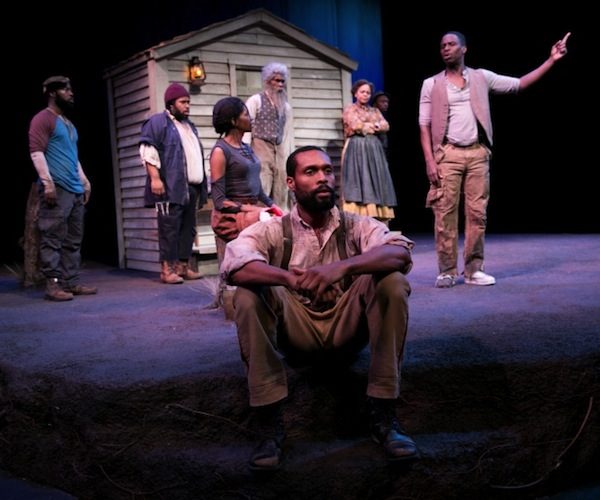 By Bill Marx
It seems to have been years since the American Repertory Theater presented a specimen of non-musical/non-gimmicky theater. Over the past seasons we have had Shakespeare's Tempest showbiz-ed up with Ariel performing card tricks and Prospero levitating Miranda (Why didn't the Bard think of that? The groundlings would have loved it.); Hollywood mogul-assisted, multi-million-dollar musical excursions to Neverland created for tourists itching to drop big bucks on a Broadway show, and Glee-full, up-with-the-people celebrations of the resilience of Ugandan orphans. Eve Ensler's recent attempt to save the planet, O.P.C., was not a play so much as a public service announcement with delusions of grandeur.
So the arrival of Suzan-Lori Parks' Father Comes Home From the Wars (Parts 1, 2 & 3), a co-production of the A.R.T. with New York's Public Theater, represents a welcome change of direction, even a homecoming of sorts. In the old days, not always, but sometimes, we would get a provocative drama from a first-class contemporary playwright, including Parks' The America Play. Now she is back with her latest script and this is the best production at the Loeb Drama Center since 2013's visually bewitching and dramatically engaging take on Tennessee Williams' The Glass Menagerie. Yes, Father Comes Home From the Wars (Parts 1, 2 & 3) features bluesy ballads (music and lyrics by Parks) that are well sung by Steven Bargonetti, but he doesn't ask us to sing-along and the tunes don't hog the spotlight — they accent the plot and its themes. There are no jugglers, fire-eaters, or prestidigitators in sight and Cirque du Soleil would have a hell of a time wedging acrobats and flying clowns into a Civil War era drama. This time around we are, thankfully, given skilled actors engaged in a dramatic conflict with their feet on the ground, speaking lines that, on occasion, dazzle. Now that is my kind of magic.
It is a return to form of Parks as well. For me, her work is at its best when it launches off into surrealistic directions, such as in The America Play, Imperceptible Mutabilities in the Third Kingdom, and my personal favorite, Venus, which I saw at the Yale Repertory Theater in a controversial production directed by Richard Foreman. With the Pulitzer prize-winning Topdog/Underdog came a move toward realism and a disconcerting yen for allegorical clarification. Parks no longer wanted to be quite as mysterious; she started pinning easy-to-read labels on her battling archetypes, public and private, racial and political. The last play of hers I saw before Father Comes Home From the Wars … was 2010's The Book of Grace at the Public Theater. It was a bewildering disappointment: a melodramatic father-son stand-off was made to bear two-tons of symbolic freight, including warnings about domestic abuse, mistreated veterans, and the self-destructive trajectory of a divided America. It felt like an ersatz version of a Sam Shepard script.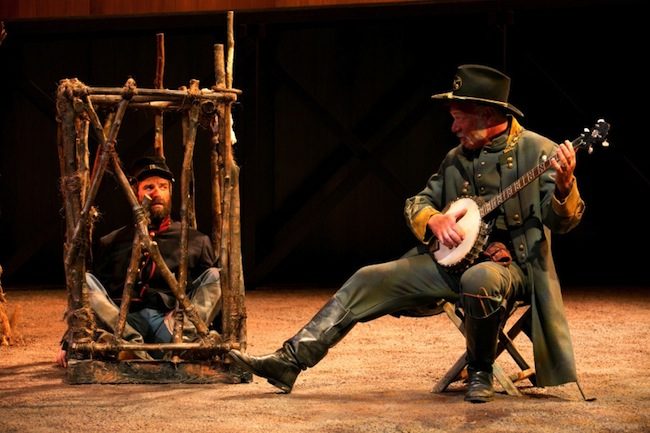 But Father Comes Home From the Wars (Parts 1, 2 & 3) represents a return to a playfulness that, at times, becomes revelatory. Parks pokes with serio-comic skill at thorny issues of race and American identity, the ambiguities of authority and community, while sending-up (or paying bemused homage to) Greek tragedy and Homer's Odyssey. She also has the gargantuan multi-play effort of dramatist August Wilson in mind as well: Father Comes Home From the Wars (Parts 1, 2, & 3) is part of a projected nine-part epic about American history that will span time and generations.
The narrative through line of the opening trio of scripts is simple enough: Part 1: A Measure of a Man is set in 1862 on a plantation in Texas, where the African-American slave Hero must decide whether to accept his owner's invitation to join him and fight in the Rebel Army. Hero has been promised his freedom if he goes into combat, but his loving mate Penny wants him to stay put while his fellow slave Homer advises him to flee. The chorus of "less than desirable slaves" takes bets on what Hero will decide. Part 2: A Battle in the Wilderness features a marvelously acidic portrait of Hero's morally bankrupt owner as well as a powerful encounter with an identity-shedding Yankee prisoner. Part 3: The Union of my Confederate Parts proffers a bittersweet homecoming that has Hero's loyal pet, Odyssey Dog, giving Penny, Homer, and some runaway slaves the lowdown on the fate of Hero and his master.
It won't do to give too much of the plot away because there are some genuine surprises and reversals here. Parks mixes-and-matches uniforms and Greek epics as she delves into various levels of betrayal as well as picks away at layers of self-delusion among the powerful and the powerless. Suffice it to say that Parks' notion of the search for self-respect and emancipation stands in refreshing opposition to the understandable contemporary demand that African-American dramas deliver inspiration (such as Daniel Beaty's Breath and Imagination, which is currently running at ArtsEmerson). Father Comes Home from the Wars … trains a refreshingly mischievous and ironic eye on the ever-shifting nature of Hero and anti-Hero, as well as the poignant tensions between freedom and loyalty.
Parks' language is eccentric, to say the least, ranging from the antique to the contemporary ("snap"). This is a history play that doesn't want to be pigeonholed as historical, and the cast members generally provide a compelling blend of the old and new. Benton Greene underplays the temptation to hotdog as Hero; Jenny Jules provides a stalwart Penny (to the point that it makes you wish Parks had given the character more to do), Sekou Liadlow creates an intriguing portrait of injured strength as Homer, Ken Marks is wonderfully zesty as Hero's owner (Parks is Shavian enough of a dramatist to know that the villain must be worthy of the spotlight), Michael Crane is suitably guileful as the caged Union soldier, and Jacob Ming-Trent injects enough charm into his Odyssey the yakking dog that the mutt comes off as more than just a cute device.
On the debit side, some of the chorus members stray into mugging, and Harold Surratt's creaky-cranky The Oldest Old Man is a head-scratcher — is this version of Methuselah supposed to be so unconvincing? That brings up the matter of tone. Director Jo Bonney's generally fine direction sometimes runs into trouble where moving from farce to more serious matters and back — Part 1 in particular is clotted with repetition (How many times do we need to hear that Hero has a decision to make?) and exposition, which is Parks' fault, but there some actor-ish antics from the chorus that get in the way of the dramatic point.
But I don't want to look a gift talking dog in the mouth. I get e-mails from the A.R.T. boasting that Finding Neverland broke box office records at the Loeb Drama Center and that the shake-yer-booty-till-your-eardrums-puncture Donkey Show has become a hardy perennial, like Blue Man Group or The Nutcracker. Who knows what A.R.T. CEO/Artistic Director Diane Paulus is planning to construct on her assembly line dedicated to the boffo? — perhaps The Donkey Show 2, featuring a mule on roller skates doing the shimmy-shake? I am not usually a 'run don't walk to the box office' kind of critic, but may Father Comes Home From the Wars (Parts 1, 2 & 3) fill the Loeb Drama Center to the brim and then some. In the battle for artistic excellence at the A.R.T., it's a precious opportunity to score one for the real thing.
---
Bill Marx is the Editor-in-Chief of The Arts Fuse. For over three decades, he has written about arts and culture for print, broadcast, and online. He has regularly reviewed theater for National Public Radio Station WBUR and The Boston Globe. He created and edited WBUR Online Arts, a cultural webzine that in 2004 won an Online Journalism Award for Specialty Journalism. In 2007 he created The Arts Fuse, an online magazine dedicated to covering arts and culture in Boston and throughout New England.