Go ahead, name another older rocker this side of Iggy Pop who can get away with playing most of his show bare-chested.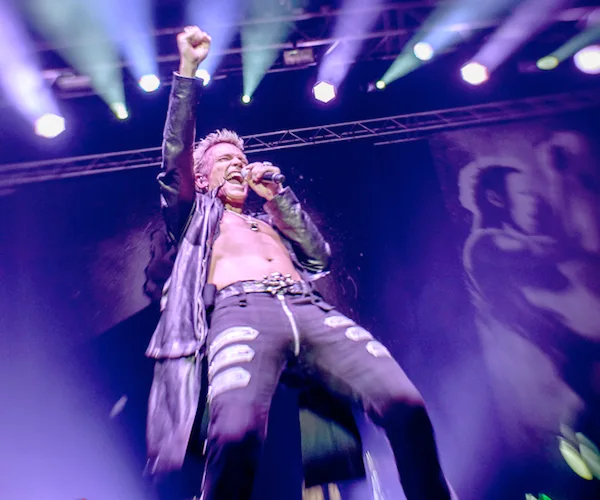 By Brett Milano
Billy Idol's first single, as frontman of '77 punks Generation X, was "Your Generation"—a tune about how the old rock stars were all washed up, and how it "might take a bit of violence" to put them back in their place. So there's an obvious irony to seeing a 59-year-old Idol on a comeback tour—especially at the Orpheum, the very same venue he played to promote the breakthrough album Rebel Yell three decades ago.
Truth be told, I was at that 1984 show and wondered at the time if Idol was already past it. Generation X had bowed out with another great single, "Dancing With Myself," and solo Idol was going Hollywood on us. His new sound crossed a little punk with a lot of metal guitar, glossy synthesizers and dance rhythms. This of course was a sound we'd hear for the rest of the decade—though not so much from Idol himself, whose career stalled after Rebel Yell and its three hit singles (title track, "Eyes Without a Face" and "Flesh for Fantasy"). By 2006 he was so far off the radar that nobody noticed when he made a Christmas album, one that rivals Bob Dylan's for sheer out-of-character weirdness.
But he was back in character Saturday night, and the show wasn't all that different from the '84 one: Same sound, same lead guitarist (career-long sidekick Steve Stevens), many of the same songs, probably a lot of the same fans (and once again, nearly sold out). And there's something to be said for Idol's pulling it off after all this time, especially when he's still playing the kind of bad-boy role he should by all rights have outgrown years ago. Aside from his hair being slightly less teased, Idol hasn't changed his wardrobe (leather, chains and black T-shirts) or his trademark sneer; for a guy who's owned up to substance-abuse problems he's in remarkably good shape. Go ahead, name another older rocker this side of Iggy Pop who can get away with playing most of his show bare-chested.
And give him credit for opening the show with a song that put the rest in context: "Postcard From the Past" (one of four songs played from his recent, semi-autobiographical album Kings & Queens of the Underground) was about realizing you've aged but still wanting to shake some action, to feel the old energy and the sense of possibility that went along with it. As aging-punk songs go it's a fairly resonant one that doesn't try getting too deep—You don't want Billy Idol to start pondering mortality, any more than you want him to sing Christmas songs.
And he aimed to please, doing all his '80s hits (well, almost all: The corny "Hot in the City" was left out). Along with the obligatory "Dancing With Myself" he hit the Generation X catalogue twice, doing their '60s-inspired "Ready Steady Go" and a real surprise, the Elvis tribute "King Rocker" (from their fab Ian Hunter-produced sophomore album, Valley of the Dolls). Stevens did a handful of shredder solos including a flamenco-tinged acoustic spot. Not everything worked—his cover of the Doors' "L.A. Woman" didn't improve much by substituting Boston for every mention of L.A.—but most of it held up fine, even the discofied cover of Tommy James's "Mony Mony." Idol never promised much more than a good time, and nowadays you get the sense that his heart was in it all along. So call him that great contradiction, a poseur with integrity.
---
Brett Milano has been covering music in Boston for decades, and is the author of Vinyl Junkies: Adventures in Record Collecting (St. Martins, 2001) and The Sound of Our Town: A History of Boston Rock & Roll (Commonwealth Editions, 2007). He recently returned from New Orleans where he was editor of the music and culture magazine OffBeat.