On Saturday, violinist Yevgeny Kutik delivered a superb performance of Prokofiev's Second Violin Concerto that mined the piece's subversive character but never shied away from its extroverted nature.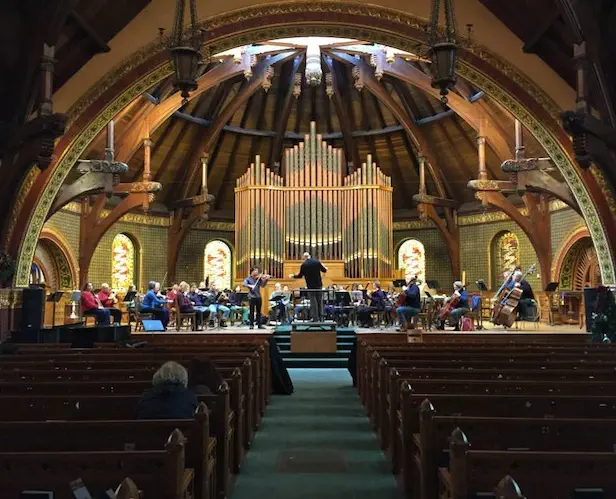 By Jonathan Blumhofer
The 2014-15 season has been a conspicuously good one for fans of Sergei Prokofiev's Violin Concerto no. 2. In November, Gil Shaham and the San Francisco Symphony brought it on their tour to Symphony Hall. Later this month, Julian Rachlin performs the piece with Asher Fisch and the Boston Symphony Orchestra. This past Saturday night, Prokofiev's evergreen score came to Newton's First Baptist Church, courtesy of Yevgeny Kutik and the Pro Arte Chamber Orchestra.
If ever a violinist was made for a particular concerto, surely Kutik seems ideally suited to this Prokofiev. Its assured brilliance matches his commanding stage presence and neatly showcases his pure intonation and crystalline tone. It goes without saying that he's got the technical facility with which to navigate the music's many twists and turns. On Saturday, he brought with those chops a healthy dose of energy, delivering a performance that mined the concerto's subversive character but never shied away from its extroverted nature. Coming on the heels of Shaham's inwardly-focused interpretation, Kutik's proved, to these ears, a more satisfying approach.
Best of all, he clearly has an affinity for this music and for Prokofiev's mercurial style. Kutik's playing throughout was never hesitant, always questing. In his hands, the first movement sounded almost improvisational, withdrawing in quieter passages only to burst out with sudden, fresh gestures: like flights of ideas that are surely rational yet also seem spur-of-the-moment. The middle movement sang sweetly. And the finale danced vigorously, even if the ensemble work over its closing pages, with their complex metrical shifts, was sometimes tentative.
There was nothing tentative about Pro Arte's account of Prokofiev's "Classical" Symphony, with which the concert closed. On the contrary, this was a jovial and sprightly run-through. Pro Arte and music director Kevin Rhodes tapped into and rode the score's current of Haydnesque wit about as far as it would take them, and that distance proved considerable.
The first and last movements bustled with great energy and not a little humor. The slow second movement, with its biting nostalgic feints, charmed the ear. And the Gavotte tripped along briskly. If this wasn't the most pristine reading of the Symphony ever heard – contrapuntal textures were muddled, especially in the fast movements, and there was some patchy intonation, here and there – it was certainly a very good one, and highly enjoyable to boot.
That last quality was less evident in Saturday's opener, Tchaikovsky's Serenade for Strings, which got a workaday performance from the orchestra. Foursquare phrasing kept its outer movements from really taking off. The swooning second-movement waltz was more forceful than graceful. And the deeply expressive third movement lacked a sense of sustained, dramatic intensity.
Some of the problems were due, no doubt, to the orchestra's seating arrangement, which left space onstage for wind and brass players (who didn't play until the concert's second half), in the process unduly separating the high and low strings. The result was that the ensemble's sound never really meshed – it was thin and favored the violins too much – and also seemed to preclude the players from realizing the chamber-like quality that makes the best elucidations of this Serenade so brilliant.
Of course there were moments when the ensemble rose above these challenges. Their staccato articulations in the first movement were crisp and nicely uniform. The little rallentandos in the waltz were played with charming delicacy. And the big tune in the third movement, even if it was a bit tonally chilly, unfolded with a sweeping sense of lyricism. But conductor and orchestra never fully broke away from the leaden rigidity with which they began the piece.
Even so, it didn't doom the evening: Saturday's concert was primarily about Kutik and Prokofiev's marvelous Second Violin Concerto. The violinist's already released two albums of chamber music that probe corners of the repertoire with special significance to him. On the merits of this weekend's engagement, one looks forward not only to his forays into similarly unfamiliar concerto repertoire, but also his surveys of the standard canon. It seems that, especially with the music that speaks most deeply to him, he's a musician who's got something to say that's truly worth hearing.
---
Jonathan Blumhofer is a composer and violist who has been active in the greater Boston area since 2004. His music has received numerous awards and been performed by various ensembles, including the American Composers Orchestra, Kiev Philharmonic, Camerata Chicago, Xanthos Ensemble, and Juventas New Music Group. Since receiving his doctorate from Boston University in 2010, Jon has taught at Clark University, Worcester Polytechnic Institute, and online for the University of Phoenix, in addition to writing music criticism for the Worcester Telegram & Gazette.