The aim of National Pride (and Prejudice) is to prompt viewers into reexamining the relationship between a country's iconic images and its not-so-reassuring realities.
National Pride (and Prejudice) in the Edward H. Linde Gallery (Gallery 168) at the Museum of Fine Arts, Boston, MA, through April 12.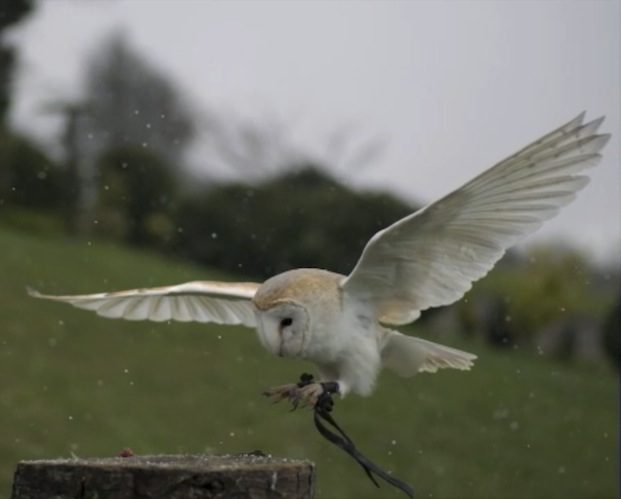 By Kathleen C. Stone
In this small show, seven contemporary artists explore the complex subject of national identity. Most, but not all, are American, and their aim is to cast a critical light on a nation's traditional symbols, usually objects such as the American flag and Stonehenge. The idea is to prompt viewers into reexamining the relationship between a country's iconic images and its not-so-reassuring realities.
Dave Cole's American Flag (Bullets) delivers an eloquently quiet statement about patriotism, militarism, and our country's love affair with the gun. Constructed from bullet casings — shiny ones from overseas for the stripes and darker domestic ones for the field of stars — the piece builds on Cole's earlier work, which made creative use of gun debris and the flag. His 2005 installation The Knitting Machine (which took place at the Mass MoCA) knit a 20-square foot American flag out of felt, using 30-foot long "needles" attached to the arms of John Deere backhoes. The project took five days and was completed on the fourth of July. In Breastplate No. 6 (Oglala Sioux Tribe, circa 1891), Cole used bullet casings to replicate a Native American breastplate in the Smithsonian's collection. For the flag on view in National Pride (and Prejudice), he combines the refuse of our wars, murders, assassinations and practice ranges with one of our most potent national symbols. But he leaves us free to draw our own conclusions about the juxtaposition.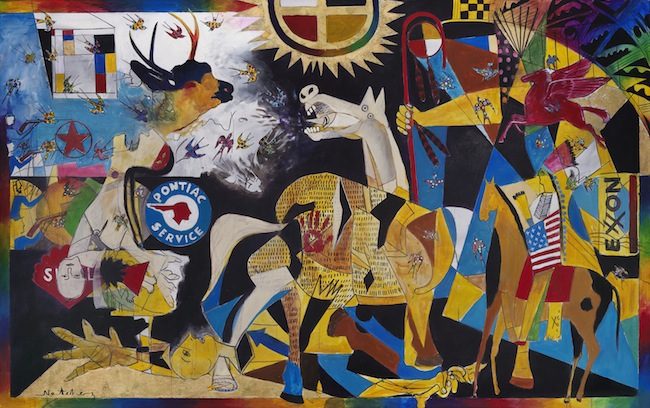 Stan Natchez's painting Guernica to Wounded Knee takes a much more didactic approach. Combining the bright colors and commercial logos common to Pop art (including a Pontiac Service sign, complete with the Ottawa chief's profile) with imagery drawn from Picasso's famous anti-war painting, the artist depicts the massacre of the Sioux at Wounded Knee Creek, South Dakota. That event, in 1890, put an end to armed conflict between federal troops and Native Americans, but its legacy of murder and hatred runs deep. With this colorful painting, Natchez encourages us to confront the violence at Wounded Knee, as well as the continuing commercial exploitation of native lands.
A visually stunning video, backed by a steel orchestra sound track, commands viewers' attention. English Magic is a film Jeremy Deller created for the 2013 Venice Biennale; in it, we watch trained birds fly across verdant landscapes, leather jesses attached to their legs, talons stretched for landing. Their claws morph into sharp arms of a multi-pronged demolition machine. Two Land Rovers are picked up and dumped into a crushing machine and annihilated.
These images are compelling in and of themselves, but Deller's cultural critique points are subtly woven through what might be dismissed as a surreal narrative. The viewer will need knowledge about British business in order to understand the film's message. For instance, the crushing scene is heavily ironic because the iconic product of a venerable British company is destroyed; Tata Motors, an Indian conglomerate, now owns the Jaguar Land Rover Company; and Mumbai, the city known during the Raj as Bombay, Gateway to India, is the home for Tata's corporate headquarters. As for the fowl, Americans may wonder why Deller lingers on them, majestic and beautiful as they are. But for the English public, the birds recall a 2007 incident when two rare hen harriers were shot in a nature preserve. Prince Harry and a friend were nearby and questioned, but no charges were filed because the birds' bodies were missing.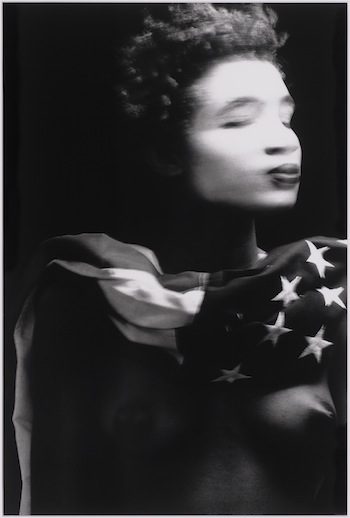 Other of Deller's film bits seem more lighthearted. School children bounce on an inflatable Stonehenge; they are clearly having fun but the hijinks raise questions about culture and sacrilege. The Lord Mayor's Parade marches through an urban center. Participants in medieval garb hold the signs of their guilds, except that today's guilds are actuaries and chartered accountants instead of cobblers and apothecaries. When they pause in front of a Ladbrokes betting shop, the notion that capitalism turns history into farce is inescapable.
Miss America, a photograph by Lyle Ashton Harris, is one of the show's standouts. The face of an African American woman is covered in reverse minstrel white powder. She seems to be poised for a kiss, with lips pursed, but there is no feeling of passion; she and her unseen lover seem merely to co-exist. According to the Miss America website, eight black women have won the title in ninety-three years, the first in 1983. Obviously, the photograph makes a statement about that absurdity. But it goes much further, becoming a criticism of American attitudes on racism at a time when the country cannot turn away from dealing with the issue.
Other pieces comment on Mao, gays in the military, and the atomic bomb. Let's hope that National Pride (and Prejudice) is successful enough for the creation of an expanded version: there is so much more American hubris left to examine.
---
Kathleen C. Stone is a writer pursuing her MFA degree, a lawyer who earned her JD many years ago, and, even before that, was a student of art history. Her blog can be found here.