To its considerable credit, Make My Heart Flutter is more existential, literary, and weird than most American comedies.
Make My Heart Flutter by Hanoch Levin. Translated by Karen Alkalay-Gut and Roi Tartakovsky. Staged reading directed by Guy Ben-Aharon. Presented by Israeli Stage at the Goethe-Institut, Boston, MA, on November 2.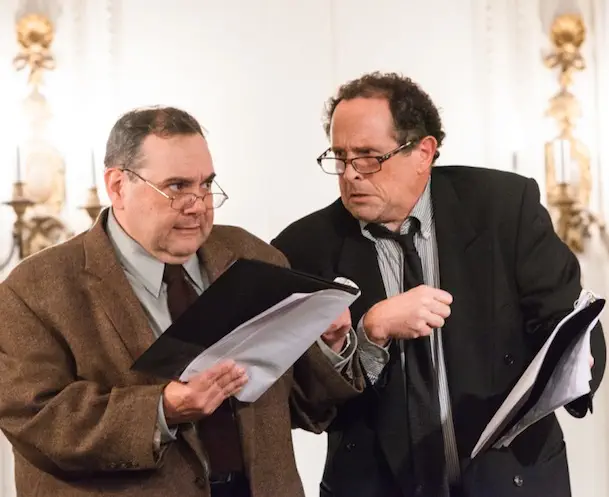 By Ian Thal
Judge Lamka (Remo Airaldi) is positively giddy as he describes his new love to his best friend and confidante Pshoniak (Jeremiah Kissel). Lamka speaks of a love so great that he is astonished that the local newspapers are not printing headlines proclaiming that "Judge Lamka Is Loved." He brags that she weeps for his presence when he is away. This is a love so excessive that rather than exclaim "I can take no more" he asks, "How much not taking can you take?"
Yet when they arrive at the house of his beloved, a singer named Lalalala (Adrianne Krstansky), Pshoniak discovers that his friend's claims don't reflect reality. Lalalala is annoyed that Lamka has come by unexpectedly: his regular 8 p.m. Saturday appointment is the proscribed time. She has a concert that night to which Lamka seems to have not been invited (and which he is not interested in attending). A podiatrist from France (Omar Robinson) is hiding in Lalalala's cupboard. Supposedly he is there to treat a corn on her foot. (She claims that the corn is preventing her from singing her low notes.)
Cue broad comedy: Robinson plays a number of apparent rivals for Lalalala's attention, running through a series of accents and gestures. He's an Otorhinolaryngologist from Venice, an accompanist from Spain, a fitness coach from Yugoslavia, a homeopath from Albania, an accordionist from Turkey, a local fellow of an unknown vocation, and a trio of singers believed to hail from Jamaica. Krstansky's Lalalala possesses a cagey intelligence that befits an ambitious artist who wants to enjoy herself as she pursues her career. The naïve Lamka (Airaldi plays him especially child-like) understandably sees her as a prize, a sophisticated lady with feminine wiles to spare.
Pshoniak's home life is, by contrast, comically lacking in the self-delusional pleasures of Lamka's romantic excess. His wife, So-so (Nancy E. Carroll), is a hypochondriac; she spends much of the day in bed, tasking Pshoniak to make yet another pot of tea. Pshoniak makes the tea and Pshoniak kvetches. So-so kvetches that every time she does get out of bed, Pshoniak is exhausted or sleeping. Perhaps, because of his plight, Pshoniak attempts to council his friend on the ridiculousness of his situation. Whereas Lamka utterly lacks self-reflection, Pshoniak is utterly reflective (explosively so here, given that Kissel's kvetching is almost percussive – an explosive contrast to So-so's monotonous nagging.) Confronted by Lamka's rose-colored views, Pshoniak has a brief mid-life crisis after years of marriage (Pshoniak and So-so cannot seem to agree on how many). He is uncertain how it is that he has come to his place in life and wonders if there is not another place he would rather be be.
For a judge, Lamka has meagre common sense and little interest in the law. One wonders if Lamka's honorific is ironic. (Perhaps he is a layabout who flunked out of law school?) He doesn't even try to adjudicate between Pshoniak and So-so. In pursuit of Lalalala, he abandons law (if he ever seriously practiced it) and devotes himself to a rigorous study of podiatry, an ascetic diet, and a strict schedule that also includes watch duty at her door. He hopes that his efforts at self-improvement will make him the most prized among the long parade of suitors that come and go. His folly is obvious: he refuses to accept that his demeaning situation falls well short of his romantic ideals.
Lamka's dedication to duty and schedule impresses Lalalala, but as her fortunes wax and wane (that's show business) she finally feels compelled to explain to him that she can never love him as he wishes. She values him for his unchanging course which, like the sunrise, that gives the world some fixity and meaning.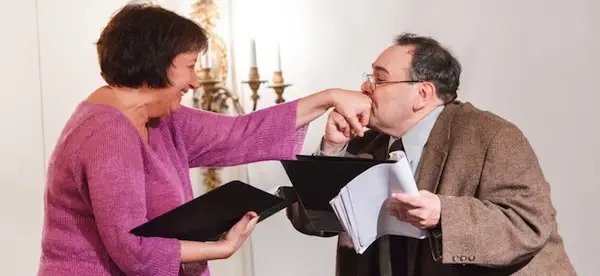 Hanoch Levin is often regarded as "the father of Israeli drama." Before him, Israeli theater was dominated by repertory companies that devoted themselves to European classics. Director Guy Ben-Aharon described Levin to American audiences as "Israel's Beckett" or "Beckett meets the shtetl." The comparison is apt in a number of ways: both dramatists are deeply concerned with issues of language, narrative, and identity; they also make use of an often vulgar humor that often touches on metaphysical concerns. The earthiness in Make My Heart Flutter is of a gentle sort: Lalalala's many lovers are not a sign of moral failing but an embrace of life, and Lamka's fetishization of her back (not her buttocks, but her back – he makes special note of her posture) is strangely innocent.
In forming the modern state of Israel, the Zionists rejected what they saw as the insularity and weaknesses of shtetl life. The perceived provinciality of the latter made it a perfect target for satire and humor. The schnorrers and the prostitute in Levin's The Whore From Ohio (which Israeli Stage presented last year) come across as blinkered old-world types who never adapted to their new country. Lamka, if he is, in fact, the judge everyone believes him to be, appears to come from a long line of magistrates that made nonsense rulings in Chelm – a town legendary in Ashkenazi folklore for its fools. The layabouts in The Whore From Ohio are parochial to the point that they imagine the U.S. state of the title to be a land of opulent palaces (right out of The Arabian Nights). Lamka and Pshoniak's understanding of geography is that every nation has a Riviera and every land where the British flag once flew must be part of Europe.
Found among Levin's papers after his death in 1999, Make My Heart Flutter was produced posthumously. The reference to Yugoslavia makes you suspect that the script was abandoned by 1991, before the Yugoslav wars began. While it is a strong comedy (fully staged, with some physical and visual humor added, the script would probably be a riot), it does not quite reach the existential depths, literary heights, and coarse weirdness of The Whore From Ohio. But, to its considerable credit, the script is more existential, literary, and weird than most American comedies.
---
Ian Thal is a playwright, performer and theater educator specializing in mime, commedia dell'arte, and puppetry, and has been known to act on Boston area stages from time to time, sometimes with Teatro delle Maschere. Two of his short plays appeared in theater festivals this past summer. He has performed his one-man show, Arlecchino Am Ravenous, in numerous venues in Massachusetts and Rhode Island. One of his as-of-yet unproduced full-length plays was picketed by a Hamas supporter during a staged reading. He is looking for a home for his latest play, The Conversos of Venice, which is a thematic deconstruction of Shakespeare's The Merchant of Venice. Formally the community editor at The Jewish Advocate, he blogs irregularly at the unimaginatively entitled From The Journals of Ian Thal, and writes the "Nothing But Trouble" column for The Clyde Fitch Report.