Isango's Magic Flute/ Impempe Yomlingo is lit by flashes of brilliance. Most can be traced directly to Mandisi Dyantyis' s reorchestration of Mozart's orchestral score for an ensemble of marimbas.
The Magic Flute/ Impempe Yomlingo, based on Die Zauberflöte by Wolfgang Amadeus Mozart, presented by Arts Emerson. Created by Isango Ensemble, adapted and directed by Mark Dornford-May, music arranged by Pauline Malefane and Mandisi Dyantyis. At Cutler Majestic Theatre through October 26.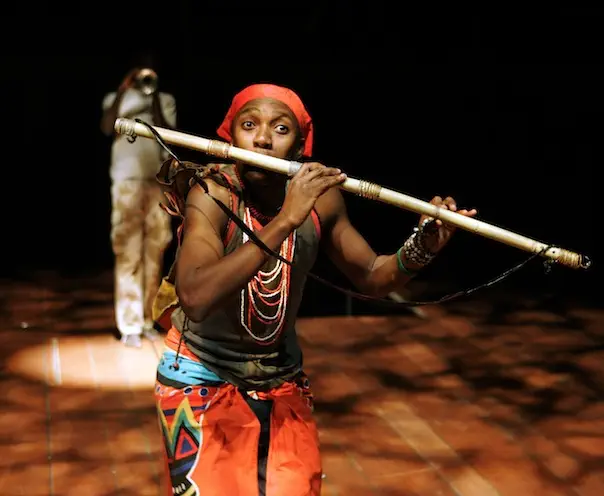 By Debra Cash
In the program note to the Isango Ensemble's unique version of The Magic Flute, South African director Mark Dornford-May writes that in Tsonga myth, birds are believed to create lightning by
"flying towards heaven and then div[ing] out of the clouds towards earth, striking a tree, a house or a person causing death and fire in the middle of rain. The only way to prevent this bird from causing destruction is to find someone brave enough to climb into the mountains as the storm is breaking. Once they have climbed high enough they are to play on an enchanted flute […] to spare the musician and his immediate community.

The Tsongan flute is carved from the bone of andlati bird during a storm; Mozart's flute is also carved during a storm "when lightning flashed."
The Isango Ensemble's Magic Flute/ Impempe Yomlingo, like the mythic mountain, is lit by flashes of brilliance. Most can be traced directly to Mandisi Dyantyis's reorchestration of Mozart's orchestral score for an ensemble of marimbas. Under his direction, the transposition is no gimmick. Dyantyis stands with his back to the audience, a live feed of his face and gestures visible on a sheet hung upstage. With their wooden resonance, marimbas furnish Mozart's construction with dovetailed corners, the fuzzy mallets blurring the musical lines into softer than usual chords. Compare James Levine's terrific traditional reading for the Metropolitan Opera with Dyantyis's reorchestration here.
Later in the production, parts of this Magic Flute gain a layer of syncopation with the addition of lively township percussion: drums, whistles, and the resonance of hollow oil barrels. A few of the ensembles translate into sober African acapella hymns. And in one delightful decision, Mozart's European glockenspiel is replaced by music made on a set of glass bottles. Isango's singers double as the musicians. This, I assure you, is something that never happens at the Met.
In the Magic Flute, the forces of darkness are arrayed against the forces of light, an appropriate jumping off point for drama set in a society still building its post-apartheid culture. Dornford-May has retained most of Mozart's plot twists and turns but has whittled the opera down to two hours by replacing great swaths of musical development to a few lines of exposition spoken in English, Xhosa, Zulu, and Tswana. Given the diversity of languages and the complexity of Emanuel Schikaneder's libretto, this doesn't make it easy for anyone who doesn't already have a firm handle on the synopsis.
Nor did the stage design make it easy to hear. This touring production was presented on the Cutler stage open to the cinderblock of the back wall. Although this gritty, undressed scene removed these African artists from any simulacrum of a baroque theatre, it also diffused the sound. The Magic Flute/ Impempe Yomlingo desperately needed a sound designer.
Dressed in the contemporary camouflage fatigues of an African park ranger, Zamile Gantan, Isango's associate director, made a robust birdcatcher, Papageno. Gantan sang with the best technique of the night, clear enunciation, and canny comic timing. As the Priest of the Sun turned tribal chief Sarastro (the chorale Viva Sarastro! has special implications when accompanied by raised fists), Ayanda Tikolo cut an imposing figure, although his rich middle range had more authority than his dips into the depths of his bass range.
It may seem unfair to criticize a troupe whose very name means gateway, and which was developed in part to create opportunities for young artists, but few other singers had the same polish. Co-director Pauline Malefane, emerging from below a neon crescent as the Queen of the Night, is an implacable figure, whether or not brandishing a knife. Sadly, her singing lacked consistency and the breath control that would steady it: she may have some high notes, but the coloratura demands of this role were simply beyond her skills. Bongiwe Mapassa, a sweet-faced ingenue playing Pamina, had pitch ranging painfully all over the map, and as her lover Tamino, Mhlekazi Mosiea seemed to go in and out of vocal and dramatic focus.
I liked the translation of the magical Three Boys into three spirits who dressed and vamped like the Shirelles and later carried pink teddy bears to go along with their embellished baby doll nightgowns and plush pink wings. Dornford-May's innovative concept, alas, was not matched by the particulars of his stage direction: too many times, arias were sung stock-still and stage business was kept to the bare minimum.
Still, there's something to be said for a production that can turn the moment when Sarastro declares that Tamino is ready to undergo the ordeals that will enlighten him and earn him enduring love into a demonstration of the power of one man, one vote. That's not the usual take on Mozart. Viva Madiba.
---
Debra Cash has reported, taught and lectured on dance, performing arts, design and cultural policy for print, broadcast and internet media. She regularly presents pre-concert talks, writes program notes and moderates events sponsored by World Music/CRASHarts and cultural venues throughout New England. A former Boston Globe and WBUR dance critic, she is a two-time winner of the Creative Arts Award for poetry from the Hadassah-Brandeis Institute and will return to the 2014 Bates Dance Festival as Scholar in Residence.
c 2014 Debra Cash