Violinist Regina Carter and her band drew the audience in with a sustained mood of intimacy, warmth, and unfailingly beautiful playing.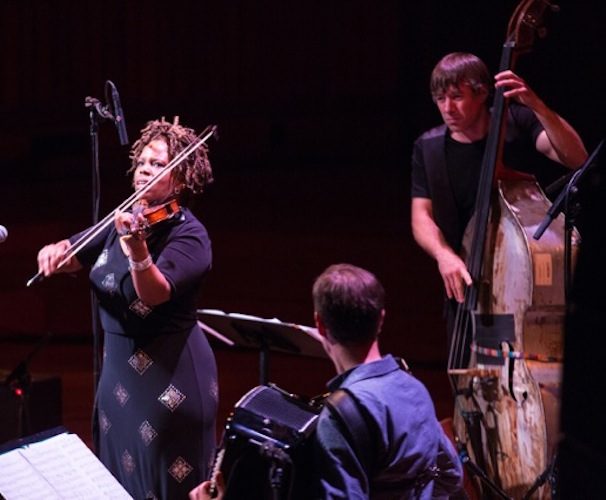 By Jon Garelick
Regina Carter is a virtuoso who favors form over firepower. In their Celebrity Series of Boston show at Sanders Theatre in Cambridge on Friday night, the violinist and her band showed off plenty of nimble chops, but they weren't looking to burn the Sanders crowd with groove-heavy jams; instead, their patient, carefully calibrated arrangements drew the audience in with a sustained mood of intimacy, warmth, and unfailingly beautiful playing.
Carter, 48, is a MacArthur Fellow (the popularly known "genius grant"), and she's used some of that money to pursue a musical investigation of her own heritage. Beginning with I'll Be Seeing You: A Sentimental Journey (2006), she looked at the popular music, blues, and jazz, her mother grew up with in Detroit. She followed that with an exploration of her West African roots in 2010's Reverse Thread (a DNA revealed she's 73 percent West African, Carter told the crowd). Her newest disc, Southern Comfort, which came out in March, looks at music from her father's side of the family — particularly, her paternal grandfather, Dan John Carter, who was born in 1893 and worked for most of his life as an Alabama coal miner.
The bulk of the show at Sanders was drawn from Southern Comfort, most of which in turn was drawn from field recordings by Alan Lomax and John Work III, and arranged by Carter and various musician friends, including guitarist Marvin Sewell and accordionist Will Holshouser, from her band. Carter introduced a few of the pieces with the original field recordings, which she played on her cell phone (not without a few self-deprecating laughs, as she struggled with the device). And she talked a bit about her family, and summer trips from Detroit to her grandmother's house in Bradford, Alabama (she never met her grandfather, who died before she was born).
The musical mix is a surprising blend of Appalachian fiddle tunes, church hymns, and game-songs, what Carter has called a "cultural hodgepodge." When Carter introduced "See See Rider," she pointed out that it wasn't "the blues See See Rider," but much older: a children's song. In fact, she said, most of the field-recordings were single-line vocal melodies (with the exception on the CD of a Gram Parsons track and Hank Williams's "Hickory Wind").
It was Carter and her band's fidelity to the vocal nature of the pieces that most distinguished Friday's show. It began with the traditional "Miner's Child," which featured an elaborate acoustic slide guitar intro from Sewell, before Carter entered to join the band from back stage — it was the most theatrical, "star" turn of the evening, but in keeping with the evening's casual formality. As the band joined in and hit an easy groove, Carter took over the melody, and it was startling to hear (especially after some of Sewell's elaborate solo ornamentation) her bring out the vocal quality of the lines, her simple conversational phrasing, with its rests and repetitions and siding blue notes. Carter has spoken about her love of the original recordings and her need to clear her head and scale back her improvisations when she was recording Southern Comfort, and remember that it was those original vocal performances that drew her to the songs in the first place.
Sewell's arrangement of "Miner's Child," he told me in an interview, required everyone to simply work off the melody, entering with it at any point as part of the "accompaniment." Here, lines from Sewell, Holshouser, and Jesse's Murphy's bass snaked around under Carter's solo, creating a loose groove. Sometimes Carter's improvisation was simply a matter of shifting from upper register to lower register, a loud-to-soft dynamic, or a different key, creating another "voice."
That kind of simple melodic paraphrase was the foundation for much of the evening. It wasn't like Carter never "burned," or pulled more of her extraordinary gifts out of her player's toolbox. The children's song "Shoo-Rye" started with a medium-tempo groove and plenty of long tones in the phrasing. From there, a pizzicato duet between Carter and Murphy gave way to a Carter solo that accelerated into a blur of syncopated double-stops and pinging harmonics. And then, it returned to her singing the piece — just as the lone female voice had done when Carter introduced the song with the field recording on her phone.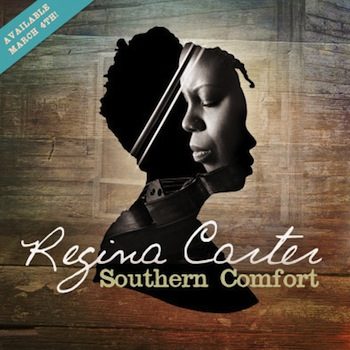 After I had listened to Southern Comfort a few times, I wondered why Carter hadn't featured vocals more, as she had on I'll Be Seeing You. But the concert made that clear: this was vocal music, but about the voice, not the words. After all, there aren't a lot of lyrics to "Shoo-Rye," or "See See Rider," or the lullaby "Cornbread Crumbled in Gravy" (which the band also played). But there are those voices. And even on the slow blues waltz of "Hickory Wind," Hank Williams's words were unnecessary: when Sewell finished his demonstrative electric-slide guitar solo (at times conjuring the country-whine of pedal-steel), Carter followed him with a couple of short, quizzical rising phrases — like she was asking him a question.
There were a couple of tunes outside the Southern Comfort zone — "Mandingo Street," by the Cameroonian bassist and singer-songwriter Richard Bona, from Carter's 1999 Rhythm of the Heart, and the Ellington standard "Just Squeeze Me" from I'll Be Seeing You. The first began with free improvisation — all soft whistles, clicks, and clattering drum rims — wended its way to a groove, and ended with drummer Alvester Garnett coming out from behind the kit to join Carter in singing the melody while softly tapping the rhythm with a wood-brush stick on his hand. Garnett (who also happens to be Carter's husband) was a marvel of taste and invention all night, never overplaying, always finding the right groove, the right color, for the moment, all the more forceful for his understatement. And "Just Squeeze Me" was, finally, walking-bass jazz swing, with Holshouser taking several inventive, driving choruses that would be the envy of any jazz pianist.
Holshouser, too, was a master of color and foundational support — always with the right approach, wheezing gently like a harmonium, or blending timbres with Sewell's slide guitar, Murphy's bowed bass, or Carter's violin. Those blends of color were part of this band's special magic. Their encore of a hymn, "I'm Going Home," was fitting: sepia-toned and unsentimental, an exploration of the past, of ancestry, but told in the here-and-now.
---
Jon Garelick can be reached at jon.garelick4@gmail.com. Follow him on Twitter @jgarelick or on his blog, jongarelick.com.