On more than one occasion in The History of Rock 'n' Roll in Ten Songs Greil Marcus argues that the original recordings of some of his picks don't hold a candle to their cover versions.
The History of Rock n' Roll in Ten Songs, by Greil Marcus. Yale University Press, 320 pages, $28.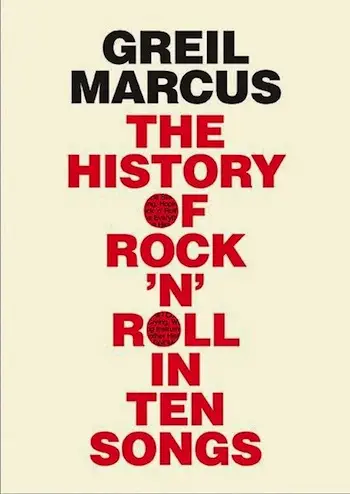 By Adam Ellsworth
Visual and sound artist Christian Marclay's "Guitar Drag" isn't a recording you'd expect to be featured in a book called The History of Rock 'n' Roll in Ten Songs. This is for many reasons, the main ones being that "Guitar Drag" wasn't written or performed by an inductee of the Rock and Roll Hall of Fame; it's not a radio staple; and many people probably wouldn't consider it to be a "song" anyway, at least not in the traditional sense of the word.
"Guitar Drag" is the soundtrack to a film of the same name in which Marclay pulls an electric guitar behind the truck he's driving, causing all kinds of racket. But what a racket it is! And as The History of Rock 'n' Roll in Ten Songs' author Greil Marcus points out, "Guitar Drag" contains multitudes.
Marcus's chapter on the song touches on Jimi Hendrix, John Henry (and "John Henry"), American Hot Wax, Alan Freed, the blues, Little Richard, Marclay's video collage "The Clock," the 1998 death of James Byrd Jr., and more. Not just for the hell of it either. As in his best work — 1975's Mystery Train: Images of America in Rock 'n' Roll Music, 1990's Lipstick Traces: A Secret History of the Twentieth Century, 2006's Like a Rolling Stone: Bob Dylan at the Crossroads — the connections Marcus makes between "Guitar Drag" and these seemingly unrelated topics all work. At the very least, the connections really are there, which is enough.
"Guitar Drag" is certainly the most obscure song Marcus picks to tell his history of rock 'n' roll, though his other nine tunes aren't obvious choices either. From Joy Division's "Transmission" to the Drifters' "This Magic Moment," Marcus doesn't picks tracks because they're the "best" or "greatest" or "most popular" songs of all time. He selects those he thinks contain what the finest rock 'n' roll must have — a spark, a bit of excitement, a little something extra. These are tunes that sound "new" no matter how many times you hear them, and even (maybe especially) when they resemble something that has been recorded many, many times before.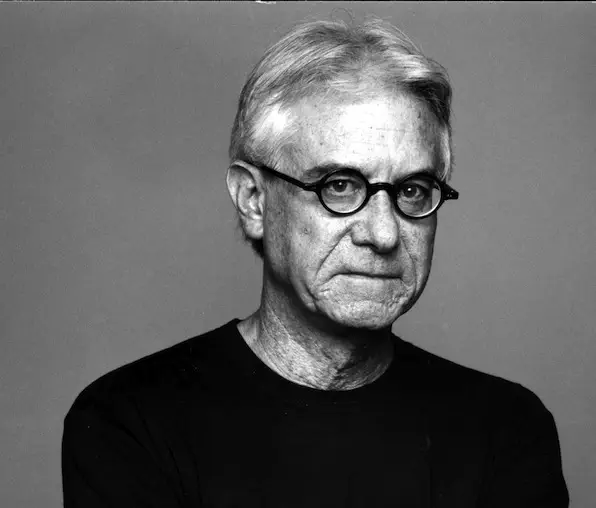 "Whole intellectual industries are devoted to proving that there is nothing new under the sun, that everything comes from something else," Marcus writes in his opening pages. "But it is the moment when something appears as if out of nowhere, when a work of art carries within itself the thrill of invention, of discovery, that is worth listening for. It's that moment when a song or a performance is its own manifesto, issuing its own demands on life in its own, new language — which, though the charge of novelty is its essence, is immediately grasped by any number of people who will swear they never heard anything like it before — that speaks. In rock 'n' roll, this is a moment that, in historical time, is repeated again and again, until, as culture, it defines the art itself."
Of course, Marcus isn't arguing that the ten songs highlighted in the book are the only ones that carry the thrill of invention or speak the new language. Countless other recordings do as well; he wanted to focus on slightly lesser known examples, to provide his own frisson of surprise. In taking this approach, he asserts that rock 'n' roll should be seen as more than a greatest hits compilation made by the acts you've known for all these years, it's an art form that is constantly being reborn, as it has been doing for more than half a century.
Not that all of these songs were perfect straight out of the chute. On more than one occasion in The History of Rock 'n' Roll in Ten Songs Marcus argues that the original recordings of some of his picks don't hold a candle to their cover versions. The book's final chapter on "To Know Him Is to Love Him" goes into the back story of the 1958 chart-topping version by the Teddy Bears (led by Phil Spector), though Marcus thinks the song sounds lukewarm on the record. In contrast, he heaps praise on Amy Winehouse's 2006 version of the tune for the BBC. And while Marcus is complimentary about the 1959 cut of "Money (That's What I Want)" by Barrett Strong (the first hit for Motown, which at the time was still called Tamla), he insists that it is the Beatles' 1963 take on the song that will really make your big toe shoot up in your boot.
Speaking of the Beatles, they're here, just not with any of their own compositions. In addition to the aforementioned "Money," the Fabs' impromptu, sweet but sloppy 1969 run-through of Buddy Holly's "Crying, Waiting, Hoping" receives a considerable amount of attention. Rock 'n' roll history books typically treat the Beatles with unquestioning devotion; Marcus's warts and all approach is refreshing.
If the book has a fault, it's probably that it should have been longer. Excluding the index and notes, the volume is only 251 pages long, and the notes (while more interesting than those in most other pop culture books) are not quite as illuminating as they are in Marcus's earlier efforts. My point is not that the book needed more than ten tunes to tell its story, but that its analysis would have been much more convincing if the reader were given more information and connections about the tracks that Marcus picked. In addition, the book's first chapter, dedicated to the Flamin' Groovies' 1976 tune "Shake Some Action," goes by in a flash; it doesn't provide the idiosyncratic associations and links that make the other chapters so enjoyable.
Oh well, everything can't be Lipstick Traces (some readers might be relieved by this). Overall, The History of Rock 'n' Roll in Ten Songs pretty well succeeds at what it sets out to do — detailing those times when rock issues "its own demands on life in its own, new language."
---
Adam Ellsworth is a writer, journalist, and amateur professional rock and roll historian. His writing on rock music has appeared on the websites YNE Magazine, KevChino.com, Online Music Reviews, and Metronome Review. His non-rock writing has appeared in the Worcester Telegram and Gazette, on Wakefield Patch, and elsewhere. Adam has a MS in Journalism from Boston University and a BA in Literature from American University. He grew up in Western Massachusetts, and currently lives with his wife in a suburb of Boston. You can follow Adam on Twitter @adamlz24.