Hudson Warehouse's production of Shakespeare's The Winter's Tale is fast-paced, sad, and occasionally quite funny.
The Winter's Tale, by William Shakespeare. Directed by Nicholas Martin-Smith. Staged by the Hudson Warehouse Theater Company at Riverside Park, New York, through August 24.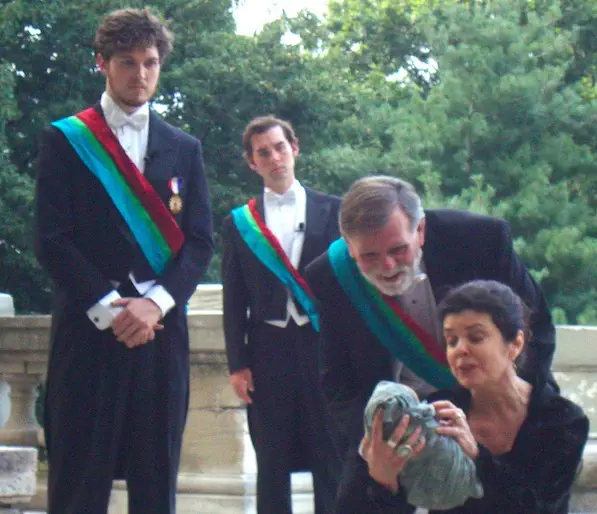 By Paul Dervis
There is something magical about seeing a play under the stars. And that magic is magnified when it's in New York City. The Hudson Warehouse Theater Company has been performing classical theater in Riverside Park for 11 years now. They have just opened their latest production, William Shakespeare's The Winter's Tale, and it makes for a very enjoyable evening. The show begins at 6:30 p.m., in daylight, and ends at 8:30 under the subtle light of imitation gas lamps. This transition works beautifully for one of the Bard's less-often produced masterpieces, one of his 'problem plays' conjectured to have been written around 1611.
Directed by the company's Artistic Director Nicholas Martin-Smith, the show is fast-paced, sad, and occasionally quite funny. It is a well-acted, tight production – two hours with no intermission. But who cares whether or not there is an intermission?
Martin-Smith, who cut his teeth acting in Boston theater in the 1980s at esteemed companies such as the American Repertory Theater and the Publick Theatre, moved to New York where he performed in productions of both classical and contemporary plays. Related to one of the founders of Dublin's Abbey Theatre, he has also worked extensively in both television (Law and Order, Spencer: For Hire) and film (Carlito's Way, Boys Night Out). One of the most important lessons Martin-Smith has learned: he limits all his productions to under two hours. "I'm not going to hold the audience captive for longer than that," he laughs.
Located under the Soldiers and Sailors Monument in Riverside Park, the amphitheater holds no more than 100 seats, A far cry from the set-up for the masses that attend Central Park's Shakespeare in the Park (or the free Shakespeare in the Boston Common via the Commonwealth Shakespeare Company). This small, Equity Showcase company makes expert use of the intimacy. There are no bad sight lines and the cast is quite easy to hear. Though the show is free to the public (the hat is passed at the end of the show), production qualities do not suffer. The costumes were quite striking. The play opened up with everyone in formal evening attire, the actors making later quick costume changes either in the wings or, when appropriate, on stage.
In a nutshell, Shakespeare's play is about how jealousy can bring the greatest of us down to our knees. King Leontes convinces himself that his pregnant Queen, Hermione, is having a tryst with his oldest and dearest comrade, Polixenes, King of Bohemia. He sets out to murder Polixenes, but his friend escapes back to his own land. She and her baby are not so lucky. Hermione is banished to prison, where she gives birth to the daughter that Leontes is sure is not his. At first, the King wants to kill the child, but is convinced by his advisors to banish her from the kingdom instead. Leontes's older child, Mamillius, dies, and his Queen succumbs to a broken heart.
Jump fifteen years in the future. Leontes, now old and frail, is humbled with regret for his actions. If only he could see his baby daughter, now grown…or his dead wife. But how could this happen?
The cast is uniformly strong. The mature actors are professional; many of the younger performers are fresh out of drama programs, but the staging's dramatic impact remains consistent. As Leontes, Bruce Barton exudes power but also intimates a subtly insecure core. Also of note was Heather Lee Rogers's Hermione. The actress gives the character's affecting prison scene a contemporary approach — in shackles, Rogers adroitly interiorizes the anguish brought on by the loss of her husband and children.
Hudson Warehouse has the feel of a repertory group. Although only a few of the actors are listed as company members, many of them have played with the company before. This bond brings considerable strength to any production of Shakespeare, which demands a large cast that can work together with seamless consistency. Hudson Warehouse's The Winter's Tale does precisely that.
---
Paul Dervis has been teaching drama in Canada at Algonquin College as well as the theatre conservatory Ottawa School of Speech & Drama for the past 15 years. Previously he ran theatre companies in Boston, New York, and Montreal. He has directed over 150 stage productions, receiving two dozen awards for hs work. Paul has also directed six films, the most recent being 2011's The Righteous Tithe.