A Hard Day's Night stands as a landmark in rock history because it exemplifies the joyously innocent starting point of the Beatles — today it delivers an irresistible sonic joy that comes from listening to songs that still rock after fifty years.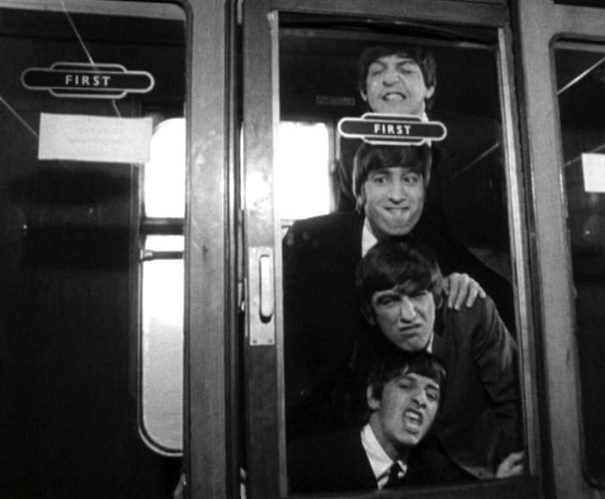 By Matt Hanson
The New Yorker critic Brendan Gill once said of the film version of A Hard Day's Night, newly re-released in a lavish combination Blu-Ray/DVD edition from the Criterion Collection, that he "didn't pretend to understand what makes these four rather odd-looking boys so fascinating." Nevertheless, the critic deigned to "feel a certain mindless joy stealing over me as they caper about uttering sounds." Droll understatement should always be appreciated, but in retrospect it seems obvious that the esteemed Mr. Gill was, to use the parlance of our times, not only sipping from the haterade but veritably chugging it.
Despite the undeniable faddishness of A Hard Day's Night as a cultural artifact, the Beatles themselves were the real foundation of Beatlemania, not the other way around. There's no question that the Fab Four were a part of a larger media hype machine, engineered by Brian Epstein and others, of which A Hard Day's Night was a major catalyst. Some cynics might even write the Beatles off as nothing more than a glorified boy band. This, however, is to make the cynic's classic mistake, according to Oscar Wilde: to see the price of everything and the value of nothing. In a way, it's a critical stance as irritatingly obtuse as someone saying they don't like Shakespeare's writing because it's too canonical. You can't always hold the artist responsible for their audience, much less judge the quality of their work by their fan base. Even in the Clash's epochal song "London Calling," Joe Strummer trenchantly informed the listener that it was phony Beatlemania that had bitten the dust.
Unlike subsequent pop sensations, that tend to wear off like sugar highs, the Beatles emerged in the public sphere with the songwriting chops to not only actually write their own tunes and sing them but also to make the music instantly appealing, innovative and just plain joyful. This applies to their screen presence as well. It's easy to see what wicked, infectious fun the lads are having throughout the film. The self-evident amusement they take in their own status as 'laughing freemen' (as Timothy Leary dubbed them, even before their acid days) surrounded by crazed teenyboppers is still refreshingly disarming.
Watching the Beatles star in someone else's version of a reality show, years before such a thing even existed, is to gaze upon a rare double act: artists who are not only talented enough to capture and hold your attention via their music alone, but are also being puckish and whimsical enough to not give a damn. They really don't try hard to win their audience over. The Beatles didn't come off as desperate for validation or attention from the masses. Unlike the current fatuous pseudo-celebrity parade on reality TV, they are content with the idea that they have something more valuable to offer than the pizazz of vicarious glamour or campy vulgarity. Fifteen minutes of fame barely gets you through half of Side A of A Hard Day's Night, let alone the whole record. As the band surely sensed by 1964 at least, fifteen minutes just wasn't going to cut it.
Part of the fun in watching the film again after all these years is to see how each member of the band plays 'himself' as they interact with their ever-chaotic milieu. When George Harrison wanders into an upscale youth marketer's office, he's condescendingly asked what he thinks of this or that hip new youth fashion. He proceeds to sarcastically takes the piss out of these clueless culture vultures until they all but boot him out. The scene is staged, of course, but so what? It's doubtful that the famously laconic, self-contained George would have acted any differently in real life.
When the issue of faddishness comes up ("are you a Mod or a Rocker?") Ringo slaps this nonsense down ("I'm a Mocker!") with one of his classic malapropisms, another one of which incidentally gave the film, and hence its title song, its name in the first place. John sings "Rule Britannia" while gleefully crashing mini-warships around in the bathtub, which somehow isn't out of character at all. A Hard Day's Night shows how the Beatles understood, intuitively, that becoming a cultural phenomenon in the TV age meant casually creating themselves as public figures — having a jolly good time was part of the process.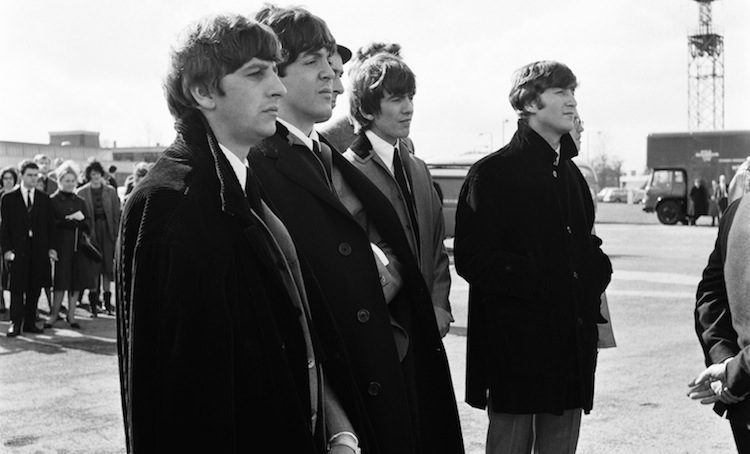 If you're not satisfied with whimsy alone, you can always follow Lester Bangs' admonition that the most rock n' roll person in the whole movie is the grandfather. The movie can work well on those terms, too, if that's your style – the delightfully named Wilfrid Brambell plays Paul's purely fictional grouchy old Grandad, "a villain, a real mixer." He's the perpetually put-upon misanthrope who balances out the rest of the gang's effusive brio. While everyone else is off romping around outside the studio in the fresh air he's gnashing his dentures, leering at the ladies, skimming off the top, hitting the casino, muttering about chicken sandwiches, castigating Ringo for reading books and snarling about all this 'rock n' roll nonsense' in his pinched voice and shabby hat.
As far as rock n' roll is concerned, the songs are still killer. It almost goes without saying. The great thing about the Beatles, or any first-rate band for that matter, is that their music remains vital whether you already know it all by heart or not. When I screened the movie for my family, three different generations of people started nodding their heads and singing in unison, word for word. There's the buoyant "Love Me Do" and Paul and John's ringing harmonies on "I Should Have Known Better" and the dreamy, romantic "And I Love Her." Hearing the film in stunning surround sound, decades after its songs have become veritable pop standards, only proves that the lads were on their way from pretty much the very first chord on.
The later Beatles songs get most of the critical attention because of their complexity of craft and restless experimentation. This is well-deserved: like all great artists, the Beatles were always evolving. Nevertheless, A Hard Day's Night stands as a landmark in rock history because it exemplifies the band's joyously innocent starting point — today it delivers an irresistible sonic joy that comes from listening to songs that still rock after fifty years. The film shows that the Beatles were ready for the masses from the get-go.
---
Matt Hanson is a critic for the Arts Fuse living outside Boston. His writing has appeared in The Millions, 3QuarksDaily and Flak Magazine (RIP), where he was a staff writer. He blogs about movies and culture for LoveMoneyClothes. His poetry chapbook was published by Rhinologic Press.