Some of J.M.W. Turner's most personal, experimental, and enigmatic works have been selected for this show. They are also among the most fragile and least often shown. See the exhibition for these alone. You will probably never get another chance.
Turner & the Sea, at the Peabody Essex Museum, Salem, MA, through September 1.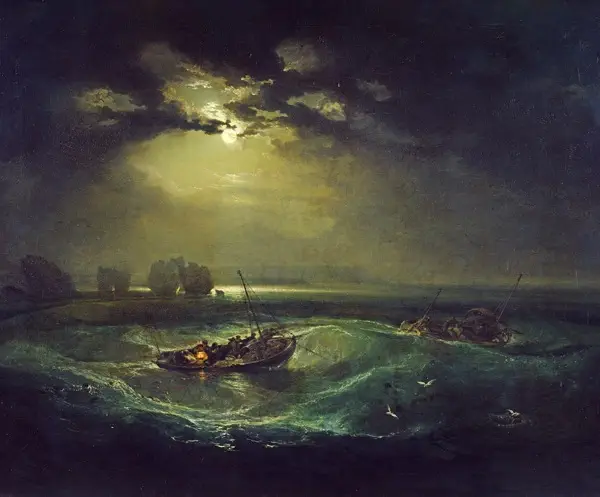 By Peter Walsh
"Everyone, it would seem, 'loves a Turner'," writes the Australian Turner specialist, Jane Messenger. None so much as Joseph Mallord William Turner himself. The great British artist was a hoarder of his own work. He sometimes retrieved paintings he had sold to their owners, trading them for others. He kept other oils, watercolors, and sketchbooks close at hand for decades. Many remained unseen by the public during his lifetime.
At Turner's death in 1851, the moldy, decaying house in then-unfashionable Chelsea, where he had lived hidden away with his mistress in his later years, was found to be stuffed with Turners of every description, including a notorious set of erotic drawings that, it was rumored, the influential critic John Ruskin wanted to burn. Not even the neighbors knew they lived near a great painter. Paintings, finished and unfinished, were stacked against the walls and in damp, flaking heaps. One 1808 canvas, Fishing upon the Blythe Sand, Tide Setting In, had been tacked up as a cat flap.
Turner wanted to bequeath at least part of this legacy to the British nation and, after considerable wrangling with the Turner heirs over the spoils of his messy estate and vague will, the contents of the Chelsea house belonged to the nation. Most of the Turner Bequest eventually found its way to the Clore Gallery in what is now London's Tate Britain museum. In all, there were some 300 oil paintings and 20,000 sketches and watercolors, including 300 sketchbooks.
Turner & the Sea, on view at Peabody Essex Museum in Salem, benefits mightily from this great legacy. The show's organizers have borrowed from museums, among them the British Museum and National Gallery in London, The Metropolitan in New York, and the Yale Center for British Art, and from private collectors throughout the U.S. and the U.K., including Queen Elizabeth II. From the Turner Bequest at the Tate, though, they have selected some of Turner's most personal, experimental, and enigmatic works. They are also among the most fragile and least often shown. See the exhibition for these alone. You will probably never get another chance.
Although at moments it can seem a bit padded, especially with works by much lesser talents, Turner & the Sea is a grand performance, with more than 100 works in oil, watercolor, intaglio print, and photography and important pieces from every period of Turner's fifty-five year career. It is the first ever exhibition devoted to Turner's marine paintings as a whole (the Clark organized an exhibition of the late seascapes in 2003). The Peabody Essex assemblage is so thorough that, if you didn't know Turner at all, you could be forgiven for thinking he made nothing but seascapes.
The Peabody Essex and its collaborating organizers at the National Maritime Museum, part of the Royal Museums Greenwich, present here seven acts. Turner, always the showman, often the entrepreneur, is center stage in each, here up-staging his predecessors, there sparring with competitors, there tweaking his critics.
Turner entered the scene when British art was moving from Neo-Classicism to Romanticism and as the British economy moved from estate-based agriculture and sea trade to the Industrial Revolution, Empire, and the Age of Steam. There had already been a long tradition of English marine painting, based originally on Dutch 17th-century models (amply illustrated in the exhibition with works by van de Velde, Vernet, Ruisdael, and others), patronized by naval officers, merchants, and others who knew their ships and expected artists to paint them accurately. The result tended to be a bit ship-in-bottle: every rope, spar, figurehead, and sail reported in meticulous detail, seas that looked like glass or painted plaster. Even the maritime battle scenes come off as stiff and orderly. Only in the popular shipwreck paintings, with their crashing masts, splitting hulls, and helpless sailors spilling out into the waves, does awesome power of the oceans trump the manmade and ship-shape.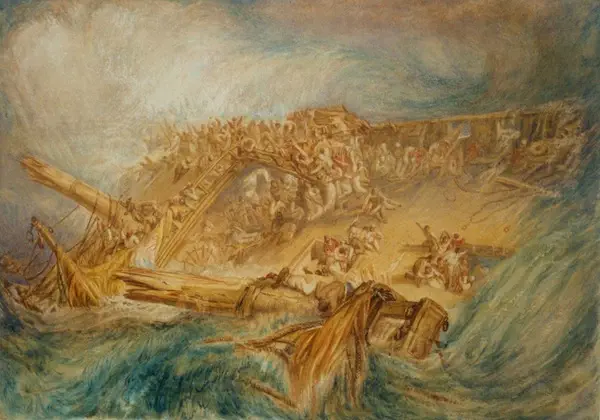 The exhibition begins with the show-stopping Fishermen at Sea (1796), the first painting Turner exhibited at the Royal Academy, when he was about 21. Here Turner has absorbed all he ever will from the older Marine traditions and moved considerably beyond them. The painting is structured with moonlight, that favorite mood-setting trick of the Romantics. The moon shines through breaking clouds into a sky thick with moisture, silhouettes ambiguous shapes against a distant shore, and shines, disconcertingly, right through a swell, just as a fishing boat starts to climb it, and as a fisherman trains a lantern on a net cast into the rolling depths. The effect is both peaceful and ominous, as if hinting at the war with France, then threatening across the Channel, in the potential power of that rolling, translucent wave.
Described by a critic as "one of the greatest proofs of an original mind," Fishermen at Sea helped launch Turner's long years of success at Royal Academy exhibitions. In 1802, still in his twenties, Turner was made a full academician. Nearly forty years later, Ruskin, then just 21 himself, became a particular fan. After he met him for the first time, Ruskin described Turner as "the man who beyond all doubt is the greats of the age… at once the painter and the poet of the day."
Turner was moving quickly beyond Enlightenment order and English tidiness to the creative chaos of modernity, The sea was the perfect ally. Its rapidly changing moods, brilliant light, rich, constantly mixing colors, vast distances, turbulent clouds, rain, and mist, violent storms and dead calms, sublime beauty and destructive power, all fed his artistic imagination. The irrational, uncontrolled, unbound side of nature, so visible in the oceans, was his greatest inspiration.Turner's one ambition was to become a great artist. In this quest, the sea was his constant companion.
As Turner's reputation grew, so did the scope of his activities. He collaborated closely with print-makers to produce long series of virtuoso engravings and mezzotints. Marine works from this series, like Moonlight at Sea (ca. 1818), and The Evening Gun (ca. 1826), show how vividly Turner could suggest effects of light, atmosphere, and water even when using just a single color.
Watercolor, then a medium as prestigious as oil, was Turner's particular element. His methods were secretive, highly physical, and not delicate. Witnesses describe the artist "dragging his fingers across the saturated page," flinging paint from his brush, even immersing the page in water. Working "in a kind of frenzy," Turner would scrub, scratch, tear, and pour until, as if by magic, an image of water, sky, ships, and colored light would emerge. In Mount Saint Micael, Cornwall (1836), locals gather around the remains of shipwrecks while, in the back ground, lavender and brown strokes and washes suggest a clearing storm over the Chapel of St. Michael on its high rock.
Two particularly engaging sections of the exhibition show Turner in the midst of his younger contemporaries. By the 1820s, Turner's success had changed the direction of English painting and had inspired a host of younger rivals and imitators. Two sublimely tranquil images by Richard Parkes Bonington, Ships at Anchor and Near St. Valery-sur-Somme, both painted around 1825, the dramatic and color-saturated Sunset and Sea After a Storm (Francis Danby, 1824), and John Sell Cotman's A Dismasted Brig (1810), in broad washes of blue and blue green, show just how stiff that competition could be.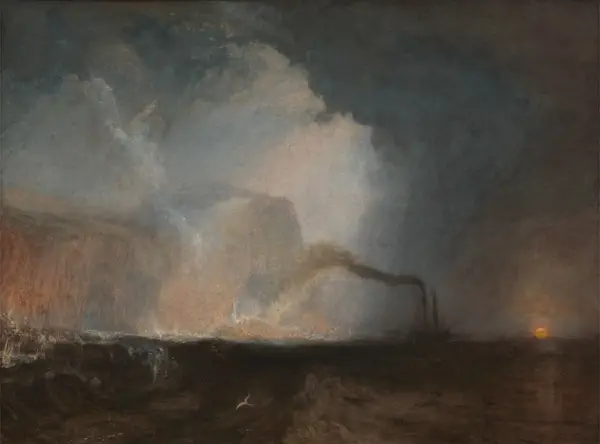 In a section devoted to grand history painting of the Battle of Trafalgar, Turner strikes back with his magnificent The Battle of Trafalgar, 21 October 1805. A final gallery suggests Turner's posthumous influence in America, with impressive canvases by John Singer Sargent, Thomas Moran, and James McNeill Whistler.
In later years, as he grew increasingly eccentric and reclusive, Turner's work became more and more experimental. Sometimes he left the critics far behind. These swirling compositions of light, mist, snow, cloud, color, and, more frequently as the industrial age progressed, the smoke of steamships, are, to modern eyes, among his most compelling and characteristic works. One of the best of these, Snow Storm — Steam Boat off a Harbour's Mouth (1842) centers on a vortex of white, dark blue green, and black, through which the side wheels of the steamer and a spreading stream of ochre smoke slide harrowingly towards a towering wave. "He is as successful as ever in caricaturing himself," sniffed the critic of the Spectator.
Ruskin found the late, private watercolors, discovered after Turner's death, "uninteresting." Images like Lost to All Hope (ca. 1845-50), and Calm Sea with Distant Grey Clouds (ca. 1840-45) all but disappear into the page, their light touches of grays and pinks, suggesting brilliant light in its very absence, seem to reach beyond perception to the edges of the mind. They suggest that Turner's vision only grew stronger and more searching with age. Seeing so many of these enigmatic images together is one of the great privileges of Turner and the Sea.
---
Peter Walsh has worked for the Harvard Art Museums, the Museum of Fine Arts, Boston, Wellesley College, The Metropolitan Museum of Art, Dartmouth College, and the Boston Athenaeum, among other institutions. His reviews and articles on the visual arts have appeared in numerous publications and he has lectured widely in the United States and Europe. He has an international reputation as a scholar of museum studies and the history and theory of media.