The late Otto Piene was a world-class artist. He created large scale and elegant environmental art pieces that seamlessly combined art, participation, and technology.
By Mark Favermann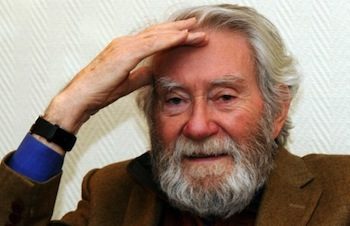 He was brilliant, multi-lingual, charming, creative, energetic, always working, demanding, and formidable. His art, often dealing with light, sky, and fire, was inevitably challenging as well as accessible. Otto Piene died last week in a taxi after giving a lecture about his retrospective exhibit More Sky at the Neue Nationalgalerie museum in Berlin.
It is an understatement to say that Piene (1928-2014) was a world-class artist. The former Director of the Center for Advanced Visual Studies and professor emeritus at MIT created large scale and elegant environmental art pieces that seamlessly combined art, participation, and technology. These were gigantic and temporal 'sculptural' events.
Piene was a pioneering multidimensional artist whose more "traditional" paintings and prints are also widely collected throughout Europe. In his later years, full of energy but with a bit of a stoop, he still traveled to his studio in Dusseldorf from his Massachusetts residence in Groton.
Honored throughout the world, Piene's work has been collected by many major international museums. He represented Germany at the Venice Biennale in 1967 and 1971, and exhibited at documenta in Kassel, Germany, in 1959, 1964, and with CAVS in 1977. Piene received the Sculpture Prize of the American Academy of Arts and Letters in 1996, and the Leonardo da Vinci World Award of Arts and UNESCO's Joan Miró Medal in 2003. However, to their shame, Boston's Museum of Fine Arts, the Harvard Art Museums, the Yale Art Museum, the RISD Museum, and the Institute of Contemporary Art do not own any. A building dedicated to his work would be particularly appropriate at Massachusetts Museum of Contemporary Art (Mass MoCA). Even at MIT's List Visual Arts Center, the university's own art gallery/museum, Piene's art had not been shown or collected until an exhibit there finally came along in October of 2011.
This neglect amounts to a regional cultural sin. Why have New England's art institutions overlooked such a major visual artist? The irony is two-ton. Art and technology, much through Piene's tireless efforts, was fostered and developed here, at the once flourishing but now sadly marginalized Center for Advanced Visual Studies at MIT. Greater Boston was a major international center for his approach, now referred to as environmental art, which is practiced throughout the world. Yet Piene has not been justly recognized by our significant visual arts institutions.
From 1968 to 1971, Piene was the first Fellow of MIT's Center for Advanced Visual Studies (CAVS), which was founded by Gyorgy Kepes. In 1972, he became a Professor of Environmental Art at MIT. In 1974, Piene succeeded Kepes as director of the CAVS.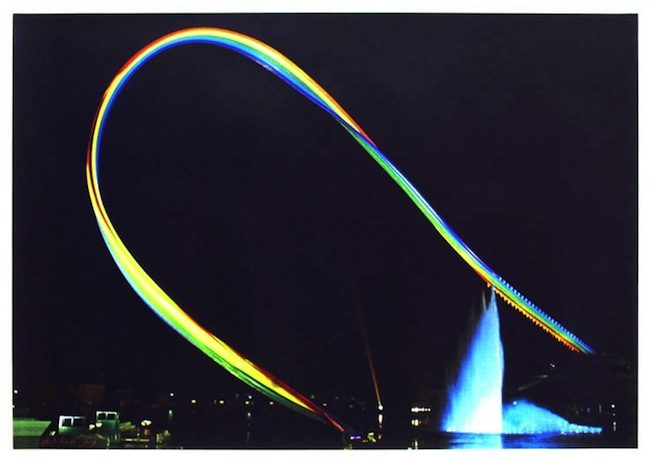 With Piene the CAVS director for nearly 20 years, most prominent and emerging artists of this genre, both American and international, participated in the Center's activities as artists-in-residence, associates, lecturers or panelists.
Piene invented the term 'Sky Art' in 1969. One of his first major pieces was an inflatable rainbow over a stadium at the 1972 Munich Olympics. Olympic Rainbow was made up of five different colored helium-filled polythene tubes, each about 600 meters long. All of his 'Sky Art' pieces involved an often complex process given their challenging logistic arrangements, demand for good weather, and need for hundreds of individuals to participate. Over the years, Piene organized four 'Sky Art' conferences in both the US and Europe.
His first one-man show in Dusseldorf in 1959 included his Archaic Light Ballet. This piece served as a formal announcement of his deep interest in having spectators respond to his spectacles. This vision of the artistic event is now referred to as "participatory art." Pienne later wrote, "By elements, I do not only mean the classic Greek elements: fire, water, air and earth. I also mean the human elements of action, reaction, involvement, participation."
After surviving WWII Germany (he served as a 14 year-old soldier), Piene studied painting and art education at the Academy of Art in Munich and the Kunstakademie in Dusseldorf from 1949 to 1953. He was then lecturer at the Fashion Institute in Düsseldorf. From 1952 to 1957, he studied philosophy at the University of Cologne.
In 1957, as part of the first generation of post-WWII German artists, Piene and artist Heinz Mack founded the group ZERO. (Gunther Uecker joined the group in 1961.). Lacking a concrete manifesto or a shared code of conduct, Zero has been described as a "nonmeasurable condition" rather than a movement. Among its common denominators was a desire to bring man and nature into renewed harmony. It also wanted to restore to art a metaphysical dimension that had been overshadowed by the horrors of World War II.
Rejecting both the self-indulgences of abstract painting and the figurative mode loved by Fascist dictatorships, group members drew on a minimalist but poetic visual vocabulary. Their methods ranged from the geometric to the gestural. The artists often employed nontraditional methods and industrial materials. Elements such as fire and water, light and kinetic effects – previously ignored by the fine arts – were used to create their art.
Starting in 1959. Piene created Rauchbilder ("smoke pictures"), images that reflected elementary natural energies. In his "fire paintings," he lightly burned a layer of solvent on pigmented paper, developing organic forms from the remnant, the soot. Throughout the rest of his career, Piene continued to create these highly distinctive "smoke pictures." Over the decades, Piene produced a huge amount of work, including traditional forms (paintings, drawings, and prints), books and other writings, light sculptures, environmental events, symposia and lectures.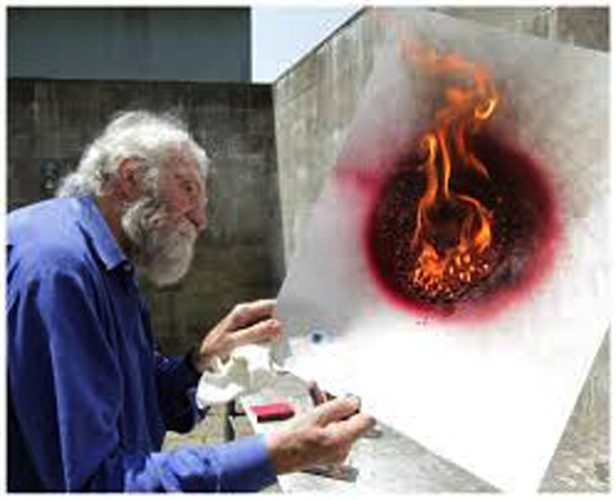 Early on, Piene experimented with multimedia. In 1963, together with Günther Uecker and Heinz Mack, he became a spokesman for Neuen Idealismus ("the new idealism"). He is also noted for exploring the medium of television. In 1968, along with artist Aldo Tambellini, Piene produced Black Gate Cologne, considered one of the first TV programs produced by experimental visual artists.
If not always stylistically, Piene's art and ideas have served a creative role models for many, many other leading contemporary artists, Anish Kapoor, Olafur Eliasson, Tomás Saraceno, and Ai Wei-Wei among them. Over the years, his work seamlessly moved back and forth from art object to art event/environment. Technical collaboration was also a key ingredient (and influence). As a teacher, leader, and educator, by example and direction, he has significantly touched many generations of students. This group includes me and my own work as well. I was at the CAVS first in 1975 and again in 1994.
Artistic mystery and dynamic playfulness are present in all of Piene's work. His large scale 'Sky' pieces were as much strategic design pieces as artistic statements. Often, his helium-filled clear tubing – gracefully arching structures in space — came off as tall vertical "flowers," a spectacular amalgamation of stars and giant sea anemones. Lighted dramatically at night, the pieces were at once appealing, accessible, and yet somehow unworldly. These etherial visions are now part of Piene's enduring artistic legacy – a provocatively visceral art dedicated to participation, movement, and the wonders of observation.
---
An urban designer, Mark Favermann has been deeply involved in branding, enhancing, and making more accessible parts of cities, sports venues, and key institutions. Also an award-winning public artist, he creates functional public art as civic design. Mark created the Looks of the 1996 Centennial Olympic Games in Atlanta, the 1999 Ryder Cup Matches in Brookline, MA, and the 2000 NCAA Final Four in Indianapolis. The designer of the renovated Coolidge Corner Theatre, he has been a design consultant to the Red Sox since 2002.