May Odyssey Opera continue gracing Boston's opera scene for seasons to come with such delightful performances as this.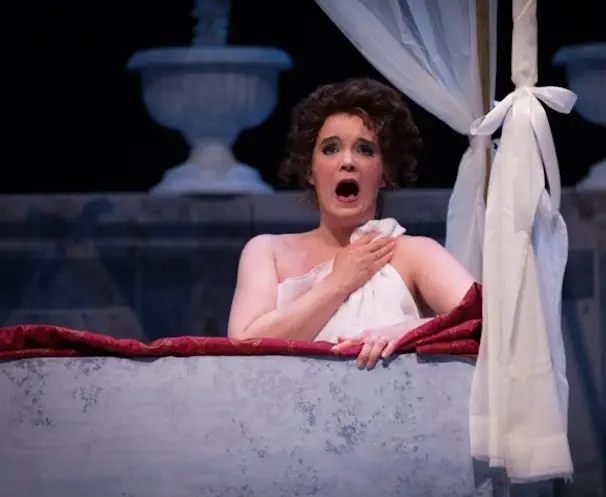 by Cashman Kerr Prince
To launch their 2014 season Odyssey Opera offered up Verdi's early comedic opera Un giorno di regno. Some might have seen it staged at Glimmerglass in 2013 under the English title A King for a Day, though many will be unfamiliar with this two-act work. The Odyssey Opera production was a great introduction to the work and a propitious beginning to the troupe's season.
From the overture, Verdi's debt to Rossini is obvious. This 1840 work, Verdi's second opera, is an opera buffa full of melody and plot twists. Set in France, Cavaliere di Belfiore (Michael Chioldi, baritone) masquerades as King Stanislaus I of Poland while enjoying the hospitality of Barone di Kelbar (James Maddalena, baritone). Kelbar's daughter Giulietta (Jessica Medoff, mezzo-soprano) is about to marry the Grand Treasurer, Gasparo Antonio La Rocca (David Kravitz, baritone). Kelbar's niece, the Marchesa del Poggio (Amy Shoremount-Obra, soprano) is about to marry Count Ivrea (Christian Figueroa, tenor). None of these are happy arrangements: La Rocca is a gold-digger, Giulietta is in love with and beloved to La Rocca's nephew Edoardo di Sanval (Yeghishe Manucharyan, tenor), and the Marchesa is in love with the Cavaliere (as himself, not the king).
As the 1970s TV show, Soap announced each week: "Confused? You won't be by the end of this week's episode." A similar sang froid and haughty reserve presides over the plot contrivances here, as characters vie to outdo one another in arch wit and machinations. By the end of the second act, happy marriages in the name of love, and not gold, take place. This is a silly romp, but it is filled with astute psychological observations and keenly drawn characters. The plot could have been inspired by commedia dell'arte; Verdi characterized the libretto as the least bad of a lot presented to him. Yet, given the good staging and musical direction it receives here, the piece is a delightful confection that reminds us of how exciting an evening at the opera can be.
Drawing on the vocal talents of the singers, some familiar and some making their Boston debut in this production, Un giorno di regno was a wonderful study in vocal typecasting. Chioldi sang the Cavaliere/Official Impostor with a fine, strong voice and combined this with impressive acting skills. He swaggered across the stage, revealing his insecurities in monologues or momentary asides (sung and acted), clearly enjoying himself as he made the most of the farcical possibilities presented by the twisted plot.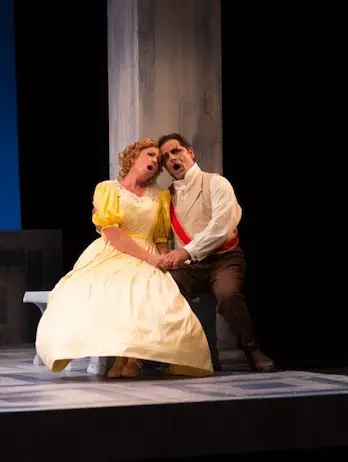 Shoremount-Obra was regal as the Marchesa, with a full rich voice worthy of her aristocratic pedigree. But she was also playful – especially in the boastful staging of her bath and dressing scene in Act I, an absolute treat to hear and behold. Medoff combined good singing with agile acting to make Giulietta's scenes shine. Medoff and Manucharyan, as Edoardo, were wonderfully paired voices. We could hear how well their characters belonged to each other from the opening, when Giulietta was slated to marry another. Maddalena interpreted the Barone as a lesser noble who was insecure in his position; in his duel duet with La Rocca I would have liked to hear more wrath in his voice. Kravitz portrayed La Rocca as a toady who came into his own (for a brief few moments) later in the opera, when he cut loose and treated us to his full vocal capacities so we could revel in the brief moments of illusory power this Treasurer held. The Chorus was earnest, at times intentionally manic. Its members seemed insecure, in terms of the music and staging, to the point that they were never completely comfortable in their role.
Musically, this opera is an amalgam of crisp delineation and flowing melody, as Verdi navigates his way through the Italian opera tradition and traces his debts to Rossini and Bellini. Much of the evening's music was performed staccato; this made perfect sense for the instruments but at times it created a challenge for the singers, whose words became choppy and hard to hear. A couple of arias featured soaring passages that seemed gratuitous and incongruous, but the singers rose to those vocal heights and deftly avoided the snares set by Verdi for the unsuspecting. Otherwise, the music flowed nicely and successfully served the narrative. It really is hard to fathom how the original performance of Un giorno di regno closed after opening night.
Gil Rose conducted with clarity, astutely pacing the entire evening. The orchestra, many of whose members are from BMOP and other groups around town, were a tight ensemble, playing with mastery and verve. It helped that many of the instrumentalists had performed together before; there was a compelling sense of connection and cohesion. The musicians collaborated with the singers (rather than overpowering them) and shone in the orchestral interludes.
Founded in 2013 by Gil Rose, Odyssey Opera presented a staged version of Wagner's Rienzi to great acclaim. Their mission, evident in this season, is to present "adventurous and eclectic works that affirm opera as a powerful expression of the human experience." With Un giorno they certainly succeeded. May Odyssey Opera continue gracing Boston's opera scene for seasons to come with such delightful performances as this.
---
Cashman Kerr Prince holds degrees in Classics and in Comparative Literature from Wesleyan University, Stanford University, and l'Université de Paris 8 and is currently affiliated with the Department of Classical Studies at Wellesley College. Outside academic circles he is a cellist with the Brookline Symphony Orchestra and also serves on their board. You may have read his concert reviews and articles for The Boston Musical Intelligencer over the last number of years. He is happy to expand his horizons and review theatre, dance, music, and CDs for The Arts Fuse.