Rufus Wainwright is like that: unfiltered family love and dysfunction threaded through whammo pop tunes wrapped in the sequins of more than a little clear-to-those-who-know celebrity.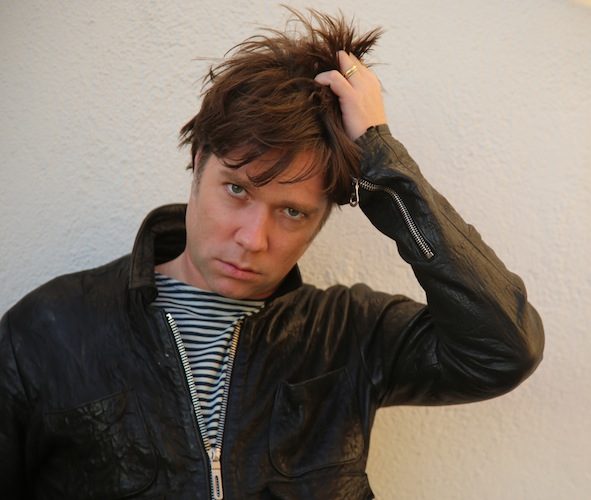 By Debra Cash
Rufus Wainwright wore his heart on the sleeve of his spangled jacket at the Somerville Theatre Wednesday night. I'm pretty sure it was top half of the Moschino suit he wore to a 2012 event at the Grammy Museum, which was being offered as a premium to anyone who donated $1,750 to his crowd sourced project to record his two act French-language opera, Prima Donna.
Wainwright is like that: unfiltered family love and dysfunction threaded through whammo pop tunes wrapped in the sequins of more than a little clear-to-those-who-know celebrity. How else to explain his shout out to his half sister Lucy Wainwright Roche, who had opened for him, as a prelude to launching into Dinner at 8, a piano ballad whose lyrics fantasize a fistfight over old hurts that he wrote to Loudon Wainwright III, who left his mom Kate McGarrigle and fathered Lucy with Suzzy Roche?
Wainwright and Roche spent six weeks on the road together in Eastern Europe "arriving just when Russia was invading Ukraine," Wainwright cracked. (He further asserted that since he is a public gay man, Prime Minister Vladimir Putin was "trying to avoid me.") Boston's affection for this well-paced greatest hits evening appeared to be a relief. As the (male) roadie dressed up as Dorothy Gale from the Wizard of Oz exclaimed "there's no place like Cambridge."
And there are very few like Rufus. Wainwright does ambivalence like no one's business. He's a songwriter who lets the lyrics lead, but as a performer he often sacrifices intelligibility for the big, open-throated crooning vowel. When his songs are torchy, like Vibrate, they sound less like anything in the singer songwriter canon than like Jacques Brel. Stepping away from his piano (played well) and guitar (played not particularly well), an acapella version of Candles had the rapt and burnished weight of an old hymn.
But for all his candor about himself, he's more than willing to police another writer's etiquette. "Treat a Lady," a song he said he had never before sung in public, is a retort to Conor Oberst's free association number about Kathleen "Kick" Kennedy which Oberst has defended by saying "it is almost certainly and completely inaccurate on every level but, hey, it's a catchy tune." The push-pull of growing up in a famous family is part of Wainwright's DNA: if the Wainwright/McGarrigle/Roche extended family is a dim star against the legacy of the Kennedy clan, he still takes other people's projections very personally. "Treat a Lady" isn't exactly a song yet — it sounds like a keyboard vamp of ascending chords — but he didn't mince or temper his words.
The acknowledgement of growing up as child of (even folk world) celebrity had its goofy side. Roche pulled on a wig and lame poncho for a rendition of Wainwright's tribute to Liza Minnelli, Me and Liza, that really does call for a full backing band. Throughout, Roche was a disarming good sport: with her breathy soprano and songs that peter out instead of resolving (as if to apologize for taking up our time), she still managed to play her brother's second fiddle with cheer. Opening the show in a half-hour set, she led a sing along of Bruce Springsteen's "Hungry Heart" that inserted the word "basketball" into the lyrics. That's what she had to do to win over the audiences in Lithuania. You had to have been there.
---
Debra Cash has reported, taught and lectured on dance, performing arts, design and cultural policy for print, broadcast and internet media. She regularly presents pre-concert talks, writes program notes and moderates events sponsored by World Music/CRASHarts and cultural venues throughout New England. A former Boston Globe and WBUR dance critic, she is a two-time winner of the Creative Arts Award for poetry from the Hadassah-Brandeis Institute and will return to the 2014 Bates Dance Festival as Scholar in Residence.
c 2014 Debra Cash