By J. R. Carroll
Not going away doesn't mean you have to stay at home; there's plenty of live jazz within easy reach.
The summer jazz festival season goes into high gear this month (watch for a Midsummer Festival Update in mid-July), but even if you're stuck with another "staycation" this year, local and regional artists will provide ample impetus to venture out of the A/C.
Eguie Castrillo and his orchestra live in Beantown
Berklee's Tito Puente Latin Music Series offers five free concerts around Boston in July (and another in August) at 8 pm with an outstanding and diverse series of performers. Opening the series on July 8 in Jamaica Plain's Mozart Park is Boston's own La Timbistica. The next three performances take place in the South End's O'Day Park: On July 15, New York's Son de Madre; on July 22, in from Los Angeles, percussionist Fausto Cuevas y su Orquesta la Moderna; and on July 29, "Afrorican Jazz" originator William Cepeda. Wrapping up the month (but not the series) on July 31 is a special concert on City Hall Plaza by Puerto Rican vocalist Jerry Rivera with timbalero Eguie Castrillo and his orchestra.
The week surrounding Independence Day is pretty quiet (fireworks notwithstanding), but quiet doesn't have to mean silent. In New London, CT, the Jazz Underground offers the reflective improvisations of saxophonist Kevin Thornton at 8 pm on July 2.
In a similar vein, the Lily Pad welcomes the return of the Tom Zicarelli Quartet at 7:30 pm on July 8. A half hour later, right around the corner at Outpost 186, drummer Luther Gray performs with his quintet, with guitarist Joe Morris switching to bass for the evening. Then, back at the Lily Pad at 10:20 pm, you might become part of a 60's-themed YouTube video being recorded by Either/Orchestra.
On their recent CD, !Signs, Dwight Ritcher & Nicole Nelson infused their original material with a deep draught of 50's Atlantic R&B and 60's Stax/Volt soul; they'll turn up the heat at the Regattabar on July 10 at 7:30 pm.
Meanwhile, back at the Jazz Underground the same night, pianist Craig Hartley joins the Jeff Fuller Trio at 8 pm.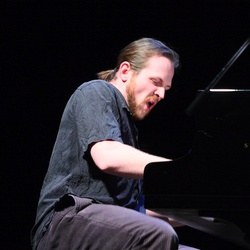 Pianist Peter John Stoltzman, son of clarinetist Richard (who also will be performing locally at the Rockport Chamber Music Festival), has inherited more than a little of his father's venturesome eclecticism–his trio's debut CD, Walk the Path, mixes original compositions with music ranging from Debussy and Rufus to Oscar Levant and Bob Dylan. He'll join bassist Cecil McBee and drummer Rakalam Bob Moses, masters both, at the Lily Pad on July 15 at 7:30 pm.
Argentina's Bernardo Monk may be a saxophonist, but his music inclines more toward Astor Piazzolla than Gato Barbieri; he'll bring his formidable Tango Quartet to the Regattabar on July 16 at 7:30 pm.
Alta Terra is a new project that brings together vibraphonist Rich Greenblatt, flutist Fernando Brandão and drummer Mark Walker; they'll be at Ryles at 9 pm on July 21.
An hour earlier, down the street at Outpost 186 at 8 pm, trombonist Randy Pingrey and his quartet probe the permeable boundaries where the experimental sides of jazz and classical music meet. Back at the Outpost at 8 pm the following evening, Pingrey's frequent collaborator, baritone saxophonist Kathy Olson, performs with her own quartet.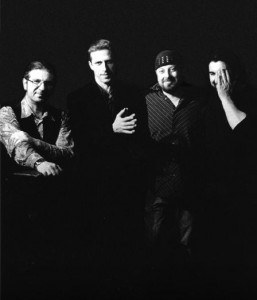 Also on July 22, at 7:30 pm, Grand Fatilla puts world music on "shuffle" as they make their debut at the Regattabar.
Saxophonist George Coleman came to prominence with Miles Davis in the early 60's; since then he's enjoyed a long career leading his own bands. Coleman and his quartet will appear at Scullers on July 23-24 at 8 and 10 pm.
The piano trio Minsarah–Hebrew for "prism"–have of late enjoyed a fruitful collaboration with saxophone master Lee Konitz, but they also have plenty to say on their own; they'll be at the Regattabar on July 29 at 7:30 pm.
Across the river the same evening at 8 pm, Scullers plays host to a trio of a different sort, the Godfathers of Groove. Legendary studio funkmaster, drummer Bernard "Pretty" Purdie, serves up some classic organ trio sounds in conjunction with guitar scion Grant Green Jr. and Hammond B3 organist Reuben Wilson.
Back where we started, Latin and Brazilian jazz wrap up the month. The name of Manolo Mairena's band, Curubande, pays tribute to this volcanic region of his native Costa Rica; expect eruptions when sonero/percussionist/composer/arranger Mairena and company take the stage at the Regattabar on July 30 at 7:30 pm.
Meanwhile, a quieter ambiance prevails at the Amazing Things Art Center at 8 pm, as Brazilian singer/guitarist Fernando Holz and his quintet offer an evening featuring his original compositions, as subtle and soft-spoken as the performer himself.