Tadeusz Różewicz's best poems are blunt hammer strokes that, with incisive purity, pound at the impossibility of crafting poetry true to the sins of history.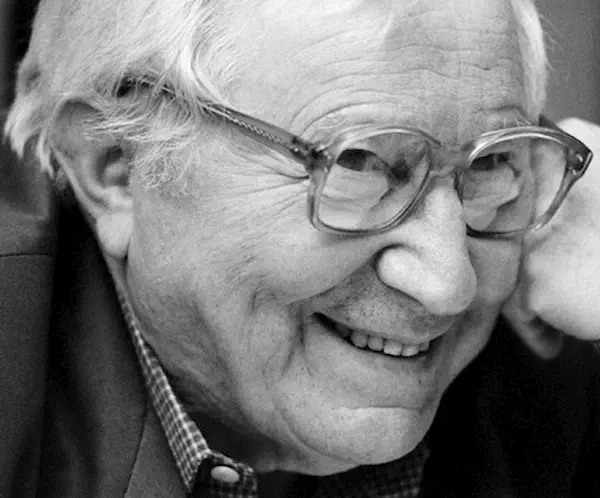 By Bill Marx
It was one of those weird coincidences. Yesterday, I was reading three recent volumes of Tadeusz Różewicz's poetry in translation (Sobbing Superpower, New Poems, and They Came to See a Poet) for a piece I am writing for another magazine when I decided to Google his name — and learned that Różewicz had passed away at the age of 92 on April 24th of this year. And then I saw that a NYTimes obit had been posted that day, nearly a month after his passing!
In an earlier piece on this indispensable poet, I wrote that his best poems were "miniature Stonehenges, syllables laid about in seemingly incomplete patterns, brutal reminders of a fuller message, a better time. Różewicz articulates the fall into history (post-Holocaust, Nazi occupation of Poland) by becoming a prophet of the partial, the herald of the unfinished: 'The poem/ is finished/ now to break it.' Though he makes occasional use of religious imagery, Różewicz ends up chanting a mantra of absence, a blunt testament that, as proof of its fragile authenticity, is erased as soon as it is said. His ethics are in the momentary presence of his language, the extraordinary demands he makes of words."
His poem "Unrecorded Epistle" evokes the quicksilver absurdity of his vision.
But Jesus stooped
and with his finger wrote on the ground
then he stooped again
and wrote on the sand
Mother they are so dim
and simple I have to show them
marvels I do such silly
and futile things
but you understand
and forgive your son
I change water into wine
raise the dead
walk the seas
they are like children
one has always
to show them something new
just imagine
And when they approached
he covered and effaced
the letters
for ever
I am convinced that Różewicz's poetry is not as well known in the West as the verse of more celebrated Polish poets of the postwar period — Zbigniew Herbert and Czesław Miłosz — because of this elemental Sisyphean quality. His 'anti-poetic' brand of absurdity uncomfortably questions all values, an approach that challenges conventional ideas about Eastern European poetry's stand for moral values in the face of barbarity.
Of course, Różewicz's restless questioning is what made him, at his best, among our greatest delineators of defeat, post-Auschwitz. At the end of his poem "They Shed the Load," Różewicz concludes that "they forget that contemporary poetry/ means struggle for breath." His astringent work is dedicated to making the pain of articulation as visible as possible. As he explained in an interview with translator Adam Czerniawski: I was aiming at a poetry of absolute transparency so that the dramatic material might be seen through the poem, just as in clear water you can see what is moving at the bottom. And so the form had to vanish, had to become transparent, it had to become identified with the subject of the given poem."
Różewicz's skepticism about words sent him on the quest for the invisible poem, a clear window on terrible facts or overbearing realities: "peel image off image/ colors off shapes / feelings off images/ down to the core/ to the language of suffering/ till death." The translucent is elusive — defeat was a certainty. "I'd been writing a good while/ suddenly I noticed / no pen in my hand." His hand may be gone, but his prose, poetry, and plays (The Card Index is superb) remain.
---
Bill Marx is the Editor-in-Chief of The Arts Fuse. For over three decades, he has written about arts and culture for print, broadcast, and online. He has regularly reviewed theater for National Public Radio Station WBUR and The Boston Globe. He created and edited WBUR Online Arts, a cultural webzine that in 2004 won an Online Journalism Award for Specialty Journalism. In 2007 he created The Arts Fuse, an online magazine dedicated to covering arts and culture in Boston and throughout New England.