By Gerald Peary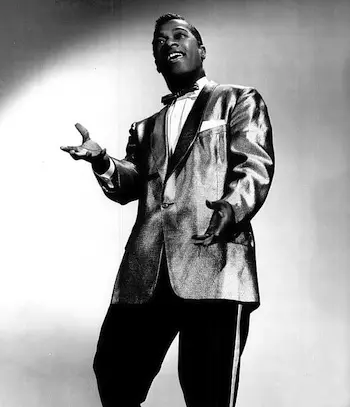 For some, it's meet me at the Casbah, for others, it's see you at the Cantab, especially when, at the Central Square, Cambridge, music club, Little Joe Cook and The Thrillers were holding court, which could be five nights a week. Cook, who died last week at 91, somehow turned his one Top-40 rock hit, 1957's "Peanuts," into the centerpiece of a never-ending Cantab Lounge gig. The more he sang the same songs, and he did sing the same songs, the more audiences loved him. "The Nut Man" performed "Peanuts "and "Lady from the Beauty Shop,", his signature numbers, more times than a house band on Bourbon Street plays "When the Saints Go Marching In."
You can't do better than rock critic Steve Morse's heartfelt, definitive appreciation of the diminutive falsetto king in the April 19 Boston Globe.
I merely want to add a musical footnote.Little Joe loved his Boston fame and adulation. Still, he would have liked to be more famous, a national institution. Seemingly, he once had a chance. When I wrote a 1992 article for the Boston Globe Magazine on the history of the song, "The Twist," some I interviewed said that it was first offered to Cook to record. Post-"Peanuts." Before Hank Ballard, generally credited with composing the song. And long before the mainstreaming by Chubby Checker, and the Peppermint Lounge.
I talked to Cook for my article, at a pizza parlor next door to the Cantab. This is what he said:
There was this gospel group, the Davis Sisters, in Philadelphia in 1958. They had no transportation, so they asked if I'd take them to Atlanta. On a Saturday afternoon, we checked into an Atlanta motel where the [Fabulous] Nightingales—Jo Jo [Wallace], etc. were staying at. They said, 'Joe, we got a song for you to take back to your record company.'
Cook said the song was called, "Let's Do the Twist." He recalled getting on a bus bound for New York carrying with him "Twist" words and a Nightingales tape. But when he played the tape for his manager, Arnold Maxim, the song was rejected as "too suggestive," especially the background of "up and down and up and down." Cook recorded then for Okeh Records, a subsidiary of Columbia Records. Cook said, "They were goody-goody, with Mitch Miller in charge. You couldn't even say, 'Having a ball tonight.'"
Cook: "I wish I'd had the money to produce it myself. Instead, the Nightingales gave it to Hank Ballard. He was on King Records, where you could put on anything."
Hank Ballard copyrighted "The Twist" on November 11, 1958. In 1990, he was inducted into the Rock and Roll Hall of Fame.
Cook: "He changed the tune slightly, and the rest is history. It would have been a good life for me if I had 'The Twist.'"
---
Gerald Peary is a professor at Suffolk University, Boston, curator of the Boston University Cinematheque, and the general editor of the "Conversations with Filmmakers" series from the University Press of Mississippi. A critic for the late Boston Phoenix, he is the author of 9 books on cinema, writer-director of the documentary For the Love of Movies: the Story of American Film Criticism, and a featured actor in the 2013 independent narrative Computer Chess.