"Music just comes, you know? You're harvesting potatoes, and something happens and you have to put it immediately on paper."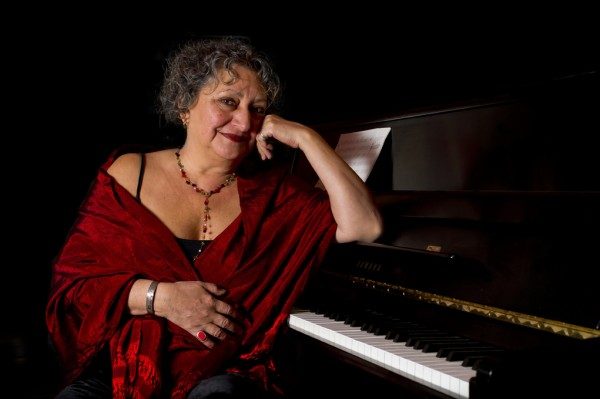 Mili Bermejo and Sofia Rei in Concert
Wednesday, February 19, 8:15 p.m.
Berklee Performance Center
Boston, MA
By Evelyn Rosenthal
Like many of the Latin American musicians who have studied at Berklee College of Music and New England Conservatory, Mili Bermejo came to Boston to learn the language of jazz, and ended up performing and teaching jazz inflected with the many dialects of Latin American music. When she first came to Boston from Mexico in 1978 to study with Ran Blake in a summer program at NEC and then returned in 1980 to attend Berklee, Bermejo was one of a small number of Latin American musicians at the time to make the pilgrimage to the jazz mecca. Today she is a dedicated and well-respected professor of voice at Berklee with more than three decades of singing and composing, and a discography of eight albums that showcase her rich, expressive voice on her own songs as well as those of other composers of Latin and jazz standards, in Spanish, English, and, occasionally, Portuguese. She is also a pioneer in the revitalizing process of infusing Latin rhythms into jazz that has been fruitful for so many South Americans who came to study in Boston, many of whom stayed, like her, to make their homes and their music here. That ever-growing list includes Luciana Souza, Oscar Stagnaro, Claudio Ragazzi, Nando Michelin, Danilo Pérez, Magos Herrera, Fernando Brandão, Alex Alvear, Fernando Huergo, Marta Gómez, and Argentinean singer Sofia Rei, who shares the bill with Bermejo at their upcoming Berklee faculty concert.
The classically trained Bermejo didn't discover jazz until her college years, listening to the Miles Davis records her brother Miguel brought home. Her Mexican father, Guillermo, was a composer and her Argentinean mother, Luz, a tango singer, and she grew up steeped in the flavors of various Latin American musics and cultures. Sunday jams brought her parents' musician friends as well as touring artists—"the best voices of Latin America," as Bermejo put it when we talked recently—to the family's Mexico-city home. Her teen years coincided with the beginning of the "nueva canción" movement of the 1960s–1980s, when Latin American singers and songwriters took on the political and social issues of the period. In Mexico, Bermejo said, "all Latin American creativity came to us because of all the dictatorships, in Brazil and Chile and Argentina and Uruguay; Mexico opened the doors to those people that were able to leave. We were loaded with artists, scientists, poets, writers. And that's my generation."
A stint as musical program director at a public radio station in Mexico City put her in contact with knowledgeable jazz DJs, and she started performing jazz with her brother. The station—fittingly called Radio Educación—encouraged Bermejo's studies by continuing to employ her during her first year at Berklee, in exchange for which she sent them interviews she recorded with such musicians as Paul McCandless, Mongo Santamaria, Tiger Okoshi, and Gary Burton.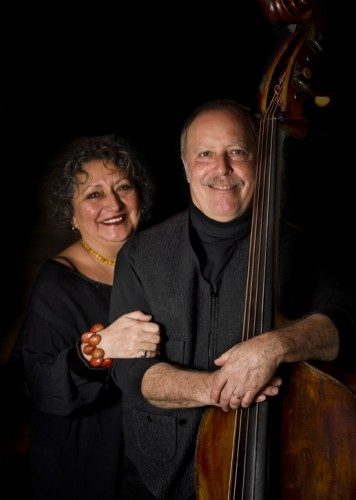 That first year in Boston was momentous for another reason: Bermejo met the person who would become the other half of her enduring musical and romantic duo, bassist Dan Greenspan. A classical cellist in his youth, Greenspan left the prestigious Curtis School of Music for Haverford College and then NEC, where he studied bass with Miroslav Vitous and Dave Holland. As Bermejo tells it, the session where she met him was the beginning of their first band, with drummer Gary Chaffee, Bert Seager on piano, and Peter Murray on sax. Focused on mastering the jazz idiom, she resisted the band's urging her to do "something in Spanish," but eventually gave in. "I started bringing in little things—an Argentinean thing, a Mexican thing," she said. "Nobody knew the grooves, so we invented it, right there." She would sing the rhythms, which at the time were not being taught or played at Berklee.
Bermejo and Greenspan soon became a fixture on the Boston jazz scene and toured extensively, both nationally and internationally. They put down roots in Cambridge, and after graduating in 1984, she was offered a full-time teaching position at Berklee. At the time, Bermejo and vibist Victor Mendoza were the only Latin Americans on the faculty. Slowly more and more young Latin Americans came to study jazz, and the Latin presence in the curriculum grew, with visiting artists and expanded performance activities. Today there are many more Latin faculty members, and a much greater emphasis on the music, thanks to Bermejo and Mendoza, the Latin community of faculty and students, and the crucial support of student activities director Jane Stachowiak, beginning fifteen years ago with a yearly month-long Latin Musical Culture Celebration. "In time," Bermejo said, "we formed the Latin Faculty Association, and two years ago we created the Latin Music Studies minor. Our director is Oscar Stagnaro, who has helped create a few initiatives, like the first Berklee Latin [program] held this January in Mexico, taught in Spanish. I was invited as a clinician, and the faculty included Claudio Ragazzi, Sofia Rei, Tim Mayer, Mark Walker, Javier Limón, and Nando Michelin, among others." It's programs like these, and the expansion of jazz at Berklee to include students, faculty, and musical traditions from all over the world, she said, "that keep me energized and wanting to continue teaching."
Although Bermejo's projects have varied in size and instrumentation, the core of each has always been the voice/bass duo: alone on Duo (1997); with guitarist Mick Goodrick on ¡Ay Amor! (1992); with pianist Bruce Barth on A Time for Love (2004); a quartet plus George Schuller's Orange Then Blue Octet on 1994's Casa Corazón ("one of our best projects so far," Bermejo said, "and one we want to continue"); and in sextet and octet configurations that included pianist Tim Ray and guitarist Claudio Ragazzi, on Pienso el Sur (2001) and De Tierra (2007). Their most recent recording, Love Songs of the Americas, is a beautiful collection from 2010 featuring Eugene Friesen on cello and Ray on piano. Since that project, however, Bermejo has been taking some time in her personal life to reassess.
It all started with a broken finger.
In 1998 the couple had bought land in New Hampshire in a nature reserve area, where they spent time, first in a yurt, then in a small cabin, and eventually in a house built by Greenspan and a friend. By 2008 they were living there full-time, with Bermejo spending a few days each week in town while teaching. With orchards, vegetable and flower gardens, a music studio, and a sewing workshop, she said, "the idea was to be self-sufficient," and to have a life more embedded in their woodsy natural surroundings and rural community, "working with our hands, growing our own food, making our clothes, bartering with our neighbors." Greenspan experimented with baking bread, had a special brick oven built, and began selling his whole grain sourdough "Dan's Brick Oven Bread" at farmer's markets and natural foods stores. Then, three years ago, he broke the middle finger on his left hand, making it impossible to play the bass, and provoking a crisis in the couple's musical life. "I realized I never stopped before," Bermejo said. "So I said, Oh, this is a great opportunity. I started relaxing and seeing life differently and dedicated to my soul, and my garden, and started writing again." Bermejo relished the chance to slow down after decades of intensive performing, booking and promoting and traveling to gigs, and recording.
"Creativity started kind of flowing with the land .  . . making gardens, planting flowers, sewing with materials that are amazing . . . making those connections, writing a lot of texts—not poetry, because I'm not a poet. And then music just comes, you know? You're harvesting potatoes, and something happens and you have to put it immediately on paper."
While Greenspan's finger healed, Bermejo began to gather and create the music they will feature in their February 19 concert. A voice/bass duo arrangement of Michel Legrand's "Windmills of Your Mind" by old friend Vardan Ovsepian, a pianist now on the West Coast, features lyrics by a Mexican poet, which Bermejo first heard sung by her sister, Mexican singer Margie Bermejo. A bonus: "The bass part is like a Bach invention," she said; practicing it has been therapy for the injured finger.
As always, in Bermejo's concerts, the songs reflect her concerns and beliefs, from the importance of love and community to the need to take better care of our planet. She's always careful to give English-speaking audiences a taste of a Spanish song's meaning by translating key parts of the lyrics. One of her new compositions, she said, "I wrote for my sister and her new relationship with a very, very close friend of mine in Mexico, and it's called 'Those Who Love Each Other.' They carry a light of the universe, they transform the world, they distill only what's necessary and drink from their own well. Another one is 'Harvest.' It talks about that we are flowers, you are my planet, and my bread, my country. We are root, and light, and fluidity."
Her new tunes combine jazzier harmonies with traditional Latin rhythms like Mexican huapango and Uruguayan candombe. Rounding out the band will be drummer Bertram Lehmann and pianist Jiri Nedoma. This configuration grew organically, if accidentally. While she was working on the new tunes, Bermejo would ask Nedoma, during breaks from accompanying her voice lessons, to try things out. Pretty soon he knew all the new music, so he was a natural fit for the concert. Lehmann—a great jazz drummer, master of Latin and Brazilian percussion, and a close friend—was also an easy choice. This "nice, warm, intimate feeling" of the band, she said, will be reflected in the music, which will include a number of duos. And Bermejo's turn toward a more simplified, in-the-moment way of living will be reflected in, among other things, the wardrobe: Dan Greenspan will be wearing the "best shirt" she has sewn for him so far.
---
Evelyn Rosenthal is the former editor in chief and head of publications at the Harvard Art Museums. She is also a professional singer, specializing in jazz and Brazilian music, and has taught English and composition at Massachusetts community colleges. She writes about musical theater, books, and music for the Arts Fuse.