On Sunday, the Boston Symphony Chamber Players celebrates its 50th birthday with a typically brilliant program, one that features four world premieres.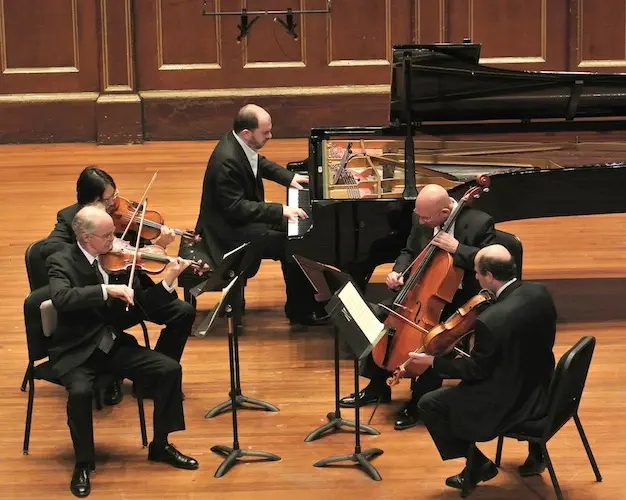 By Jonathan Blumhofer
It was fifty years ago this fall that the Boston Symphony Chamber Players (BSCP) was established. Then, as now, drawn from the ranks of the BSO's principal players (one of the 1964 original members – the timeless Jules Eskin – remains in the ensemble's ranks), it's an ensemble that is known for its commanding performances of the standard chamber music repertoire as well as its championing of works by living composers.
On Sunday, the BSCP celebrates its birthday with a typically brilliant program, one that features four world premieres – two by old friends, Yehudi Wyner and Gunther Schuller, and two by young faces, Hannah Lash and Kati Agòcs – plus a couple of wonderful rarities by Charles Martin Loeffler (the BSO's assistant concertmaster in the early 20th century) and Amy Beach.
In anticipation of Sunday's concert, I spoke with Elizabeth Rowe, the BSO's principal flute and one of the BSCP's newest members. Here follows a transcript of our exchange.
---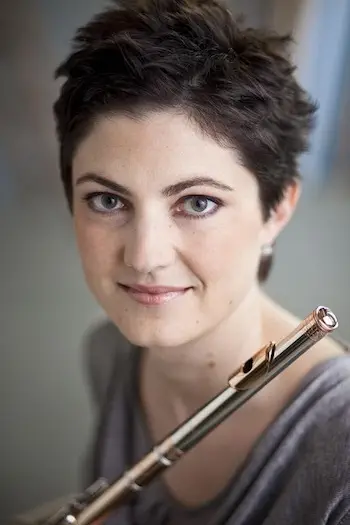 Arts Fuse: Looking back on the first 50 years of the BSCP, how would you describe the group's mission? Has it changed over time or is it fundamentally the same?
Elizabeth Rowe: While the mission of the BSCP has always been to provide world-class chamber music performances, we also create a unique opportunity for a more intimate, personal way to connect to the Boston Symphony Orchestra. Many of our audience members subscribe to both the BSO and the BSCP concert series; they often remark on how much they enjoy experiencing the grand scale of our Symphony Hall BSO concerts and then being able to hear (and see) the BSCP, "up close and personal."
AF: Do you see any major changes on the horizon for the ensemble or is the group solidly united on its current mission and direction?
ER: The BSCP has always been both grounded in tradition and forward looking, especially in how we explore new or overlooked repertoire. We stay fresh, inspired, and current by doing this, and I expect that practice to continue.
AF: The BSCP's programs usually balance a welcome mix of familiar and (relatively) unknown repertoire and Sunday's concert is no exception. How was the repertoire (particularly the Beach and Loeffler) chosen?
ER: We wanted to celebrate our unique connection with Boston this year. We've always been (and always will be) a Boston-based ensemble, so we thought it would be fitting to build a program anchored by those Boston roots, but which also looks ahead to our future. Amy Beach was born in New England and lived in Boston. Charles Loeffler was a violinist with the BSO. Gunther Schuller and Yehudi Wyner both have long, strong, relationships with the BSO and the Boston arts community. Hannah Lash received her PhD from Harvard University, and Kati Agòcs is on the faculty of the New England Conservatory. So we built a program that traces that strong artistic line from the great Boston composers of the past, to two of our current long-time collaborators, to some of the new faces of the future. Without really trying, we also ended up with a lot of women represented in this program, which I find especially interesting and exciting.
AF: Sunday's concert features four premieres, two by composers with long associations with the BSO and two by much younger composers. Stylistically and expressively, how do these new pieces fit together and what might we expect to hear in them?
ER: I think you'll hear a tremendous diversity of musical style on Sunday's program. We intentionally commissioned works for different sized ensembles, wanting to showcase the depth and variety of the BSCP. This variety is one of our hallmarks, and it was really fun to be able to explore different combinations of instruments with each of the composers. That, combined with the strong individual voices of each composer, makes for a terrific program.
AF: Is there a particular composer's music you particularly enjoy playing?
ER: I'm looking forward to the whole program. I'm really thrilled with Yehudi Wyner's wind quintet. His writing in this piece produces some lovely, evocative colors from the group. The Hannah Lash piece for flute, viola and harp is also quite interesting, since the composer is herself a harpist and brings a particular kind of insight into how to utilize that instrument.
AF: What are the top one or two highlights for you of this upcoming concert?
ER: It's both a privilege and a unique challenge to be part of so many brand new works on a single concert. The level of concentration from all of the performers will necessarily be very high! It's going to be a memorable concert and I hope it will feel celebratory and exciting for everyone present.
---
Jonathan Blumhofer is a composer and violist who has been active in the greater Boston area since 2004. His music has received numerous awards and been performed by various ensembles, including the American Composers Orchestra, Kiev Philharmonic, Camerata Chicago, Xanthos Ensemble, and Juventas New Music Group. Since receiving his doctorate from Boston University in 2010, Jon has taught at Clark University, Worcester Polytechnic Institute, and online for the University of Phoenix, in addition to writing music criticism for the Worcester Telegram & Gazette.