Director Scott Edmiston's carefully staged production generates sympathy chiefly because of some deft acting rather than the writing.
Water by the Spoonful, by Quiara Alegria Hudes. Directed by Scott Edmiston. Staged by the Lyric Stage Company of Boston, through November 16.
By Iris Fanger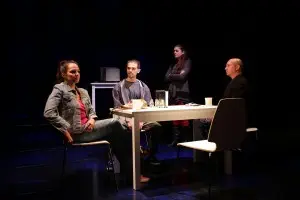 The opening of Water by the Spoonful by Quiara Alegria Hudes reminds me of the everyday scene on the MBTA. The passengers are seated in a row, each of them communicating but not with the person next to them. These riders are huddled over their cell phones, cramped fingers typing messages into an internet void, all the activity buoyed by the blithe assurance that someone out there is paying attention.
Hudes' drama begins on a stage bare of anything other than a trio of chairs, a phalanx of media screens overhead, and a ceiling's worth of narrow, hanging streamers that quiver on occasion. The three actors on the chairs, soon to be joined by another, are identified by their screen names as members of a chat room populated by recovering crack addicts. It takes most of the first act, played in darkness cut only by spotlights on the isolated figures, to understand what is going on, and then to engage emotionally and intellectually in the characters' plight. I would have left the theater if I hadn't read that Hudes' play had won the 2012 Pulitzer Prize for drama.
By Act II the action becomes less opaque and the burdens of the characters become quite moving. The people in the chat room — Orangutan, a spunky 25-year-old orphan who had been adopted by an American family but has travelled to Japan to find her birth family; Chutes and Ladders, a middle-aged bureaucrat who lost his family because of his drug addiction; Haikumom, seven years clean and apparently has taken on the role of den mother; and Fountainhead, a wealthy businessman in denial about his habit —– are only one half of the story. The remainder of the plot concerns Elliot, a Marine recently returned from Iraq with a severe leg wound and a more severely wounded psyche, and his cousin, Yaz, who has successfully made it out of the barrio to become a music professor with a yen for John Coltrane.
The connecting link is Haikumom, alias Odessa, who is the sister of Yaz's mother. That's enough genealogy to make up the population of a trilogy, which indeed it is. Water by the Spoonful is the middle play in Hudes' three part work, which begins with Elliot, A Soldier's Fugue, and ends in The Happiest Song Plays Last. Perhaps if we could have seen the three plays together, as when taking in all of Tony Kushner's Angels in America, or Robert Schenkkan's The Kentucky Cycle, the motivations of the characters would have made more sense. As it is, Scott Edmiston's carefully staged production generates sympathy chiefly because of some deft acting rather than the writing, though the latter boasts several heart-breaking scenes of inter-dependence. The theme of this evening is the promise of redemption, no matter how searing one's past offenses.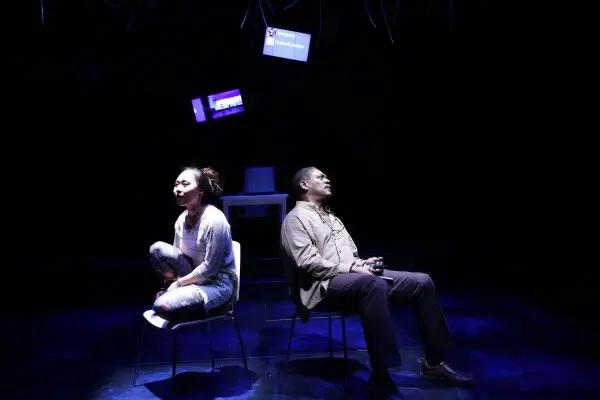 The pivotal character is Haikumom, dispensing tough love to her internet charges at first, later morphing into the most fragile sufferer of all after her Act II confrontation with Elliot and Yaz. Mariela Lopez-Ponce delivers a well-modulated performance as Haikumom, especially at the end, when she and Gabriel Kuttner as Fountainhead find deliverance together. The image of water — as an instrument of healing as well as a part of her — serves as one key to her her survival, represented in part by those overhead streamers. Johnny Lee Davenport as Chutes & Ladders anchors the production though his unforced transformation when he takes a life-renewing journey to meet Orangutan.
However, the stand-out actor in this production is Gabriel Rodriguez as Elliot, the lost young man, haunted by the ghost of a man he killed in Iraq. Needy and proud, angry and tender, he has been both empowered and undone by the family which nurtured him. One can only imagine how much this performance would grow in stature if he also were appearing in the other plays of the trilogy, where Elliot assumes more of the dramatic focus (and the characters in the chat room are omitted, except for Haikumom-Odessa).
Part of the problem is a disconnect between the generations of viewers. As someone who was raised on conventional theater, fueled by plays with a beginning, middle and end, and scenes that bring the characters into face-to-face confrontation, it's difficult to engage deeply with relationships between people who are essentially pen-pals in cyberspace. Hudes is very much a playwright of the digital generation, where friends can be found in various places, virtual and otherwise. To be sure, we haven't seen the last of the new age habits crowding out old-fashioned dramatic confrontations. I guess I'll just have to get over it.
Note: The Lyric Stage is holding a public reading of the trilogy's first play, Elliot, A Soldier's Fugue, on Tuesday, November 12 at 7 p.m.
---
Iris Fanger is a theater and dance critic based in Boston. She has written reviews and feature articles for the Boston Herald, Boston Phoenix, Christian Science Monitor, New York Times, and Patriot Ledger as well as for Dance Magazine and Dancing Times (London).
Former director of the Harvard Summer Dance Center, 1977-1995, she has taught at Lesley Graduate School and Tufts University, as well as Harvard and M.I.T. She received the 2005 Dance Champion Award from the Boston Dance Alliance and in 2008, the Outstanding Career Achievement Award from the Graduate School of Arts and Sciences at Tufts. She lectures widely on dance and theater history.