A knockout performance from pianist Jeremy Denk, cellist Jan Vogler exudes a strong poetic sensibility, and pianist Hélène Grimaud's Brahms Concertos are a mixed bag.
Reviews of Jeremy Denk's Goldberg Variations (Nonesuch), Jan Vogler's Dichterliebe (Sony Classical), and Brahms's Piano Concertos (Deutsche Grammophon)
By Jonathan Blumhofer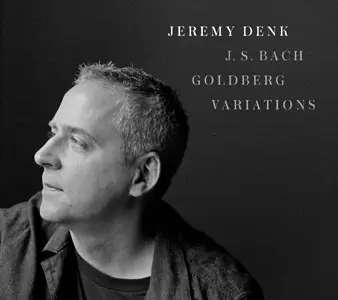 Jeremy Denk is back! Actually, he never left, but, considering it's been over a year since his last solo album, there's reason for excitement. Last year, Mr. Denk's Nonesuch debut of music by Ligeti and Beethoven juxtaposed some of the 20th century's most visionary keyboard music with the 19th's: it was, by far, the most compelling classical album of the year. This year he's turned to something much more canonical, Bach's Goldberg Variations. But there's nothing commonplace about Mr. Denk's performance: it's a knockout on just about all counts.
Mr. Denk's been performing the Goldbergs for a while now, often pairing it with other meaty repertoire (Ligeti, Beethoven's "Hammerklavier," Ives's Concord Sonata). Here, on his second Nonesuch disc, it stands, quite appropriately, alone. It's a fearsome piece, by anyone's measure: exhaustive in its musical content, and exhausting in its technical and intellectual demands. It can also be exhausting to listen to.
Not here. Mr. Denk doesn't seem to have noticed any of the music's challenges and he certainly doesn't convey any of its inherent difficulties: his playing is fleet and brilliant, often dance-like in character. In video interviews he made last year for NPR, he spoke of wanting to bring out the playfulness in the music and he's mightily successful in this account. Indeed, this is one of the most accessible recordings of the Goldbergs out there, lively, charming, at times even vivacious. Not that Mr. Denk downplays the music's darker impulses – the minor key movements, especially, stand powerfully in a kind of stark relief to their surroundings – but there's a real warmth to his performance, one that never feels studious, and that's something very hard to pull off in these Variations.
Writing on NPR's Deceptive Cadence blog last year, Mr. Denk noted, "I worried for years that I would be seduced into playing [the Goldbergs], and would become like all the others – besotted, cultish – and that is exactly what happened. I have been assimilated into the Goldberg Borg." How lucky for us that that's the case.
---
A strong poetic sensibility runs through German cellist Jan Vogler's new album from Sony Classical, Dichterliebe, which takes as its central focus a performance of Schumann's eponymous song cycle but replaces the vocal part with Mr. Vogler's cello. This isn't exactly de rigueur in our era that tends to prize authenticity (whatever that may mean) in musical performance above all. But there's plenty of historical precedence for adapting vocal music like Mr. Vogler does – indeed, he departs probably the least of any arranger, simply transposing certain sections of the vocal writing by an octave for dramatic effect and otherwise playing exactly what Schumann wrote.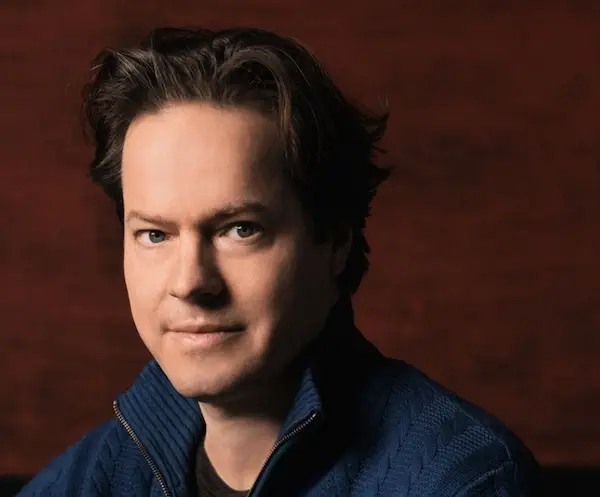 And he plays it beautifully. There were certain lieder in which I missed the intensity of a voice and the words to these melodies ("Im wunderschönen Monat Mai" and "Ich grolle nicht," especially), but Mr. Vogler's tone and phrasing are as lyrical as any singer and, in some ways, it's easier to hear Schumann's magnificently intricate piano accompaniment with a cello than with a singer.
Indeed, "accompaniment" might be the wrong word since Schumann's piano writing is so involved. For his partner in this project, Mr. Vogler couldn't have chosen a more astute collaborator than the brilliant pianist Hélène Grimaud. She's as much a poet as he is and, if her keyboard prowess takes center stage here and there in Dichterliebe, she's got such a brilliant command of the instrument, who cares? Together, they make an inspired team.
Also included on the album is a zesty performance of Schumann's charming Fantasiestücke and the rarely played Andante und Variationen, op. 46. For the latter piece, the Mortizburg Festival Ensemble joins Mr. Vogler: cellist Christian Poltéra, pianists Juho Pohjonen and Martina Filjak, and horn player Johannes Dengler. It's perhaps the only piece ever written for this combination of instruments, but you couldn't ask for a better sounding team to document it.
---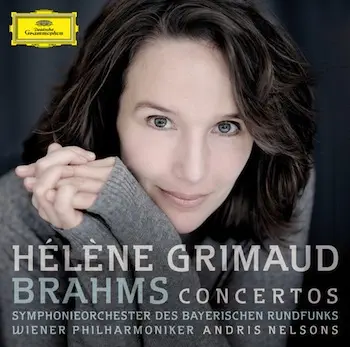 Ms. Grimaud has never been a pianist afraid of taking a risk or two – indeed, that's a quality that makes her one of the most interesting keyboard players on the scene today – and most of the time they pay off: her debut album for Deutsche Grammophon mesmerizingly paired pieces by John Corigliano and Beethoven (the Tempest Sonata and Choral Fantasy) with Arvo Pärt's Credo. Her newest album on the Yellow Label is more conventional, featuring the two Brahms piano concertos, but there's nothing predictable in her takes on this repertoire, especially in the D minor Concerto.
To begin, it's slow: the first movement clocks in at almost 24 minutes, a good three to four minutes longer than usual. That may not seem like much, but it sure sounds like it. In an interview in the liner notes, Ms. Grimaud discusses how she finds this concerto, in particular, to be quintessentially Romantic: dramatic, impulsive, and poetic. Yet those qualities don't come across readily when the music is played so sluggishly. True, there's a certain fascination in hearing Ms. Grimaud sustain the music's melodic threads at a slow tempo and, as a result, the first time through the movement's second theme is really pretty striking. But as the movement continues, it's difficult to follow the logic behind her tempo choices. This is especially true when the music starts to feel like it is being held back against its will. What Ms. Grimaud seems to be trying to do here is to dissect the music as she plays, examining its every strand and sinew with the greatest care. It's a wonderful concept in principle, but as it's executed here it sounds far more mannered and deliberately frustrating than impulsive.
The last two movements come off better: the second is intensely rhapsodic (though the recorded sound is marred by Ms. Grimaud's dramatically audible breathing at several points) and the finale muscular, though, to these ears, it's not quite enough to cover for the peculiarity of the first movement.
In general, Ms. Grimaud's ideas work much better when applied to the Second Piano Concerto. In this performance there's a clear sense of musical narrative: the concerto unfolds in sweeping, lyrical paragraphs that feel unforced and inevitable. Ms. Grimaud's playing is magnificent, sensitive, graceful, and commanding. This is as unfussy a reading as one is likely to hear and it's also an interpretation that emphasizes the score's chamber music qualities.
For her musical colleagues in this piece, Ms. Grimaud could hardly have chosen better than the Vienna Philharmonic. True, the Philharmonic has played this piece so many times that they could probably perform it in their sleep. But they don't: in fact, they've rarely sounded so alive and that is due (at least in part) to the work of Boston Symphony Orchestra music director-designate Andris Nelsons, who electrifies their burnished, creamy Viennese sound, especially in the work's many solo contributions. Together, Ms. Grimaud, the Philharmonic, and Mr. Nelsons deliver a mighty, often exciting, account of this very familiar piece, one that brings out all sorts of little details in the score (like the lunging accents in the finale) that are often overlooked or underemphasized.
Mr. Nelsons is also Ms. Grimaud's willing accomplice in the First Concerto, leading the Bavarian Radio Symphony Orchestra. One could read many things into his interpretive choices in this performance, but perhaps the most important take-away is the fact that he gets the BRSO to play like they thoroughly believe in this approach to the piece. Overall, the orchestra acquits themselves admirably: the hushed strings in the second movement achieve a breathtaking, full-bodied, still sound; and the martial episodes in the outer movements are stirringly played.
Ultimately, this set is a mixed bag: the First Concerto, though quirky, has plenty of interesting qualities, if you can look past (or appreciate) its Gouldian elements; the Second is simply fantastic. Regardless, it sounds like Boston audiences have a lot to look forward to when Mr. Nelsons takes up his post next fall.
---
Jonathan Blumhofer is a composer and violist who has been active in the greater Boston area since 2004. His music has received numerous awards and been performed by various ensembles, including the American Composers Orchestra, Kiev Philharmonic, Camerata Chicago, Xanthos Ensemble, and Juventas New Music Group. Since receiving his doctorate from Boston University in 2010, Jon has taught at Clark University, Worcester Polytechnic Institute, and online for the University of Phoenix, in addition to writing music criticism for the Worcester Telegram & Gazette.