By Susan Miron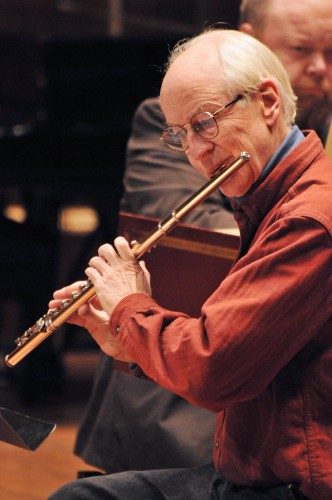 On Sunday, September 8th, at 3:00 pm, two beloved former Boston Symphony flutists will be honored at New England Conservatory's Jordan Hall in Boston. The James Pappoutsakis Competition, established in 1979 in the longtime BSO flutist's memory, is presenting this year's Winner's Recital in a free and open-to-the-public concert. Before the recital there will be a special tribute to performer and teacher Fenwick Smith. The winning flutist, Thomas J. Wible, will perform with Ayako Yoda, piano, and Franziska Huhn, harp, in a program that includes the Serenade for Flute and Harp by John Heiss, commissioned by Fenwick Smith, as well as music by Leclair, Widor, and Peter Child.
For classical music lovers, the opening of the concert season was, for 35 years, synonymous with flutist Fenwick Smith's annual recitals. No piece was ever repeated, and countless corners of the flute repertoire were explored, always with stellar colleagues.
Fenwick played with the Boston Symphony from 1978 until 2006 and was a treasured member of several prominent ensembles, performing on both Baroque flute and modern flute. He was a member of the contemporary music ensemble Boston Music Viva for 13 years, the flutist of the Mélisande Trio, and a member of the Boston Chamber Music Society (BCMS) for 29 years. Its artistic director Marcus Thompson writes that Smith "never lost the taste for the new and daring. There was nothing you could set before him that he did not play with the greatest ease and elegance." At Smith's last concert with the BCMS, Thompson paid homage to the musician: "Perhaps no one in Boston has given more premieres and solo recitals over the past 35 years. It's probably also true that no one else has built his own instrument, or his own house, or introduced us to more chamber music than you."
Another of Smith's colleagues, mezzo-soprano D'Anna Fortunato, writes, "My musical times with Fenwick have always been deeply rewarding for not only did he play with great beauty and elegance, but he brought to rehearsals and concerts a superior musical intelligence and curiosity which have stuck with me and spurred me on to more investigation and promotion of the new and under-served."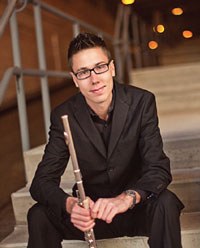 Retired BSO violist and member of the Mélisande Trio, Burton Fine, recalls, "It has been an extraordinarily rewarding experience working with Fenwick over several decades. His knowledge of all things musical, reflected in the quality of his playing, both in orchestra and in chamber music, have offered major contributions to my own understanding of how to play and perform."
Pianist Randall Hodgkinson writes, "I have always loved playing with Fenwick for a lot of reasons. He complements his instrumental prowess and incredible musicianship with an encyclopedic knowledge and ability to talk and write eloquently about music. He is a wonderful colleague."
I am one of the many lucky people who have played chamber music with Fenwick (in the Mélisande Trio), and my admiration for him is enormous. Yes, he made his own flute and designed and built a solar-tempered, post-and-beam house in the woods of Richmond, MA. He has been fearless about repertoire and has good taste to boot, recording works of the composers he championed: Charles Koechlin, Copland, Foote, Rorem, Schoenberg, Schulhoff, Harbison, Cage, and Dahl. He renovated the top floor of a former Masonic Temple (in Roslindale) and created a state-of-the-art recording facility (it's nicknamed The Sonic Temple). In 2001 Fenwick was the recipient of NEC's Laurence Lesser Award for Excellence in Teaching.
There is little Fenwick cannot do splendidly. He and his long-time BSO colleague and friend, flutist Leone Buyse, founded the Greater Boston Flute Association in 1992, which presented a vast array of events for almost two decades. Leone, who teaches at Rice University, will be among those paying tribute to this most extraordinary of musicians. The highest praise I have for Fenwick is that his playing caused me to like the flute.
---
Susan Miron, a harpist, has been a book reviewer for over 20 years for a large variety of literary publications and newspapers. Her fields of expertise were East and Central European, Irish, and Israeli literature. Susan covers classical music for The Arts Fuse and The Boston Musical Intelligencer. She is part of the Celtic harp and storytelling duo A Bard's Feast with renowned storyteller Norah Dooley and plays the Celtic harp at the Cancer Center at Newton Wellesley Hospital.