By Gerald Peary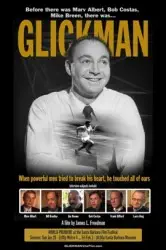 My understanding of Martin Scorsese is that, as a tiny-sized, asthmatic boy, he had no qualifications for sports and, furthermore, not an iota of interest. Raging Bull, his sort-of-sports movie, was made by a filmmaker who detested boxing. Nope, I've never sighted Marty down on the Garden floor with Spike Lee at a Nicks game. So, what a surprise to see Scorsese listed as Executive Producer of Glickman, a rousing sports biography playing on HBO from August 26 through most of September.
Whatever his actual contribution (the film is written, directed, and narrated by James L. Freedman), thanks to Scorsese for lending his prestige to this worthy story. It's the life of the late Marty Glickman (1917–2001), the New York New York Jewish guy who, talking excitedly and authoritatively from the radio booth, invented, in the 1940s and 1950s, the modern style of sports broadcasting. Quoth Jack Kerouac in On the Road, "Man, have you dug that mad man Marty Glickman announcing basketball games . . ."
But before he was a broadcaster, Glickman was one heck of an athlete, a youthful hero in New York known as "the Jewish Red Grange," the swift halfback for Brooklyn's Madison High School. He was such an amazing sprinter that he qualified for America's 400mm relay team for the 1936 Olympics. Yes, those Leni Riefenstahl Olympics. On a team with Jesse Owens, "the world's fastest human," he traveled to Berlin, the heart of soulless Nazi Germany.
At this point, Glickman gets gravitas. Should these Olympics have been boycotted by America because of Germany's anti-Semitic laws and murderous policies? Perhaps there's a lesson here for the 2014 Olympics in Sochi, with Russia's anti-gay ordinances and Putin's haughty violations of civil liberties. In 1936, Avery Brundage, lofty leader of the American Olympics, fought hard against the boycott, blamed it on a "Communist Jewish conspiracy." Nobody knows if Brundage, also a softy about Hitler, was behind the flagrantly anti-Semitic decision to keep the two Jewish runners at Berlin, Glickman and Sam Stoller, from actually running. To appease Adolf? They were replaced by Owens and another American in the 400mm race. Unjust! Unfair!
(Brundage, the WASPy face of the Olympics for generations after, was also the guy who insisted the 1972 Munich games continue on, even after the massacre there of Israeli athletes. When he retired, surprise, Brundage married a German princess.)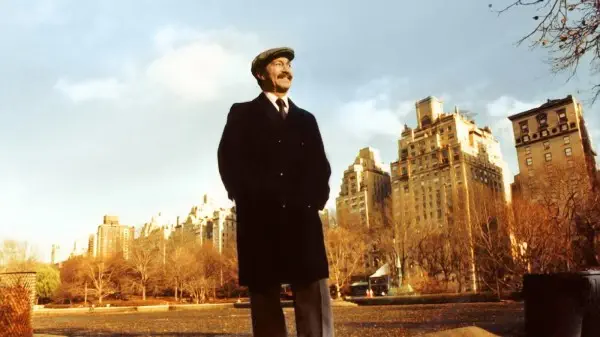 As for Glickman, he played football at Syracuse, fought with the Marines in the Pacific in World War II. Back in America, he realized, at 5'9" and 160 pounds, he was too teensy for pro football. Lucky for the world of sports, he didn't decide to go to law school or medical school but entered the broadcast booth. And those were his golden days, the radio voice of college sports, then for the Nicks, then, for decades, the football New York Giants. In those days, home games were blacked out on TV, so everyone listened raptly to Marty's magical rhetoric. "Television on radio," remembers Larry King, as Glickman waved a home-team flag for Y.A. Tittle, Frank Gifford, Roosevelt Brown, Rosey Grier.
The second half of Glickman gets carried away with testimonials, from later sportscasters like Bob Costas and Marv Albert, from various adulatory sportswriters, from Boston's own Red Auerbach, Marty's pal, and, if that's not enough, Jewish celebs like Elliott Gould and Jerry Stiller. Finally, the HBO documentary gets incestuous, with executives at HBO praising Glickman for his pioneering HBO reporting, for single-handedly saving the shaky, fledgling cable station in the early 1980s when it was called Home Box Office.
Wouldn't it be nice to have learned something of Glickman's personal life, more than that he was married and had two daughters? But what you carry away from the documentary is the fascinating knowledge of how Glickman on-air created much of the special vocabulary of modern sports, the vernacular. For example, he's the fellow, for basketball, who came up with "top of the circle" and "top of the key" and, for a clean basket, "Swish!" As for being kept out of the Olympics, Glickman smarted from that tarnished moment forevermore. Almost 50 years after the 1936 insult, he finally traveled again to Germany and revisited the Olympics stadium.
"I sat in Hitler's seat," he said, triumphant at last. "Hitler's not here. I am."
---
Gerald Peary is a professor at Suffolk University, Boston, curator of the Boston University Cinematheque, and the general editor of the "Conversations with Filmmakers" series from the University Press of Mississippi. A critic for the late Boston Phoenix, he is the author of 10 books on cinema, writer-director of the documentary For the Love of Movies: the Story of American Film Criticism, and a featured actor in the 2013 independent narrative Computer Chess.