We stirred in a number of scrappier shows at more experimental venues and were treated to Edinburgh's wild and wonderful arts extravaganza.
By Judy Braha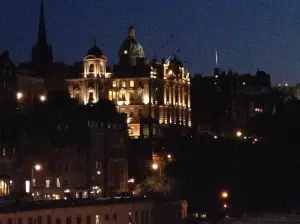 As a seasoned theater professional, I have often longed to attend the Edinburgh Fringe (this year's edition runs through August 26) but never had the opportunity. Granted a sabbatical semester from the Boston University School of Theater, I examined all my life-long, unfulfilled yearnings and decided this would be my moment to go. As a Fringe neophyte, I asked lots of advice up front and had the pleasure of talking "festivals" with Sherrie Johnson, who recommended particular venues and an approach to the Fringe that paid off in spades. Erring on the side of tickets in advance and favoring the Traverse Theater (Edinburgh's premiere new work venue, which is celebrating its 50th anniversary this year) and Assembly Hall, my companion and I also stirred in a number of scrappier shows at more experimental venues. We were treated to a wild and wonderful arts extravaganza. Wandering the Royal Mile jammed with artists hawking their wares, their shows, their dance, and music was a feast unto itself.
We saw 17 productions in seven days (not very many by some people's standards), and these five were by far the best of the bunch.
Menage a Trois: Presented by the National Theatre of Scotland at Paterson's Land, this was my favorite offering at the Edinburgh Fringe. A brilliant dance/theater piece, created by dancer/choreographer Claire Cunningham and video artist/choreographer Gail Sneddon, the production has been replaying in my head for days: "This darkly humorous and deeply personal portrait explores Claire's twenty year relationship with her crutches and asks if it is possible to find love when there are already three of you in the relationship." Set on a large, bare stage with hidden cabinets, many sets of crutches, floating dresses, three or four giant scrims set at odd angles with video, animation, spoken text, and projection threaded throughout, the audience is treated to a multi-layered journey: heartbreaking, joyous, comical, and unfathomable. Boldly imaginative and original, this groundbreaking pas de deux was a revelation. Part fable/fairy tale, part hard-core reality bites, the piece serves up a a rare and vivid look inside Claire's experience, her sense of self as it is shaped by life's trials and tribulations.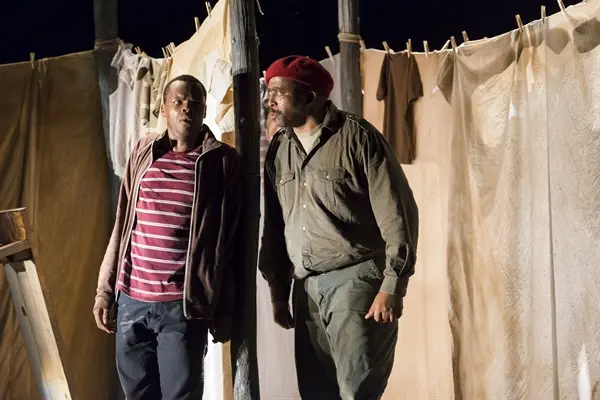 Cadre: A wonderful co-production that came courtesy of the Chicago Shakespeare Theater and The Market Theater Of Johannesburg in association with Richard Jordan LTD. at the Traverse Theater. Clearly, the latter is the go-to venue in Edinburgh for amazing productions of well-written, well-acted, and well-directed new work. Omphile Molusi wrote the play; he also directed and starred in this production. Molusi played a boy sucked prematurely into the resistance in the South African fight against apartheid. This is clearly charged, personal territory for the playwright. Commenting on the impulse behind the script, Molusi says, "this is why I tell the story of Cadre, to warn us that we should remember that history is there for a reason; to teach us never to go back to where we were before, so that we protect what we have . . . But mainly I tell the story of Cadre to emphasize that having a black president was only the beginning. The journey to complete freedom still continues."
Simply staged, making use of wooden poles, sheets, clothes pins, and two buckets, the production had wonderful lighting and almost constant live underscoring, drawing on traditional song and homemade sound. These elements enlivened the evening's evocative story-telling, while the three performers played numerous characters with clarity, depth, and commitment. This sweet story of puppy-love mauled by political and racial upheaval left the audience visibly shaken.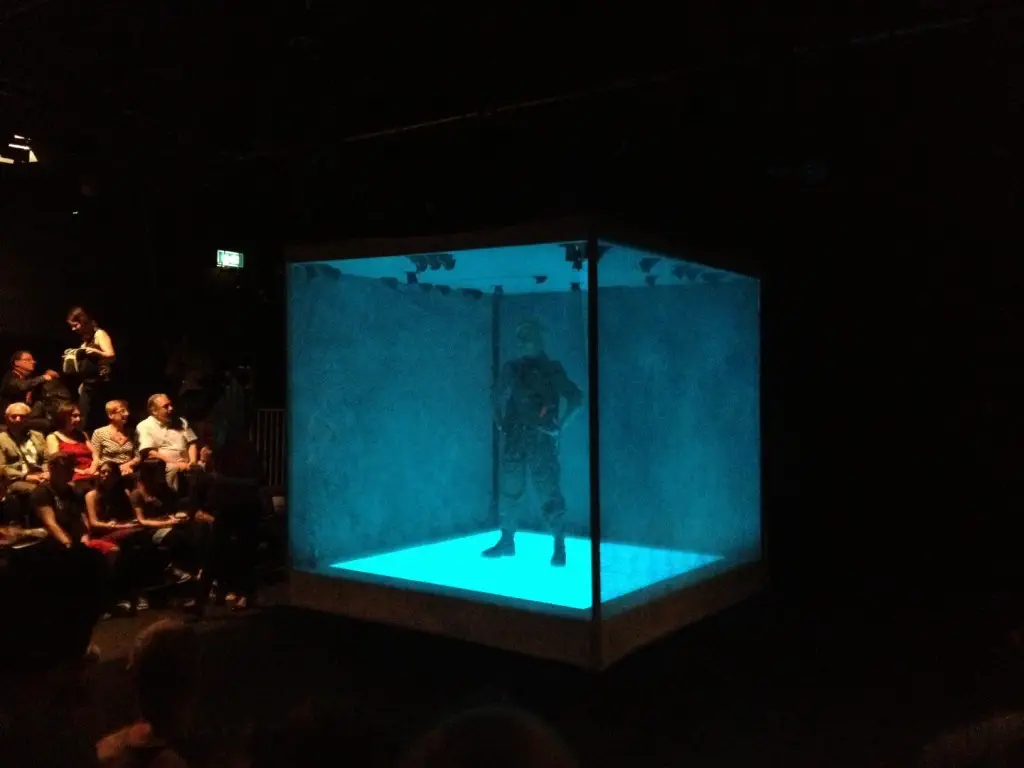 Grounded: We returned to the Traverse Theater for Grounded by George Brant with Christopher Haydon at the helm. Presented by the Gate Theater, London, this one-person show about a "hot-rod fighter pilot" who becomes pregnant and is relegated to "flying remote controlled drones over Pakistan" was incredibly well done, equally compelling and disturbing. Starring Lucy Ellinson in a tour de force performance, we witnessed the journey of a cocky, indomitable woman who descends into the unreal land of virtual warfare and the incredible toll it takes to be "hunting terrorists by day and being a wife and mother by night." The container for the play was a small, elevated scrim cube with a versatile plexi floor capable of handling numerous computerized lighting effects. The actress never left the cube and never sat down. A cocky, colorful life that evolved onto the inescapable grey of the drone pilot's screen and then dissolved into nothingness.
Quietly: Owen McCafferty's script was staged at the Traverse Theater. This play premiered at the Abbey Theater in Dublin last year and was nominated for an Irish Times Theater Award for Best New Play. Set in contemporary Belfast, the play chronicles the meeting of two men (a Catholic and a Protestant) whose destinies crossed at age 16 at a local watering hole. The very same bar where they are now meeting for the first time at the age 52. One character says early on that "there is more to the truth than facts." With stellar performances by all three actors, the paradoxical simplicity and complexity of this meeting leaves viewers lost and dumbfounded at the final curtain. It is difficult to take sides as each man plunks his damaged life on the table: change and even some sort of healing might be possible, but the more things change the more they stay the same.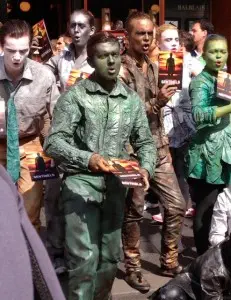 An Actor's Lament: The world premiere of Steven Berkoff's play at the Assembly Hall was a back-bitingly delightful afternoon at the theater. Described as "a comedy about the bizarre lives of actors and the many fights, frustrations . . . and madnesses they are prone to," this play reminded me of Moliere's The Misanthrope in a number of ways. Berkoff, who also stars in this production along with the fantastic Jay Benedict and Andree Bernard, has written what amounts to (almost) a play in verse, an acidly snippy, ritualized (no dramatist ever got more mileage out of the act of offering and lighting a cigarette!) backstage comedy. The script evokes the high style of expert poseurs who gut, bone, and fry up their colleagues for our enjoyment, all for the sake of navigating the "maze of thickets actors must negotiate before they ever reach the stage."
In the streets and in the more experimental venues of the city, we had a ball taking in the diversity of content and approach. Street performers; from British a-cappella singers to Japanese mimes to Scottish sword jugglers, flocked to the Royal Mile to see and be seen.
Going off the beaten track, we discovered the Bedlam Theater, a great venue for small, out-of-the-box groups. Favorites at Bedlam included 35MM (a dark/funny musical based on evocative photos of daily life), Track 3 (a sly, creative movement piece based on The Three Sisters) and Fade (think Saturday Night Live cross pollinated with Hamlet and Gossip Girl). All the pieces were ingenious, well performed and more than a little thought-provoking.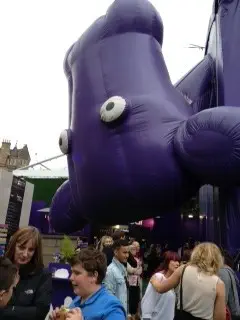 We also had great fun at the Udderbelly, a specially equipped circus venue next to the Underbelly surrounded by a crazy number of pop-up beer and falafel stands. Flown, presented by Pirates of the Carribina was our favorite here. Part circus, part personal confessional, the talented performers let it all hang out in this chaotic and original circus/theater piece underscored by live Tom Waits- inspired music.
It was an amazing week on the roller coaster that is the Edinburgh Fringe Festival. I recommend the experience without reservation. It is a fabulous city full of history and artistic vitality that bends over backwards to make visitors welcome, opens its arms to arts presenters of every stripe. Don't wait as long as I did to romp through the Edinburgh Fringe!
---
Judy Braha has been a director, teacher and arts advocate in New England for over two decades. Currently head of the M.F.A. Directing Program at Boston University's School of Theater, her teaching, directing and guest artist credits include theaters and universities throughout New England and beyond. Recently, she directed Ohtello for ASP, The Road to Mecca for BCAP and Joyce Van Dyke's new plays The Oil Thief (Elliot Norton Award for Outstanding New Play) and Deported/ a dream play for Boston Playwrights Theater.