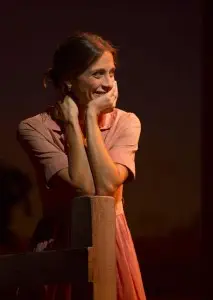 By Bill Marx
A musical version of the 1992 best-selling novel The Bridges of Madison County, the fruits of the creative team of Marsha Norman and Jason Robert Brown, is headed to Broadway this January. The Williamstown Theatre Festival is currently presenting the show's pre-New York performances through August 18th. WTF asked critics to refrain from reviewing the production until it premieres on the Great White Way. In general, reviewers have honored what seems to me to be a questionable request — if a theater sells tickets to a show it is eligible be reviewed, particularly if the critic notes that the production will be undergoing changes during this preview period.
The embargo was breached by Bloomberg News theater critic Jeremy Gerard, whose piece was posted on August 10. The Boston Globe then posted the critique on August 12th. When I contacted WTF about this, a representative from public relations firm O&M Co explained via e-mail that the Bloomberg News review was not acceptable:
"…it's a longstanding Williamstown policy (and often part of our agreement with playwrights and enhancers), and anyone who blatantly chooses to send a critic to a developmental production of a show and run their own review, despite being asked not to, will really jeopardize their relationship with the Williamstown Theatre Festival. I think it's pretty safe to say that the Festival won't be working with Bloomberg or handing out press tickets to their writers any time soon."
Nothing is going to be done about the posting by the Boston Globe. The reasoning is that, because the newspaper didn't send its own theater critic, it hadn't broken the ban. This is inconsistent and disingenuous. When Gerard's review appears under the Boston Globe brand many readers believe it to be a product of the Globe. (I had two people e-mail me that the Globe had reviewed The Bridges of Madison County.) The paper didn't link to the review — web traffic is going to Boston.com to read the entire critique.
What's more, a Google search suggests that the New York-centric Bloomberg News rarely, if ever, sends its theater critic to the WTF. Thus withholding free tickets from its writers is an empty threat (and somewhat ridiculous, given Bloomberg's deep pockets). The Boston Globe made an editorial decision to run the review — it didn't appear on its own accord. Of course, if WTF challenged the Boston Globe for publishing the critique it would mean potentially disrupting a relationship with a major media player in New England — thus the surrender.
This is more evidence of the absurdity of these embargoes (particularly in the age of the Web). If you are big enough, you can flout the rules without suffering the consequences.