What carries Blue Jasmine over the moon is the breathtaking, Oscar-worthy performance of Cate Blanchett, whose tortured Park Avenue socialite on the skids is among the most stunning performances by an actress in years.
Blue Jasmine. Directed by Woody Allen. At cinemas throughout New England.
By Glenn Rifkin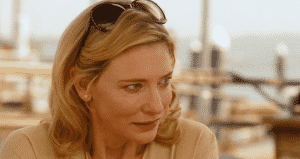 In his hilarious 1973 comedy Sleeper, Woody Allen, as the cryogenically frozen jazz musician awakened two centuries into the future, does his own take on Blanche Dubois, the sadly delusional Southern belle of Tennessee Williams's Streetcar Named Desire. Needless to say, Allen's Blanche set eclectic (and side-splitting) new standards for that iconic role on the big screen. But now, 40 years later, Allen had the good sense to turn Blanche over to the remarkable Cate Blanchett in his new masterpiece Blue Jasmine, a film so perfectly created, edited, and acted that one has to remind oneself that this was indeed written and directed by Allen and not Elia Kazan.
Certainly, when F. Scott Fitzgerald opined that there are no second acts in American lives, he did not have Allen in mind. With Blue Jasmine, Woody has not simply resurrected his once tattered reputation. He has emerged, at age 77, as a uniquely skilled auteur blending comedy and drama in a way that he has never accomplished before. Given the arc of his career—from his slapstick hits in the early 70's, to the Oscar-winning brilliance of Annie Hall, to a series of critically acclaimed hits like Manhattan and Hannah And Her Sisters, to two decades of forgettable drek following his regrettable personal foibles with Soon-Yi and a much-lauded rebirth with the 2011 hit Midnight In Paris—Allen has fashioned at least a half dozen acts.
But none of those could have prepared his fans for Blue Jasmine. Though nothing will top Annie Hall, this taut dramady (mostly drama) soars immediately to the top five on the Best Of Woody list. Carried by a resourceful and talented cast, the inspired work of Allen's longtime editor Alisa Lepselter, and a engrossing new take on the essential theme of Streetcar, Blue Jasmine is an evocative triumph.
And what carries Blue Jasmine over the moon is the breathtaking, Oscar-worthy performance of Blanchett, whose tortured Park Avenue socialite on the skids is among the most stunning performances by an actress in years. Riveting may well be a shopworn cliché for movie critics, but there is no other way to describe Blanchett's bravura turn in her role as Jasmine. For an Oscar-winning actress whose filmography is littered with remarkable performances, this may well be the best thing she's done. She is on-screen throughout, and you simply can't take your eyes off her. If she is updating Blanche Dubois (a role she played to rave reviews on Broadway in 2009), she nails it.
The anguish of her descent into madness, which follows the roiling explosion of her once seemingly pristine, obscenely wealthy life, plays on her face like shadows dancing across the water. In one remarkable sequence, as Jasmine hangs up from a phone call with a promising new love interest, her resolve to appear charming and sophisticated crumples into tears. We feel the searing pain that is running mercilessly through this tortured character's soul. Though Vivien Leigh's stunning turn as Blanche in the 1951 classic film version of Streetcar is cemented in the pantheon of cinematic tours de force, Blanchett here is equal to or superior to that magical performance.
While Woody will never be confused with Tennessee Williams, this screenplay certainly deserves critical acclaim for a writer/director who seemed so terribly adrift for so long. A tense drama built on Jasmine's precipitous fall from grace is interwoven, in parallel and via flashbacks, to her Park Avenue marriage to Hal, a wealthy but sinister corporate chieftain, played adroitly by Alec Baldwin. We meet Jasmine as she is arriving in San Francisco at the downtrodden apartment of her younger sister Ginger, portrayed by Sally Hawkins (Happy-Go-Lucky). Jasmine is broke, distraught, a woman on the edge of a nervous breakdown. She has nowhere else to go (echoes of Blanche's arrival at her sister's New Orleans flat in Streetcar), and she is trying, not all that successfully, to hold it together.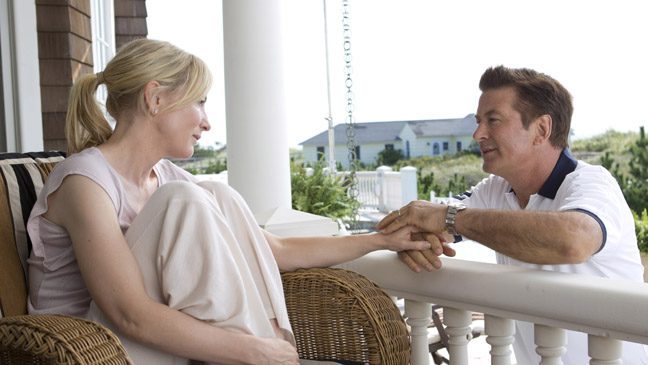 Ginger takes her in despite the years of scorn and inattention by Jasmine while she lived the good life. In flashback, Ginger and her husband Augie visit Jasmine and her husband Hal in New York with marriage-shattering results. Slowly but surely, we come to see that Hal is not merely a serial adulterer but a Bernie Madoff-type scoundrel whose criminal ways propel the moral outrage of the film.
Augie, now her ex, played by the outstanding Andrew Dice Clay, and Ginger's current boyfriend Chili, the always terrific Bobby Cannavale, form a dual-headed version of Streetcar's Stanley Kowalski character. Less mean-spirited, more vulnerable than Kowalski, the pair manage to convey with intensity the heartache Jasmine has brought to their lives.
Given Blanchett's over-the-top effort, Hawkins holds her own with an equally enthralling performance. "She had better genes," Ginger offers about Jasmine's upper class life. In fact, Allen has always drawn the finest actors to his films, and Blue Jasmine is no different. This ensemble has no weak links with dynamic appearances by the likes of Peter Sarsgaard as a short-lived romantic partner for Jasmine, Louis C.K. as a potential mate for Ginger, and Michael Stuhlbarg as a horny dentist. Max Casella, the wonderful character actor, portrays Chili's friend Eddie, the utterly improbable blind date for Jasmine. "You get a bad clam," Eddie opines at the clam shack, "and you wish you were never born."
Clearly, Jasmine is a woman who is increasingly wishing she was never born. Her hold on reality ebbing, she talks to herself on the street, and in a surprise twist, we find out why her angst runs so deep.
Perhaps the best thing about the film is that Allen left himself out of the cast. Since he is too old to play the nebbishy schlep with the gorgeous, young girlfriend, he has wisely decided to hunker down in the role in which he has so long excelled, a writer. There are no Bananas-type laughs in this one. But the old funny ones only serve as a reminder of how remarkable Allen's career has been and, with Blue Jasmine, continues to be.