By Bill Marx.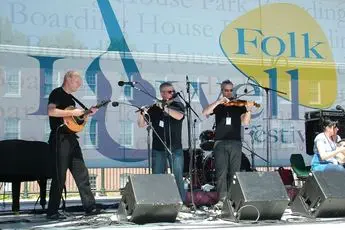 As the mainstream media melts down, conflicts of interest are becoming increasingly routine, the corporate hunger for bucks and branding rights overwhelming journalistic ethics. It is understandable—when the arts and news coverage you produce doesn't interest readers or bring in cash, corners must be cut. For the second year in a row, WGBH and The Boston Globe sponsored a Summer Arts Weekend, filled with concert performances staged in downtown Boston. This time around it was presented during the same days as the venerable Lowell Folk Festival—the largest free folk festival of its type in the United States.
So what did the paper do? Today, there was a glowing review of the Summer Arts Weekend in the Boston Globe and nada about the Lowell Folk Festival, which, from reports I have received from discerning Fuse readers, was terrific. Any surprise? Is there anyone dumb enough to believe that a Globe writer who wanted to keep his job would do anything but hail the Summer Arts Weekend as a cultural triumph? Granted, the Globe's resources are thin: it may not have had the money to send somebody out to Lowell. Newsonomics on April 25 suggested that the paper's owner, The New York Times, was going to have problems finding anyone to buy a newspaper without a foreseeable future.
As the Times Company readies its sale of the Boston Globe, it's clear the Globe is underperforming the Times. It was down 6.7% in overall revenue, as its reader revenue lost 1.9% and advertising declined 10.1%. Two takeaways here: 1) the new owners of the Globe face a tough challenge in getting back to growth, given those numbers; 2) as the Times emerges as essentially a standalone entity, its own reader revenue strategy looks better. Without the Globe, it was up 8.2% in circulation dollars.
But still, a trip out to Lowell could have been expensed in some way. The silky suits at WGBH and the Boston Globe must have done a good job picking the richie-rich pockets around town. Is it a shock that the Lowell Folk Festival had to work extra hard for funding this year? WBUR's ARTery sent a writer to Lowell to do a puff piece—photo-filled, content-lite—but the site did not bother to cover the Summer Arts Weekend. You see, WBUR competes with WGBH so that festival doesn't count. Like everything else in corporate media America, news and arts coverage are breaking down into dueling brands.
From my search, the closest the Boston Globe came to covering this year's Lowell Folk Festival was a tiny story that celebrated the food in the festival and a feature on "American fadista" Nathalie Pires. In 2011 the Boston Globe characterized the Lowell Folk Festival as "a celebration of diversity." This year, the Globe isn't really interested in celebrating anything but itself.