By J. R. Carroll
Now that we've reached the midpoint of the festival season, the early summer festivals have wrapped up or are in their final weeks, and some of the late summer festivals have firmed up their rosters.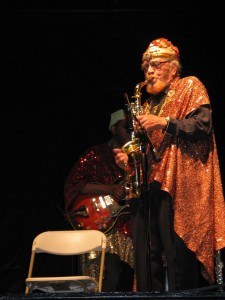 Photo by 18 Brumaire
The ageless Newport Jazz Festival returns to Rhode Island the weekend of August 6–8 under the sponsorship of CareFusion. This year's lineup features cross-generational linkages (Roy Haynes with Chick Corea, Dave Brubeck with Wynton Marsalis, legendary Sun Ra reedman Marshall Allen with Matthew Shipp & Joe Morris), impressive large ensembles (Darcy James Argue's Secret Society, Jazz Mafia's Brass, Bows and Beats, the Maria Schneider Orchestra, Arturo O'Farrill & the Afro-Latin Jazz Orchestra), and a gratifyingly sizeable contingent of boundary-pushing musicians (JD Allen, Fly, Rez Abbasi, Ben Allison, Dave Douglas, Ken Vandermark, Jason Moran). And will Herbie Hancock wander over to check out how Conrad Herwig interprets his Latin side?
Photo by Bruno Bollaert
The same weekend and one state to the West, the Litchfield Jazz Festival, now in its 15th year, welcomes drummer Matt Wilson as its first artist-in-residence; Wilson will make appearances with vocalist Denise Thimes and in an All-Star Cannonball Adderley Tribute, as well as in conversation with 90-year-old legend Dave Brubeck and with bassist Mario Pavone. Other highlights include clarinetist Anat Cohen's tribute to Benny Goodman, saxophonist Jane Bunnett's Spirits of Havana, and the cross-cultural meeting of Bela Fleck, Zakir Hussain, and Edgar Meyer.
Still in Connecticut, the New Haven Jazz Festival takes place on two successive Saturdays with strong lineups featuring pianist Noah Baerman with saxophonist Wayne Escoffery, trumpeter Gabriel Alegria's Afro-Peruvian Jazz Showcase, drummer Winard Harper, and saxophonist Bobby Watson on August 14, and following up on August 21 with guitarist/bassist Joe Morris with pianist Matthew Shipp, trombonist Steve Davis with pianist Larry Willis, Chilean vocalist Claudia Acuña, and drummer Robby Ameen with his Latin Sextet.
Saturday, August 21, at the Salem Jazz and Soul Festival offers plenty of funk, to be sure, including saxophonist Sam Kininger, Dopapod, Trick Bag, and Erinn Brown, but it also casts its net over delightfully quirky artists like Emperor Norton's Stationary Marching Band and Miss Tess & the Bon Ton Parade. The lineup on Sunday, August 22, leans more toward straight-ahead jazz and blues, featuring performers like Dwight Richer & Nicole Nelson, the Sugalito Guitar Trio, guitarist Peter Fedele, the North Shore Gospel Ambassadors (too newly formed to have a website yet), and the ubiquitous Grace Kelly.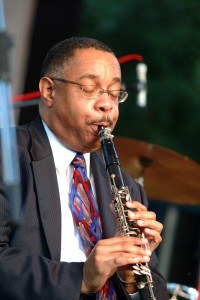 On the Bangor Waterfront, the American Folk Festival dips into the earlier traditions of jazz and its roots. Over the course of the weekend of August 27–29, there will be multiple opportunities to hear the klezmer/lautari fusion of the Other Europeans Band, the traditional New Orleans jazz of clarinetist and scholar Dr. Michael White, the distinctive Benga music of Western Kenya performed by Kenge Kenge, and the bomba and plena of Puerto Rico's Viento de Agua.
The Tanglewood Jazz Festival is a more modest affair (especially compared with Newport) than its prestigious name and elegant locale might suggest, but there's certainly justification for including it as part of a Berkshire weekend. On Saturday evening the underappreciated Laurence Hobgood Trio gets a deserved moment in the spotlight before shifting into its more familiar role backing virtuoso vocalist Kurt Elling, and on Sunday night pianist/composer Donal Fox (joined by cellist Maya Beiser) adds a touch of tango to his jazz-meets-classical explorations in a program he calls "Piazolla to Bach."
Watch for an Autumn Festival Update in early September covering, among others, the Beantown Jazz Festival, JazzFest Falmouth, and the Pittsfield CityJazz Festival.