Is it country? Is it rock? When it's good, is there really a difference?
By Adam Ellsworth.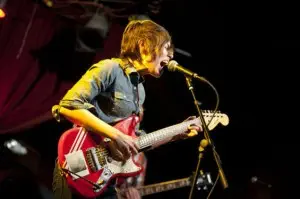 The line on Heather McEntire, lead vocalist of the band Mount Moriah, is that she sounds like a young Dolly Parton. This seems unlikely until you actually hear her sing, and then all doubt is erased: it turns out she really does sound like a younger version of the country icon.
This comparison shouldn't be read as a pigeonholing of McEntire. It's clear that she is capable of doing many different things with her voice, and in fact when she's not fronting Mount Moriah, she sings and plays guitar with the post-punk band Bellafea. Her vocal stylings with that group are closer to the deep growl (and occasional scream) of Patti Smith than anything you'd call "country," and it's a testament to McEntire's talent that she sounds fantastic at either end of the spectrum.
But it's with Mount Moriah that McEntire is at her best. It's not that what she does with Bellafea isn't "good" (or lacking a market, as the buzz surrounding British band Savages proves), it's just that what she does with Mount Moriah approaches "great."
Dolly Parton semblances aside, Mount Moriah is not really a country band, a fact they more than proved last Friday night during their 60-odd minute show at Boston's Café 939. It's doubtful they'd take offense at such a label, but it doesn't quite fit them.
"We've been listening to a lot of classic rock," McEntire told the audience early in the set. "Southern rock," she then added, though that distinction had already been implied by the band's sound.
Mount Moriah comes from North Carolina, so they probably can't help themselves. Nor should they. As players, the band (which, in addition to McEntire on vocals and guitar, includes guitarist Jenks Miller, bassist Casey Toll, and drummer James Wallace) can do honky-tonk pop, Muscle Shoals soul, and even a little bit of Allman Brothers. As good Southerners, they have developed (or perhaps they were born with?) a musical feel that manages to be loose and tight at the same time. They can do up-tempo, as with "Bright Light," the second song in their set Friday night and a standout from their second album Miracle Temple, which was released last month, or they can slow things down, as with "I Built A Town," another song off their latest that they played Friday night.
The show wasn't just about the new album though. "Social Wedding Rings," off of Mount Moriah's 2011 self-titled debut, showed off their bass-driven, Stax/Muscle Shoals side. The song (which includes a lyrical reference to Wakefield, Massachusetts' own Buffy Sainte-Marie) was considerably fine as it was performed, but the tune begs for a horn section that would take it to another level. Alas, it probably isn't cost effective to travel with a horn section for just one song.
"Telling the Hour," a tune that McEntire originally recorded with Bellafea and that Mount Moriah recorded for Miracle Temple, followed "Social Wedding Rings." The Mount Moriah version plays up the Southern gothic feel beneath the original's surface, but it's still a slinky, brooding song. Performed live, its sound was reminiscent of U2's "Love Is Blindness."
Following a somber rendition of "The Letting Go" (McEntire introduced it as, "A song that's been on my heart this tour," which is a very Southern thing to say indeed), the band picked the mood up considerably with "White Sands" (McEntire said, "Now we're gonna play a pop song."), and then "Lament," which received the biggest applause of the night. "Lament," from the band's 2011 debut, is a little pop gem, coming in at just over two minutes in length. It's probably the best introduction for the uninitiated to Mount Moriah's sound, with vocals that are too country to be straight up "rock" and a guitar part that's too rocking to be classified as "country." Whatever it is, it sure sounds good.
The band closed their main set with "Miracle Temple Holiness," a song with big drums, big guitars, and big vocals. Big everything, really; Zepplinesque even. There may not be much country in it, but there's definitely a whole lotta South in it, with McEntire declaring "I was a SAINT" and then later, "If fearness shakes your holy water/Let it rise, let it rise, let it rise." It was downright spooky. We Yankees don't write too many songs with lyrics like that. At least not ones that ring true.
After a very brief interlude (no more than a few seconds), the band came back for an encore. "We have time for one more," McEntire said, but then joked that they'd only actually play it "if someone knows the score of the UNC game." It is March after all, and Southerners have their priorities. Once it was discovered that UNC had won (behold the magic of smartphones), McEntire went on to dedicate the song "Reckoning" to her father. She announced that she is about to take a cross-country trip with him and said that her father is "a very religious man, but his heart is really open right now." It was a slightly head scratching statement until you realizes what the song is actually about.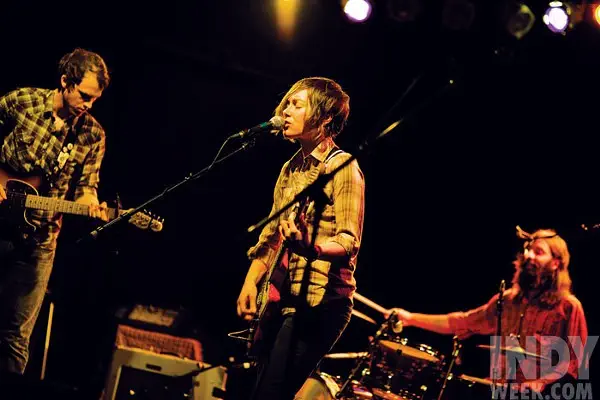 On the surface, "Reckoning" was one of the most down-home tunes the band played all night, but lyrically, the song is an absolute wallop. "Mama, rest your mind," the song opens, "I found a lover, she's gentle and kind." It's kind of hard not to notice that the lyric isn't "he's gentle and kind," and that's the point where the light bulb goes off. As it happens, McEntire is openly gay, and while Friday night's performance of the song was dedicated to her father, she acknowledged that she wrote the song for her mother. "Mama, calm your nerves," "Reckoning" continues, "It could be so much worse./If this love's the devil's curse,/I don't want your cure." These lyrics, blended with that swooning, twangy music are at the very heart of what Mount Moriah is all about. On the one hand, they're Southern with a capital "S." On the other hand, they have no interest in being stuck in tradition. They are who they are, and they'd love it if you could accept that. But if you can't, they aren't going to change to please you.
The band closed the show with "Plane" (it turns out they had time for two more), a slow burner that came by e-mail request from a North Carolina transplant in the audience. "I'm heading south again," McEntire sang, with the rhythm section locked in and Miller's guitar chords shimmering.
Is it country? Is it rock? When it's good, is there really a difference?
Had Mount Moriah not been as excellent as they were on Friday night, opening act Blessed Feathers would probably have stolen the show from them. The band, which consists of Donivan Berube (vocals/guitar) and Jacquelyn Beaupre (vocals/banjo), is based in West Bend, Wisconsin, but Berube was born in Springfield, Mass. and lived for a while in Holyoke before his family moved to Florida (his comment, "We're all practically neighbors," drew laughter from the crowd). Blessed Feathers mixed tight harmonies with genuinely clever lyrics that were funny without devolving into bad jokes. Their opening song, "Salvation Army," for example, included the lyric "Last time I saw you was in the old Walgreen's parking lot/Staring up at the Redbox/Tryin' to pick yourself a movie that your girlfriend would wanna watch." A little quirky, sure, but lyrically, it doesn't get much better than that.