This album manages to impressively realize the depth and versatility of John Adams's music for string quartet. It also announces the arrival of a phenomenal ensemble that plays with a mix of maturity, adventure, and musical insight: this is a group to follow closely and cheer.
By Jonathan Blumhofer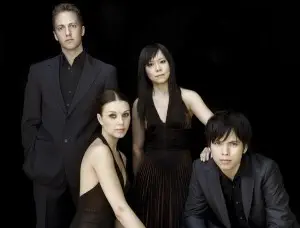 As a general rule, the content of classical debut albums isn't always all that exciting. Regardless of the performer, the major labels, wary of losing money, often shy away from adventurous or even interesting programming, instead turning again and again to reissues of the same 20 or 30 core pieces in the standard canon: hence "new" releases in the last couple of years of Tchaikovsky's and Liszt's first piano concertos (with Alice Sarah Ott); Mozart's Piano Concertos nos. 20 and 21 (courtesy of Jan Lisiecki); and Shostakovich's String Quartet no. 8 coupled with Dvorak's "American" Quartet (with the Simón Bolivar String Quartet), all from Deutsche Grammophon to crowd an already over-glutted marketplace. (In their defense, the SBSQ disc also includes Alberto Ginastera's rarely heard String Quartet no. 1, so its program slightly bucks the norm.)
There are some exceptions: Esa-Pekka Salonen's first albums for DG (Credo and Wing on Wing) remain gripping. But, overall, the impulse to play it safe dominates at DG, Decca, and Sony Classical, and it doesn't give much cause for optimism to those who rue the future of classical music.
The great anomaly among major labels is, of course, Nonesuch Records, which last year gave us a stellar disc from Jeremy Denk (in his Nonesuch debut) that coupled late-Beethoven with late-Ligeti; it remains one of the most compelling albums of the last decade.
And then there are the smaller record companies. Enter this year Azica Records, which, at the end of the month, is releasing the first disc of the last 12 months to fully rival Mr. Denk's in my affections, Attacca Quartet's Fellow Traveler.
Fellow Traveler takes as its focus the complete music for string quartet by John Adams, and this, in itself, is a pretty tall order to fill. Though Adams has only written two major pieces for quartet, John's Book of Alleged Dances (1994) and the String Quartet (2008), plus a minor one—the eponymous Fellow Traveler (2007)—these three works seek not so much to reinvent how to write for the ensemble as to unleash some of the most inventive and challenging music of the composer's career.
As it happens, the two big pieces were written for (and recorded by) two of the most important and formidable, new music quartets of the day, the Kronos and St. Lawrence String Quartets, respectively. The Attacca's (Amy Schroeder and Luke Fleming, violins; Keiko Tokunaga, viola; and Andrew Yee, cello) celebrate their 10th anniversary this year, and, though they're young, they're certainly no pushovers. Formed at Julliard in 2003, they've taken numerous major prizes since and they gave the Alice Tully Hall premiere of the Adams Quartet in 2009. Still, it takes a certain amount of chutzpah to commit either piece to disc, since comparisons will inevitably be drawn to the recordings that came before.
But comparisons with what have already come only apply to Fellow Traveler to a certain point: as is clear from the opening track, the Attacca's have their own distinctive take on this repertoire, and, as a result, this album manages to impressively realize the depth and versatility of Adams's music for string quartet. It also announces the arrival of a phenomenal ensemble that plays with a mix of maturity, adventure, and musical insight well beyond their years: this is a group to follow closely and cheer.
John's Book of Alleged Dances is a collection of 10 (mostly short) movements for quartet accompanied, in six movements, by a pre-recorded soundtrack of prepared piano. Many of the ideas behind the piece are delightfully irreverent, if not downright absurd: a movement called "Alligator Escalator" imagines a gigantic reptile passing through Macy's, with slithering chromatic scales that morph into a romping dance. "Hammer and Chisel" provides a musical depiction of a conversation between two of Adams's ex-hippie, contractor friends, replete with spastic energy and themes that run hither and yon. And so forth.
Like Kronos before them, the Attacca's have internalized all the stylistic idiosyncrasies of these Alleged Dances and that frees them to fully explore their musical qualities. Accordingly, "Pavane: She's So Fine" swings with a sweet, breezy lyricism that's both naïve and knowing, while the sultry "Habanera," with its clunking piano accompaniment, conjures up quirky visions of warm, tropic nights in which nothing is quite as it seems. Similarly, "Dogjam," an ode to bluegrass on speed, crackles with energy and—of all things—nuance, while "Rag the Bone" and "Judah to Ocean" marry, respectively, folk and urban music with humor and character. In sum, this is a captivating performance that suggests a long life ahead for these dances.
Likewise, the String Quartet gets a fascinating reading from the Attacca's—and a brisk one, too, clocking in just about two minutes faster than the premiere recording (with the St. Lawrence String Quartet on Nonesuch, released in 2011). While the St. Lawrence disc features a searing performance of the piece that emphasizes its more intense characteristics, the Attacca's take a cooler approach and in the process make an equally compelling case for the work.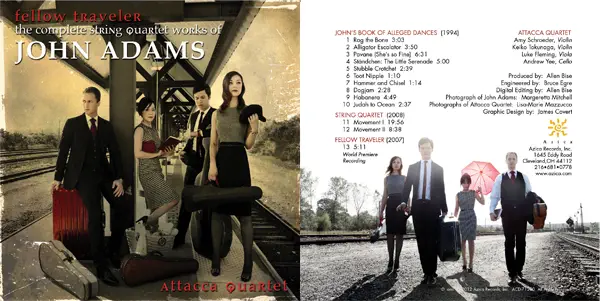 The String Quartet doesn't break much new compositional ground, but it does contain some of Adams's most labyrinthine contrapuntal writing, especially in its massive first movement. Throughout the Attacca's performance of this 20-minute behemoth, textures remain remarkably clear with the focus on the melodic line always predominant—no easy feat, to be sure. The shorter second movement, with its complex layering of tattoos, poses no audible challenges for the ensemble, and they dispatch it with ease, the arrival of its closing summation feeling inevitable, even if it seems to appear surprisingly soon.
As a parting gift, the Attacca's conclude the disc with the premiere recording of Fellow Traveler. Written to celebrate Peter Sellars's 50th birthday in 2007, this is a piece that takes the rhythmic energy of the Grosse Fuge, compresses it into just under five minutes, and gives it a couple shots of espresso. It's an exhilarating ride, reminiscent of a spin on an old, wooden roller coaster: slightly manic and you know you probably won't go off the tracks—but, then again, you just might, and that's where the fun lies. Like everything else on this disc, the Attacca's play the daylights out of it.
Where this group heads is anyone's guess: they're currently commemorating their 10th season with an ambitious survey of all 68 Haydn string quartets. The boldness of their debut album—both its programming and execution—ensures them a place among the top quartets of the day and should win them many new fans. And, who knows, maybe Adams will write a third string quartet for them before long. They've certainly earned one from him with this disc.
---
Jonathan Blumhofer is a composer and violist who has been active in the greater Boston area since 2004. His music has received numerous awards and been performed by various ensembles, including the American Composers Orchestra, Kiev Philharmonic, Camerata Chicago, Xanthos Ensemble, and Juventas New Music Group. Since receiving his doctorate from Boston University in 2010, Jon has taught at Clark University, Worcester Polytechnic Institute, and online for the University of Phoenix, in addition to writing music criticism for the Worcester Telegram & Gazette.