By J. R. Carroll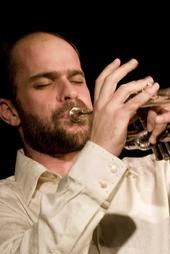 Photo by Nicole LeCorgne
Jazz festivals come in all shapes and sizes these days, even within the modest geographical confines of New England.
Up in Vermont, the Burlington Discover Jazz Festival is still in progress; among others, you can still catch Jim Hall on Friday, June 11, and Sonny Rollins the following evening.
On the weekend of June 12-13 in Brookline, MA, the Fireplace Latin Music Fest offers a dance floor and two very full days of top Boston-area musicians from all over South and Central America.
New Haven's International Festival of Arts and Ideas revives a bit of the Chautauqua Movement, mixing performances and exhibitions with discussions and lectures; bike, walking, and "foodie" tours; and a few simply indefinable events. Jazz lovers will take particular note of the concert on Tuesday, June 15, by the innovative Two Rivers ensemble of Iraqi-American trumpeter Amir ElSaffar, and then a rare appearance the next evening by one of Brazil's most important singer/songwriters, Joyce Moreno (better known as simply "Joyce").
The following weekend, June 18-19, two familiar summer concert series open for 2010. On Fridays at 6:30 p.m., Jazz at Sunset is back at the Worcester EcoTarium, running weekly through the end of July. Then, at 8 p.m. on Saturday, Marblehead Summer Jazz returns to the Mugford Street Unitarian-Universalist Church for its 26th season, opening with singer/songwriter/pianist Dave Frishberg, and continuing through August 21.
Saturday, June 19, also marks the start of one of the most locally focused events, Joe's Jazz and Blues Fest, kicking off in Somerville's Powderhouse Park (near Tufts and Davis Square) from noon until 8 p.m., followed by a week of individual performances at various venues around town. Bookending the festival is a benefit concert for Groundwork Somerville featuring the Ruthie Ristich Trio and the Sisters of Swing at the Nave Gallery, followed by a reception and exhibition preview, all starting at 3 p.m. on Sunday, June 27. ("Joe," by the way, is Somerville mayor Joe Curtatone, who played trumpet in the Somerville High School Jazz Band back in the day.)
The Fourth of July weekend is on the quiet side (musically), but on Friday, July 9, Springfield, MA, gives us the funk when the Hoop City Jazz and Art Festival opens. New Orleans trumpeter Terence Blanchard (yes, that was him on last week's Treme episode) closes the festival on a high note at 7 p.m. on Sunday.
New Orleans styles dominate what is probably the most idiosyncratic festival, Paulie's NOLA Jazz and Blues Festival on Friday and Saturday, July 16-17, in Worcester. How idiosyncratic? Well, the roster includes the Flutie Brothers. (And, no, Paulie is not the mayor of Worcester.)
Also opening on Friday, July 16, the Greater Hartford Festival of Jazz offers two and a half packed days to check out a diverse lineup of up-and-coming performers with a strong Latin and Caribbean flavor.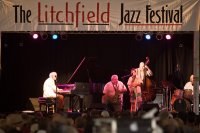 Photo by Antonio Monteiro
Over the first weekend in August, Connecticut picks up the pace again with the Litchfield Jazz Festival, opening on Friday, August 6, with the Dave Brubeck Quartet. The roster on Sunday is particularly tempting, including Avery Sharpe, Jane Bunnett, and Anat Cohen, and wrapping up with the anything-can-happen combination of Bela Fleck, Zakir Hussain, and Edgar Meyer (South Asian jazz-grass?).
Still going strong after more than half a century, the Newport Jazz Festival returns to Rhode Island the same weekend under the sponsorship of CareFusion (and with a busload of performers commuting to and from Litchfield). It's tough to pick highlights, but Chick Corea teaming up again with Roy Haynes (and joined by Kenny Garrett and Christian McBride) tops a formidable Saturday lineup, while Sunday boasts a noteworthy and surprising representation of boundary-pushing musicians, including Jason Moran, Dave Douglas, Matthew Shipp, Ken Vandermark, Joe Morris, Matt Wilson, and, at the age of 86, legendary Sun Ra reedman Marshall Allen, who now leads the Arkestra himself.
The Provincetown Jazz Festival, with concerts on Friday, August 13, and Saturday, August 14, is partly a fundraiser for the New Orleans Musicians Clinic and appropriately features New Orleans singer/songwriter Paul Sanchez (another Treme cameo) on the closing night.
The New Haven Jazz Festival takes place on two successive Saturdays, featuring Bobby Watson, Winard Harper, and Gabriel Alegria's Afro-Peruvian Jazz Showcase on August 14, following up on August 21 with a lineup including Claudia Acuna, Matthew Shipp, and Joe Morris.
Several of the late summer/early autumn jazz festivals are still firming up their schedules, so watch this space for a July update. In the interim, we've given you plenty of options for a music-filled summer.