Despite being a staged reading with scripts still in hand, the members of the Israeli Stage ensemble were already comfortably inhabiting their roles, striking just the right balance between the tragic and comic dimensions of their characters.
Ulysses on Bottles by Gilad Evron. Staged reading directed by Guy Ben-Aharon. Presented by Israeli Stage at the Goethe-Institut, Boston, MA, November 18.
By Ian Thal.
Israeli Stage's artistic director Guy Ben-Aharon has spent the last two years presenting readings of plays by some of Israel's leading playwrights to audiences in Boston and beyond. After nine such readings, a number of Israeli Stage's fans are asking when Ben-Aharon will mount a fully-staged production. The fans may have to wait until Ben-Aharon has secured funding for a full-fledged staging, but with Ulysses on Bottles, he has not only found another Israeli play that American audiences need to see but the one that would be the perfect choice to open a hypothetical first season of full productions.
Gilad Evron's play tells the story of an Arab-Israeli literature teacher who is arrested attempting to sail to Gaza on a raft made of bottles. He is nicknamed "Ulysses" for his mode of transportation, which recalls the raft that carried the man of twists and turns from Calypso to the island of the Phaeacians. His cargo is equally fanciful: his attempt to break the Israeli naval blockade is not at the service of bringing humanitarian supplies or weaponry. His cargo is books: specifically Russian literature. As such the play is filled with both allusions and direct references to such writers as Nabokov, Dostoevsky, Bulgakov, and Yerofeyev.
Ulysses on Bottles was both a critical and popular success in its 2011 run at the Haifa Theatre (Israel's first municipal theatre), winning the Israeli Theatre Prize for "Best Original Play." In a city where roughly 10 percent of the population is made up of predominantly Christian Arabs, the production has also reportedly attracted the most integrated audience ever seen at the theatre. Ironically, the "Ulysses" in the script was rewritten as an Israeli-Arab character once actor Khalifa Natour was cast in the role.
Though parallels can be drawn with attempts by activists to break the Israeli blockade of Gaza, Evron wrote the play before the May 31, 2010 Gaza flotilla raid, during which there was a violent confrontation between Israeli Defense Force commandos and armed militants on the lead ship in the flotilla, the Turkish vessel Mavi Marmara. The ensuing fight resulted in injuries to both sides and the death of nine militants. Rather, the playwright's inspiration came from the imprisonment of his son. The younger Evron, during his mandatory military service, refused to serve in the occupied territories and was consequently sent to prison. Because he wouldn't wear a prison uniform, his keepers kept him naked in his cell for several days and later refused his requests for books from his personal library. The playwright wrote a series of letters to prison administrators in order to persuade them that his son needed Russian literature to retain his sanity.
These letters became the basis for Ulysses's prison cell speeches. At first, no one quite knows what to make of the prisoner (played by Johnny Lee Davenport). Neither the Defense Ministry, prosecutors, nor defense attorney Saul Izakov (Jeremiah Kissel) can make sense of his actions. He offers no political argument, expresses no sympathy for the Hamas regime in charge of Gaza, no animosity towards Israel (he seems wholly content with his life as an Arab citizen of Israel). Of course, Ulysses's actions would make sense if his cargo had been food or medical supplies or even if he were a terrorist sympathizer. However, Ulysses only asserts his conviction that "the Gazans are dying to study Russian literature. It's a breeze that rises higher than the kites they fly on the shore." Psychiatrists determine that, however quixotic his mission, the man is quite sane.
The issue of food and medicine is central to Izakov's other client: the Defense Ministry. Izakov meets with an official named Seinfeld (Will Lyman) to sort out the latter's legal conundrum: how to legally contend with the population of a Gaza governed by a de facto state-within-a-state constitutionally sworn to Israel's destruction? Despite the hostilities, the blockade makes the government "responsible for their food, their drink, their sewage, their literature,their security, their iron, their contraceptives, their toys, their pots and pans, their spices, their flowers, their meat, their electricity, their paper, their medications, their engines [. . .] even their anti-diarrheal pills!" Seinfeld wants to make sure that no one under his command can be charged with crimes, but he also understands that, given the political stalemate, abiding by the law will not ward off armed conflict, such as the one that began just days before the November 18th reading. Izakov grasps that the law to which he is dedicated is not sufficient to help his most powerful client.
Izakov is also under pressure from his wife, Eden (played by Karen MacDonald), to perform what he considers to be a ridiculous song and dance act at a charity event she is organizing for disabled children. Similarly, a young, hotshot lawyer at his firm, Horesh (Samuel "Mooly" Dinnar), is lobbying to be made a full partner. But Izakov is worried that Horesh is less concerned with the law as an institution or a social good than as a means of financing a cushy lifestyle supported though the cash that comes from defending his childhood friends, members of a notorious organized crime family.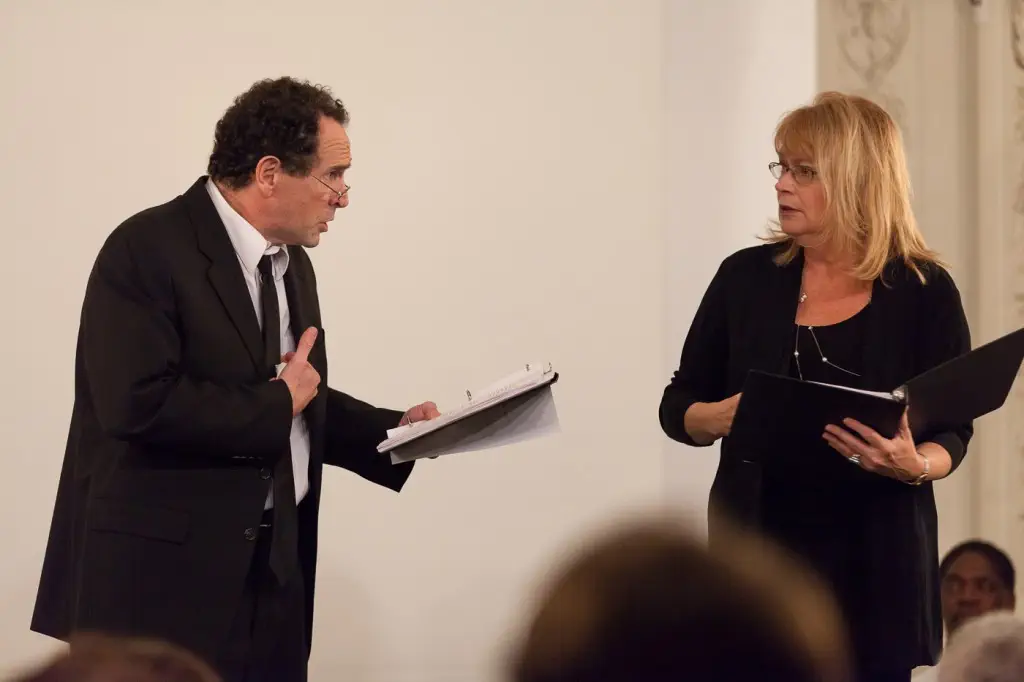 Despite being a staged reading with scripts still in hand, the members of the ensemble were already comfortably inhabiting their roles, striking just the right balance between the tragic and comic dimensions of their characters. Johnny Lee Davenport muscularly embodied Ulysses's hypomanic reveries about literature as well as his despair facing the indignities of prison. Jeremiah Kissel's Saul Izakov is concerned not just with serving his clients but doing the right thing within the confines of the law. When the law offers no options, he becomes flummoxed. The latter confusion turns Kissel into a skilled straight man for Karen MacDonald's Eden, whose understated comic approach to this role once again demonstrates how much the American Repertory Theatre under-utilized her in the final years as part of its resident acting company. In the role of Seinfeld, Will Lyman managed to speak dispassionately about a situation in which lives are in the balance yet at the same time suggesting the moral weight increasingly pressing down on him. Relative newcomer Samuel Dinnar played Horesh with amoral glee.
Because Ulysses is apprehended before he can enter Gaza, serious questions are left unanswered: would Gaza's rulers have tolerated his love of literature let alone his embrace of secular Israeli society? (Even in Jenin, which is ruled by the more moderate Fatah movement, Freedom Theatre founder and artistic director Juliano Mer-Khamis was assassinated by still unknown assailants.) If permitted to teach, would Ulysses find an audience with Gazans who, like modern Israelis, are more accustomed to the ease of cellphones, television, and the internet than the demands of literature? Would they even want to read Russian literature, given that Russia was the birthplace of so many Zionists?
Interestingly, Zionism as a national liberation movement did not simply work toward the establishment of a sovereign Jewish state, but the revival of Hebrew as a literary language (Israeli Stage's previous presentation this season, A. B. Yehoshua's Hand in Hand Together, makes the point that even the opponents of the the Reform Zionist leader Ze'ev Jabotinsky admired his work as a poet and translator.) Of course, the most important question is left unanswered: Does art (be it Russian novels or Israeli plays), because it brings people together by freeing imaginations from the confines of both ideology and law, help create a better world? Or does it merely provide a pleasant escape?