The film asks, what are you going to believe, the facts or your lying eyes? The truth is that we do not always want to confess.
My Dad is Baryshnikov. Directed by Dmitry Povolotsky. Russia 2011. Presented by The Boston Jewish Film Festival.
By Joann Green Breuer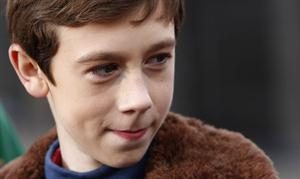 Dreams of my father do not perturb solely one famous American. There is a skinny, Russian kid with such yearnings, and equally ambitious imaginings. For Boris, the runt of the ballet class and the brunt of his classmates' pranks, dad is royalty of artistic stripe: the master dancer Mikhail Baryshnikov. Or is he? What is more influential?: what is true or what we believe is true? My Dad is Baryshnikov, the harsh and tender film directed by Dmitry Povolotsky, pivots and jete-s around an answer, firmly leading us, and his suspicious but curious, eager, and empathetic partners, through an irresistible dance.
Like a good Grimm fairy tale, we are immersed without explanation into an alien culture, not of gnomes and elves but of black market and ballet, ruled by an un-good mother if not quite evil stepmother and a monarch/school master who sets strict rules of his educational fiefdom. A banana is fruitful metaphoric substitute for a poison apple. We may not grasp immediately the subtle nuances of locals' street smarts or even such obvious ploys as when tourists are hustled by clever hooligans and police take down easy marks. All the better. We are assumed to be in on the mores, and therefore we believe that we are: morality and perestroika beware.
Boris as adult narrates much of the film. He describes his childhood as we watch its struggle: a child's aspiration for the Bolshoi Ballet versus unforgiving mentors and limited talent. At least we are comforted knowing that he survived. The narrator's voice is a calm, tempered counterpoint to the romance of Tchaikovsky's lush rhythms and harmonies. Audible tension pulsates.
The settings are a cameraman's feast. The school is named, with due pretension, Temple of the Arts. We focus on students at the barre, in rehearsal hall, on stage, on point, on the move, thin limbs lifting and straining, pubescent trainees in all their naïve imperfection and hope. "It is good," says the mentor, as Boris takes the floor. We are momentarily gratified, but we sense, poignantly, that it is not great. Probably none of these balletinos will become a solo star. Most will be lucky to be in a corps. But, their, and our, respect for dedication, technique, and difficulty is evident, mutual, rare, and to be treasured. Scenes of bleak streets and cramped apartments are a stark, sad contrast to the bright, open stage, yet each venue is inhabited by its own particular dangers.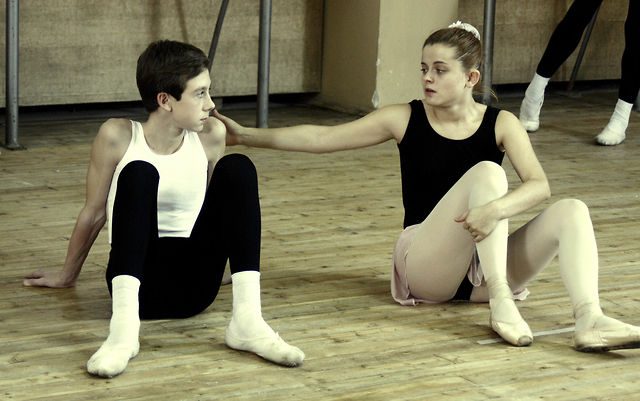 The film asks, what are you going to believe, the facts or your lying eyes? The truth is that we do not always want to confess. The film is patient and worth our wait. Luckily, at least for Boris, "who we are surpasses what we want to be."
Because My Dad is Baryshinkov is shown in the Boston Jewish Film Festival, one might reasonably ask what makes a Jewish film (or a film Jewish), and is this one? There are no rabbis with equivocal, ambivalent references here. Perhaps Boris is teased and taunted because he is (half) Jewish, but that heritage is not mentioned by the boys and girls in tights and tutus. He is small, weaker than others, and often improperly dressed. That may be excuse enough for common adolescent torture. Significantly, however, when staying, as he often must, with his pickle-making, Jewish grandparents, Boris utters a significant retort. While (Jewishly?) persistently pushing food at him, Grandma reminds Boris that he is Jewish. Boris responds, " I am not Jewish. I am Russian." Ah, how many Jews have convinced themselves, if not others, thus. A mere moment, perhaps, but a wake up one. Yes, this is a Jewish film. And a fine one.