Two impressive documentaries deal with the trials and tribulations of old age and the history of dance in Israel.
By Tim Jackson
Pretty Old
Sunday November 11 @ 6 p.m.
West Newton Cinema, Newton, MA
Appearance by Director Walter Matteson and Lenny "Low Price" Kaplan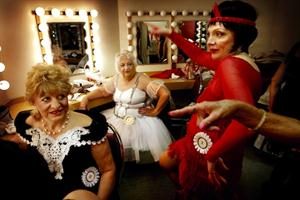 Many recent films have targeted stereotypes about aging. In terms of the documentary, the mega-blockbuster is Young@Heart, which deals with a seniors chorus from Northhampton, MA who sing a rock and roll repertoire under the direction of Bob Cilman. In a similar vein, Pretty Old looks at four senior contestants for the Ms. Senior Sweetheart Pageant during its 30th anniversary in Fall River, MA. For these women, camaraderie, affirmation and joy are the real goal — competition is just a pretext.
The film revolves around distinct personalities who, at an average age of over 70, bring great depth and feeling to the friendships they form around the event. Theirs are lives full of an unstoppable spirit, the result of long years of experience and sober optimism. Producer and director Walter Matteson stays away from the idea of cute elders and focuses on the unique characters at hand.
Phyllis Chicklett is the oldest at 86. Shelost her husband, who was the love her life, seven years earlier to Alzheimer's. She's also had four heart attacks and two knee replacements. 73-year-old Ida White, from the Virgin Islands, is grappling with a once handsome and vital husband who is slowly succumbing to the disease. Tamara Swihart of Michigan takes the pageant the most seriously. She still has her Betty Boop looks, celebrates cosmetic enhancement, and at 73 does a pretty good Boop impression. Frances Christian, at 67, suffers from late-stage ovarian cancer and passed away soon after the film was made. Despite the challenges of time, these women endure on celluloid, finding a renewed spirit in working up routines for the competition, rehearsing the group shows, and readying their costumes.
The pageant's founder, Lenny "Low Price" Kaplan, is the guiding light of the festival. He understands that most people over 50, 60, 70, even 80, don't feel "old." Exteriors catch you by surprise, philosophizes Lenny, "as my mother used to say, 'Sonny, life is nothing but a dream. Tomorrow it could end. Boy, was she right. But we don't know that until we age." I'm sure that the film will be experienced differently depending on one's years on the planet, but for those of a certain age, particularly for women, the director's words put it best: "I want to show people how the harsh realities of aging and the purity of youth can exist together and how much knowledge can be gained from listening to and learning from one another."
---
Let's Dance
Sunday November 18 @ 12:30 p.m.
Museum of Fine Arts, Boston, MA
Discussion follows the screening
Dir: Gavriel Bibliowicz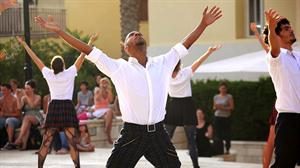 This film does much than just draw connections between Israeli history and dance, though it does that beautifully. Its rich inventory of styles and choreographers dramatize the vital impact that folk tradition, social conditions, philosophy, and international art movements have had on the evolution of Israeli dance. Israel, often by way of influences from Germany, has created a number of joyful and uniquely engaging dance styles. Beginning with the German Rudolf Von Laban, whose "Laban Schools" influenced generations of dancers, the film moves through the impact of Martha Graham and radical dance pioneer Anna Sokolow, eventually exploring Ohad Naharin's innovative Batsheva Dance Company. In 2001, Naharin resurrected the anti-costume, anti-spectacle style of Baryshnikov's highly acclaimed White Oaks's Judson Theater Dances company.
Along the way figures such as Naharin explain the origins of their approaches, and we learn how the Baroness Batsheva de Rothschild helped build the Tel Aviv Bat-Dor Dance Center and fostered the teaching of Jeannette Ordman. The socialist leanings and communal life of the kibbutz are evident, as is the shear joy that propels the freedom and spirit of folk dancing. There are concise interviews with notable choreographers, and a wealth of archival material. In a brisk 50 minutes the film does a terrific job of engaging and illuminating on the art and power of modern Israeli dance.