The late John Updike, Harvard Professor Maria Tartar recalled, described fairy tales as "the television and pornography of an earlier era."
By Susan Miron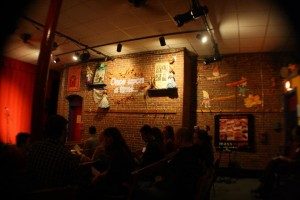 If storytelling in Massachusetts has become a growth industry, it is in large part due to the unflagging efforts of massmouth, a non-profit group "devoted to promoting the timeless art of storytelling." Founded four years ago by storytellers Norah Dooley, Andrea Lovett, and Doria Hughes, the organization's credo is simple but powerful: "We believe everyone has a story to tell, and that the greater community will be more honest and compassionate through the listening to and sharing of stories."
Among one of massmouth's most popular activities is its ongoing series of story slams. "Story slams," Ms. Dooley has remarked, "are basically a very sophisticated pub game." In its first three years, massmouth has run hundreds of these slams on set themes (Scared to Death, Dining Disasters, Holidaze, Down and Out, Boston T Party, Driving Experiences ) filling a variety of venues to capacity. Clearly the need to tell stories—and to hear them—is a huge one. Massmouth has also convinced thousands of "slam virgins" that "nobody famous" telling a good story is well worth the ticket price.
Among the other amazing accomplishments of massmouth is having taught—so far—over 3,000 high school students the art of storytelling in nine public high schools and having organized the only inter-mural story slam in the country.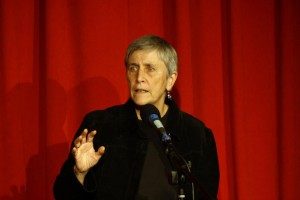 After hearing about these slams for years, I decided to attend the debut of their new venture, folk and fairy tale slams, which was staged at The Puppet Showplace Theatre in Brookline. Instead of its usual first-person narratives, this approach featured seven storytellers who had chosen a Grimm's tale, then twisted and mutated it in unexpected and exotic ways. Each narrator had a strict seven minute limit. Among the audience favorites were Kevin Kulp, who filled "The Robber Bridegroom" with uncanny happenings, and the superb storyteller Jo Radner, who held the audience spellbound as she morphed her Red Riding Hood into an obnoxious, teenage rebel.
This was followed by three stories delivered by the evening's entrancing featured artist, Jackson Gillman, who donned a little cap and took on the role (accent and all) of his Russian grandmother telling him (as her little grandson) "Jack and the Beanstalk" while she was trying to shovel food into his mouth. He followed this with a highly amusing take on "Little Red Riding Hood" that involved a real estate developer conniving against a clever 16-year-old. Mr. Gillman was extraordinary, icing on the other storytellers' delicious cake.
Finally, Maria Tatar spoke, having just appeared on WBUR's "On Point" with Tom Ashbrook the day before. Ms. Tatar's most recent books are Enchanted Hunters: The Power of Stories in Childhood and The Annotated Brothers Grimm, and she was at the slam, despite her great charm, weighing in as the Academic Heavy/Expert with three decades of research on fairy tales behind her. The chair of the Program of Folklore and Mythology at Harvard (and professor of German Languages and Literatures), Ms. Tatar was astonished to have the stories she knew so well performed with such panache, energy, and imagination, a far—and welcome—cry from their more prosaic treatment in academia. "Fairy tales are coming back with a vengeance," she declared.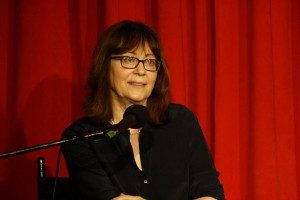 The late John Updike, she recalled, described fairy tales as "the television and pornography of an earlier era." The stories from the Grimm Brothers, published in 1812, were, she laments, racist and sexist. "We should be making them our own." Which is precisely what occurred with cleverness and great enthusiasm during massmouth's first fairy-tale slam. A great time was had by all in a most collegial atmosphere (there were two intermissions with a wine and beer bar). I will doubtless be back for many more slams. Who doesn't love a good story artfully told?
---
The other slams in this series are all on Thursday nights:
Nov. 15: Feast and Famine
Dec. 20: Bring Back the Light
Jan. 17 : Africa
Feb 14: Sex, Love and heads will Roll
March 14: Semi-finals
There will also be slams at Doyle's in Jamaica Plain, Club Passim in Cambridge, and The Rosebud Bar and Grill in Somerville. For more information.