There have been over 20 movie adaptations of H. P. Lovecraft stories, all nearly forgotten. And yet Lovecraft's sensibility serves as a guide to much of today's cinema.
Prometheus. Directed by Ridley Scott. At theaters throughout New England.
By Harvey Blume.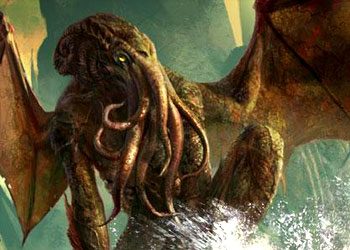 To appreciate Ridley Scott's Prometheus, it's useful to have seen the director's Blade Runner and his Alien. In fact it would be hard to have avoided repeat exposure to both these classics. Beyond that, it's instructive to have read H. P. Lovecraft. Note I am using the past tense here. Most people who value Lovecraft encountered him at a time in their lives when they were maximally susceptible, ready to be forever imprinted. I am one of them. The likes of me read Lovecraft in batches, inhaled him, way back whenever. I can't enjoy Lovecraft in anything like the same way now. I can barely get through what Stephen King calls the "lumbering poetry" to the vision underneath.
But that vision is indelible. For Lovecraft, the universe was anything but cold and indifferent, nothing like the empty abyss, the void, about which existentialists later complained. No, the cosmos was laden with meaning, all of it dire. For Aristotle, by way of contrast, to know the cosmos was to fulfill the highest purpose of the human mind. For Lovecraft, to know the universe was to risk going mad. For him, the more you knew about the cosmos, the worse it was for you. And once you began to know, once you had an inkling, there was no turning back. You were implicated, drawn. Dread suctioned you to the nightmare that was its source.
The Lovecraft fan club is diverse. It includes Joyce Carol Oates, as evidenced in Tales of H. P. Lovecraft: Major Works Selected and Introduced by Joyce Carol Oates, and Michel Houellebecq, author of H. P. Lovecraft: Against the World, Against Life. As for Houellebecq, leave it to a poéte maudit such as he to rehabilitate and enshrine one of our most insolvent writers, much as Baudelaire did Poe. (About Lovecraft's destitution, Stephen King, in his introduction to the Houellebecq volume, writes, "Few lines have moved me so deeply as the simple sentence which ends Houellebecq's account of HPL's fruitless job-hunting in New York: 'And he began to sell his furniture.'") It may also be that Lovecraft is improved by translation, that his gothic aspirations are more at home in French than in English.
In any case, Houellebecq writes, "I myself discovered HPL, at seventeen. . . To call it a shock would be an understatement. I had not known literature was capable of this." Seventeen is just the right age to become acquainted in just that way with Lovecraft. Houellebecq adds that Lovecraft's writings "have but one aim: to bring the reader to a state of fascination. The only human sentiments he is interested in are wonderment and fear." Lovecraft practiced an horrific alchemy that aimed to transform "perceptions of ordinary life into an infinite source of nightmares."
It's not that Lovecraft denied or was ignorant of the tidings of science—his nightmares didn't flow from willful obscurantism—but that he managed to see only their shadow. Houellebecq notes, "[Lovecraft] is the first to have understood the poetic impact of topology; to have shuddered in the face of Gödel's work on incomplete systems of formal logic."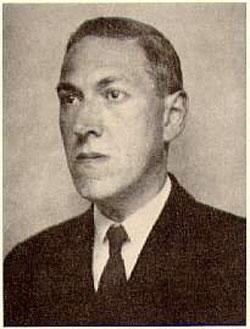 Many have found Gödel's proof and the constraints it lays on math and logic bracing. (Bertrand Russell knew at once, upon reading Gödel, that he had wasted years on the Principia Mathematica). But few if any besides Lovecraft can be said to have shuddered at Gödel's proof. Still, one can see why he might have: to straitjacket reason as Gödel did was, for Lovecraft, to leave nightmare unopposed.
Oates, with her own penchant for sniffing out the dreadful in the ordinary, helps make sense of Lovecraft's appeal. She notes that Lovecraft was well aware that his kind of "weird fiction" could only come about in an "age that has ceased to believe collectively in the supernatural while retaining the primitive instinct to do so, in eccentric, atomized ways." Houellebecq fills this observation out when he writes that the Lovecraftian mythos is "unlike Greco-Roman mythology or this or that magical pantheon whose very clarity and finitude is almost reassuring. These Lovecraftian entities remain somewhat tenebrous."
Their being tenebrous gives Cthulhu and the other elder deities that comprise Lovecraft's anti-pantheon a certain plausibility. These entities beggar the imagination; they seem like nothing the human mind might arrive at on its own. The only conclusion, unfortunately, is that they exist in their own awful right. At the beginning of The Call of Cthulhu Lovecraft writes, "We live on a placid island of ignorance in the midst of black seas of infinity, and it was not meant that we should voyage far." Should we nevertheless attend to hints strewn liberally about the cosmos, we will confront such "terrifying vistas of reality, and of our frightful position therein, that we shall either go mad from the revelation or flee from the light into the peace and safety of a new dark age."
***
There have been over 20 movie adaptations of Lovecraft stories, all nearly forgotten. And yet Lovecraft's sensibility serves as a guide to much of today's cinema. The influence needn't be direct, can even be deemed coincidental. It's not necessary that Ridley Scott or the screenwriters for Prometheus have even read Lovecraft, unlikely as it is that none have. It remains true that a Lovecraftian mythos is what a movie like Prometheus exploits and explores.
To wit, beings from afar have seeded the earth with hints about their existence. In the year 2089, earthlings are finally equipped to track those hints to point of origin. Those distant beings, if not the cosmos itself, entice our species, lure us. The crew of the "Prometheus" is as clueless as the crewmembers in the Alien film who were fascinated to find that pods on a faraway world contained life. We are not alone! Indeed not. We share the universe with creatures that want only to clamp themselves on our faces and slither into our lumbar cavities before cracking our bodies open in the next stage of their nauseating maturation. No, we are not alone; we share space-time with monsters who have an indelicate use for us.
Prometheus draws freely from Alien's cast of characters and set of expectations. There is, for example, an android who gets his head torn off as in the original and in all its sequels. His head will be torn off, revealing milky, android innards, forever. Prometheus is part of an ongoing Lovecraftian saga. It will be told in one form or another to your children and their children. We are, in relation to this saga, as perhaps the inhabitants of northern Europe were to that tale of theirs involving Loki, Wotan, Thor, gold, Valkyries, and unforgiving giants. That tale was in effect corked by Wagner when he upgraded it to high opera, though it proliferates nevertheless in low media—comics and film.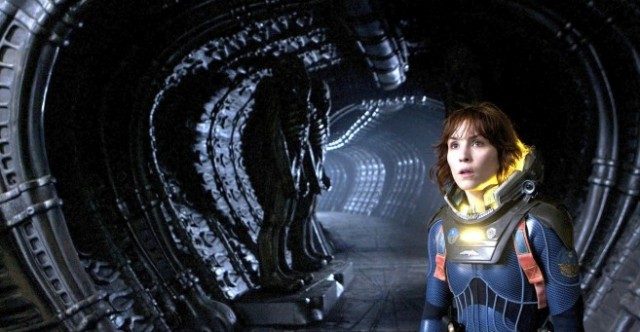 The Lovecraftian mythos was born and bred in low media—weird fiction, bad film, comics that don't credit him as they might. Think of the first Hellboy, based on the comic book by that name, and those colossal, perfectly tenebrous entities waiting at the periphery for a mystic lock to be opened so they can enter into our world and reduce it to nothing. Those beings might as well have "Lovecraft" inscribed on whatever passes for tenebrous DNA.
Lovecraft's anti-pantheon has no gods or devils, no good or evil. Calling it pagan only confers an inappropriate coherence. And it doesn't matter much that Prometheus is nowhere near as good as Alien or Blade Runner. It often, frankly, stinks. For instance, two members of the crew are stuck in an underground cavern on an extragalactic moon when a freak storm threatens the mother ship. They behold a peculiar entity—the kind of thing a Tim Burton might assemble out of a cobra and a tailpipe—arising out of goo. You'd think, given that it's 2089, these crew members would have seen Alien and its sequels, would have studied the series as part of their training. They'd know for sure, then, not to fuss over this serpentine thing—and NOT to stroke it. Or have we learned nothing since Alien appeared in 1979? Will we be represented in deepest space by cinematically illiterate yokels?
No matter, if in Prometheus, we are. The movie does not vie with its predecessors for originality. Its point is move the saga forward a bit, on an arc that will follow the siren shriek of great Cthulhu and his kind to an intolerable source.