Reviewed By Caldwell Titcomb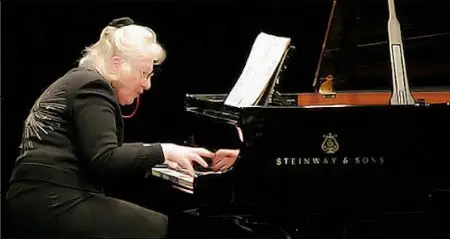 The noted pianist Ursula Oppens is no stranger to the standard repertory, but she has for decades been an ardent champion of new music for her instrument. Indeed, she has commissioned and premiered works by 15 or 20 composers. In Harvard's Blodgett Distinguished Artists Series, she gave an April 1 recital in Paine Hall of music composed from 2004 to the present.
Born in 1944, Oppens is a 1965 honors graduate of Harvard and received a master's degree from Juilliard. After 14 years as a professor at Northwestern University, in 2008 she joined the staff of Brooklyn College and CUNY Graduate Center as Distinguished Professor.
The first half of her concert was entirely devoted to works written for her by four composers. "Winging It" (2008) is by John Corigliano (b. 1938), a 2001 Pulitzer winner. This work resulted from the composer's improvisation, which was recorded and then transcribed into standard notation with the help of Mark Baechle. Lasting 13 minutes, it has three movements, cast in the oft-heard fast-slow-fast mold. It features a lot of chords punched on off-beats and unpredictably ends attractively with a high-register soft wisp of notes.
The "Ballade" (2006) by William Bolcom (b. 1938), another Pulitzer winner (1988), ensued. The title comes from the pseudo-narrative, compound-meter genre established in the four examples by Chopin and continued by Liszt, Franck, Brahms, and others. Bolcom's 11-minute piece is, as expected, multi-sectional. Near the presto conclusion, there is the direction "as fast as possible," followed on the next page by "faster than the previous tempo." This recalls the G-minor piano sonata of Robert Schumann (1838), where in the first movement we find "as fast as possible" and then "faster" followed by "still faster."
"Three Nocturnes for Ursula" (2009) by Tobias Picker (b. 1954) was a surprise gift for the pianist's 65th birthday. Originally written for horn and piano, the piece was arranged by Picker for piano solo, joining a tradition set by the Irish composer John Field and then by Chopin. The main tonality is D, though there is one surprising key change that doesn't quite work.
The fourth work was the world premiere of "Oros" (2009) by the prolific Charles Wuorinen (b. 1938), a sometime teacher of Picker and, in 1970, the youngest winner of the music Pulitzer. The title is a Greek word that unfortunately has a wide list of meanings: mountain, hill; the watery part of milk; boundary, frontier; limit, measure; word definition. What Wuorinen had in mind is anyone's guess. The 12-minute piece begins and ends with fortissimo iterations of the piano's low C, with a lot of ugly music between.
The second half of the concert contained music by two composers—Amy Williams (I could not ascertain her birth year) and Elliott Carter (b. 1908). Williams' "Three Pieces for Piano" (2003-09) ran 13 minutes. The first, "Astoria," was based on a tango by Astor Piazzolla (1921-92); the second, "Refined Art," incorporated the jazz harmonies of Art Tatum (1910-56); and the third, "Brigid's Flame," was inspired by a stained-glass window of Saint Brigid (5th century AD), one of three patron saints of Ireland.
The Williams piece separated two efforts by Carter, a two-time Pulitzer winner (1960, 1973) who is still composing assiduously at the age of 101. His brief "Tri-Tribute" (2007-08) was written as a gift from pianist/conductor James Levine to his sister, brother, and mother – and thus the components are entitled "Sistribute" (fast), "Fratribute" (slow), and "Matribute" (moderate).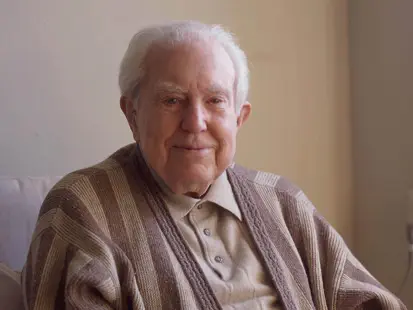 Concluding the concert was "Two Thoughts About the Piano" (2005-06). The first "thought," called "Intermittences," was inspired by a chapter heading in Marcel Proust's In Search of Lost Time and exhibits a good deal of temporal discontinuity. The second is entitled "Caténaires," the term for the electric cables that empower speedy tramways and buses. This music is an unrelenting, perpetuum mobile toccata. I found the printed program notes (by Matthew Henseler and Cynthia Browne) preferable to Carter's sonic notes.
Although I admire much of the neo-classical music that Carter wrote through the 1940s, I don't care for the works he has produced in the past 60 years—but he has a host of ardent fans who cheer every new piece.
I take my hat off to the formidable Oppens, who has said that she practices an average of five hours a day. She gets many brownie points for embracing, commissioning, and premiering so much new writing for the piano. But one wonders how much of it will survive her advocacy.