Don't expect a standard musical. Think of "Fela!" as an immersive, artsy, concert experience featuring virtuoso displays of dance and musicianship.
Fela! Book by Jim Lewis and Bill T. Jones based on the life of Fela Anikulapo-Kuti. Conceived by Bill T. Jones, Jim Lewis, and Stephen Hendel. Music and Lyrics by Fela Anikulapo-Kuti. Additional music by Aaron Johnson and Jordan McLean. Additional lyrics by Jim Lewis. Directed and choreographed by Bill T. Jones. Musical direction by Aaron Johnson. Music orchestration and arrangements by Aaron Johnson. Presented by ArtsEmerson at Cutler Majestic Theatre, through May 6.
By Alyssa Hall.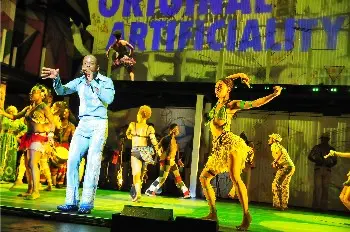 This week, Boston's Cutler Majestic Theatre is transformed into The Shrine, the 1970s Nigerian club of Afrobeat creator/performer and political activist Fela Anikulapo-Kuti. Do not expect a perfect musical or biography. The show's setting dictates its lively form: Fela! creates a vibrant world of bright lights, scanty costumes, intricate dancing, and pulsing music.
Fela (played by Sahr Ngaujah) is hosting his last performance at The Shrine a few months after Nigeria's dictatorship murdered his mother, partly in response to his incendiary political song lyrics. Fela's music called people to action, and no one here can passively watch either. "Leave your shy at the door," Fela demands, leading the audience to dance and sing with the cast. Actors roam the aisles, further encouraging audience engagement, and Ngaujah comfortably improvises funny replies in response to shouted comments.
The show celebrates the pioneering Afrobeat genre in a lively, welcoming way. A helpful "B.I.D. (Breaking it Down)" segment isolates elements of the styles that were fused into Afrobeat (high life, jazz, and Yoruba) before combining them into the energetic Afrobeat number, "Originality/Yellow Fever." Projected lyrics overcome any difficulty the audience may have understanding Pidgin English or the singer's accent, and the talented live band makes it hard to resist grooving to the beat. Orchestrator and arranger Aaron Johnson preserves the flavor of the original songs while condensing them into shorter, more accessible versions.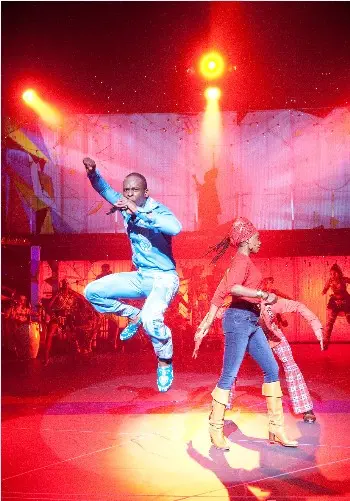 Still, Fela! ends up over-celebrating the life of Fela Anikulapo-Kuti by focusing solely on his praiseworthy musical and political efforts and ignoring the controversial aspects of his life. For example, Fela decried AIDs as "a white man's disease" and condoms as "un-African" (though he died of AIDS), but the show never mentions the disease. Likewise, Fela's frequently criticized polygamous marriages (he romanced 27 women at a time) are reduced in the show to a quick, comic proposal scene featuring about eight of his Queens, who do not voice their own opinions. By avoiding the musician/politician's darker side, the show presents an incomplete and potentially misleading biography, missing a valuable opportunity to add complexity to the lead character as well as to bring attention to other, equally important issues, such as AIDs and women's rights.
Sahr Ngaujah charms, despite his limited role as a hero/role model, singing and dancing at a high level while radiating an impressively fierce intensity. He is equally charismatic but even more compelling when he plays the unpretentious, storytelling host. Using exaggerated accents and postures, the performer expertly assumes the roles of the minor characters in his stories, creating a hilarious range of characters, from a corrupt policeman to a proper, flustered British reporter.
Melanie Marshall, as Fela's mother Funmilayo, shines the brightest among the few named characters, both literally (rays of white light project halo-like from her body) and figuratively, because her gorgeous, operatic voice illuminates all of her songs, most notably the beautiful aria "Rain." The purity and control of her voice captures perfectly the unearthly nature of the ancestor spirits.
The amazingly talented ensemble dances almost nonstop for two and a half hours—long, mostly high energy numbers featuring the complex, intricate choreography of Bill T. Jones, who won the Best Choreography Tony Award for his footwork. The cast's movements produce a cohesive look, but each dancer contributes an individual style, adding personality to nameless characters. The fast numbers featuring solo dance performers astound, but the quieter moments, such as the graceful, undulating choreography by the river, best show how dancing is used to enhance the energy and mood of each scene, serving as a 'living' background design for the production.
Unfortunately, the weak and sometimes confusing book falls well below the performances and music. The show generally follows Fela's career path, but the chronology becomes murky. For example, Fela announces Funmilayo's death at the beginning of the show at The Shrine. She then appears in a first act song in an aura of white light, seemingly dead. But the song occurs between songs dealing with Fela's early career when, historically, his mother was still alive. So was the song out of order, or was he just picturing her as dead in his memory?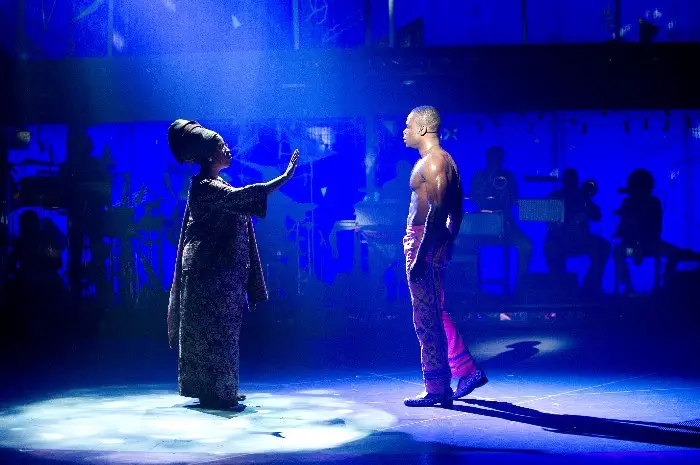 It is similarly hard to gauge Fela!'s historical accuracy. When Fela brings his mother's coffin to the government headquarters, the Nigerian people respond by bringing their own coffins, some labeled with current names like "Troy Davis." So did the show add the coffin pile for symbolism, or did a version of this event actually happen (without the modern references)? Normally, spoken narration or lyrics provide illuminating clues, but the narration in this show is sparse and Fela's song lyrics, which were not written to tell his life story, feature mostly general, poetic, stream of consciousness-type images in Pidgin English -— not ideal for ascertaining specific historical details.
When the show becomes specific, the contrast with the script's ambiguity is startlingly clear and powerful. In the aftermath of a government attack on Fela's compound, the cast stands silently in silhouette downstage while photos of Fela's battered wives are projected on the back wall next to text that lists the exact times of each assault and graphic details about what was done to each woman. Given that so much of the show is so loud and vague, the silence in this scene and the graphic facts of conveyed by the texts are compelling because they emphasize the horror of the attack, the risks Fela faced, and why his work was important.
The importance of Fela Anikulapo-Kuti's political efforts and his musical influence on later artists alone makes this show commendable for its educational value alone, but there is plenty more to recommend it. Think of Fela! as an immersive, artsy, concert experience featuring virtuoso displays of dance and musicianship rather than a standard musical and its shortcomings are easily overlooked.
---
Arts Fuse Editor Bill Marx's review of the Royal National Theatre presentation of Fela! screened as part of NTLive in January 2011. Taped by HD multi-camera and shown at the Coolidge Corner Theatre, Brookline, MA and other venues throughout New England.