Israeli Stage's readings are consistently the best attended in the Boston area thus demonstrating that there is a great appetite for Israeli culture beyond folk dance and hummus.
By Ian Thal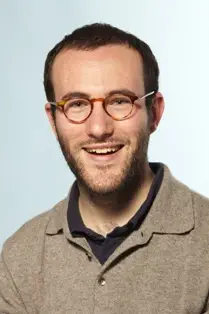 Guy Ben-Aharon, like many Boston theater artists, must scale great ambitions with small budgets. As Producing Artistic Director for Israeli Stage, a theater company devoted to presenting Israeli plays in translation to American audiences, he has had a busy season that has thus far included staged readings of seven plays, usually in the nineteenth-century ballroom of the Goethe Institut in Back Bay. As a playwright with a number of friends who are also playwrights, I attend many staged readings; Israeli Stage's readings are consistently the best attended in the Boston area demonstrating that there is a great appetite for Israeli culture beyond folk dance and hummus.
Ben-Aharon is in the midst of his most ambitious project yet: touring a staged reading (through March 28th) of Savyon Liebrecht's Apples from the Desert to six Boston-area colleges and universities. So while many area students were engaged in Saint Patrick's Day festivities, Israeli Stage was kicking off its tour in a lecture hall at the Massachusetts Institute of Technology.
Liebrecht (who also provided the English translation) adapted the play from her short story of the same name, which tells the story of a Sephardic Haredi woman visiting her daughter after she left the ultra-orthodox community behind to join her secular Ashkenazi lover on a kibbutz. The play fleshes out the story considerably, portraying both characters and plot points only alluded to in the original prose while transforming the understated character study about a mother and daughter into a romantic comedy.
The story opens in the religious household of Victoria and Reuven Abarbanel (Kathleen Donohue and Dale Place) sharing the stage in juxtaposition with a nearby dance school where their 18-year-old daughter, Rivka (Rebecca Schneebaum), has been clandestinely attending folkdances with Dooby (Grant MacDermott) an Ashkenazi kibbutznik who has been lecturing young women in the community about National Service. The Abarbanel marriage is a loveless one, so much so that Victoria is shocked when Rivka expresses the desire to marry for love: Victoria is only permitted to listen to educational programming on the radio as Reuven forbids music from the house. Reuven, whose rage is contained only by his strict adherence to Halakhah (Jewish Law), is troubled by the non-conformists of the family: Rivka and his unmarried, yet still religiously Orthodox, sister-in-law Sarah played by Sheila Stasack.
Rivka is not merely a free spirit in the cloistered Jerusalem neighborhood of Sha'arei Hesed but described as something of a physical oddity, standing at five-foot 11-inches and described by her own father as having the aspect of a camel. Furthermore, the quick-to-anger Reuven sees her argumentative nature as "bad-tempered." He despairs that at her age she is not yet engaged to be married, and limiting the choice of suitors to the insular Sephardic Haredi community, he, like the controlling fathers of many a romantic comedy, offers his daughter only the most unsuitable of suitors from which to choose.
Liebrecht makes a strong case that the romantic comedy genre provides an avenue for exploring the lines of conflict within a particular society. Reuven is not merely guarded against the secular world but even the Orthodox amongst other strains of Jews, while the quirky, spinster aunt Sarah has found an eccentric path to reconciling Orthodoxy with her desire for independence. Meanwhile, Rivka does not simply escape into conventional secular Israeli life but seeks out her new life in the democratic-socialist utopianism of a kibbutz that is using cutting edge agricultural techniques to grow apples in the desert and, like her aunt, negotiates her own idiosyncratic reconciliation between religious obligation and her life as an independent woman. In short, comedy, for Liebrecht is the genre by which members of a pluralistic society explore what it means to live together.
Over the course of several emails, I spoke with Ben-Aharon about Israeli theater, some of this season's plays, including Apples From The Desert, and Israeli Stage's plans for the future.
---
Arts Fuse: What was it that made you decide that it was your personal responsibility to expose American audiences to Israeli Theatre?
Guy Ben-Aharon: I believe that as an Israeli-American I can help bridge the gap between Israeli culture and American culture and present works that explore Israeli narratives in a universal way that appeals to American audiences. Having grown up in Israel and in the States, I am able to relate to both cultures, well positioned to find the common ground between the two. But I also know the differences and try to explore ways in which we can understand one another.
I started Israeli Stage to shed light on Israeli culture and to provoke conversations about Israel that might not happen outside of the cultural sphere. Too often are people's views of Israel over-simplified and solely focused on politics. It is not their fault; it's the only thing they hear on the news. Israeli Stage goes beyond the political implications of Israel in the Middle East and beyond the "hummus culture," and introduces our audiences to the vivacious cultural force that is taking place in cities across Israel.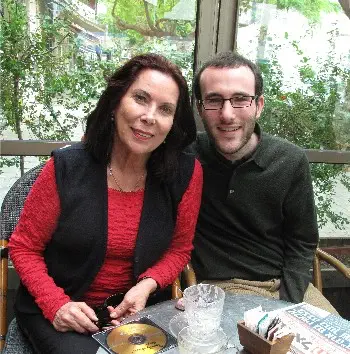 AF: A number of figures have noted that Israeli theater and Jewish theater are not necessarily the same thing. Not all Jewish plays address Israel, and certainly not all Israeli plays are particular expressions of the Jewish cultural experience. For those new to the subject, what distinctions would you offer?
Ben-Aharon: To answer this question, one must first define the terms Jewish and Israeli. A Jew is someone who is born into or is part of the Jewish faith and/or culture, therefore Judaism is a religious identity (be it secular, reform, conservative, or orthodox). An Israeli is someone who is from Israel; therefore being Israeli is a national identity. A Jew is not necessarily an Israeli, and vice versa.
Jewish theater is theater that addresses Jewish themes, while Israeli theater is theater that addresses Israeli themes. Israel was established in 1948 as a Jewish State, and therefore the majority of our country's population is Jewish, which means that our theater deals with many Jewish themes, but the way it does so is different—it is through an Israeli lens.
Though Israel was established a Jewish State, there are plenty of people living in Israel who are not Jewish: Christians, Muslims, Druze, etc. They all have their own cultures that exist within Israeli culture, and my hope is that I, as a Producing Artistic Director, will be able to find plays that will give voice and a shine light on these particular cultures, which are just as important as the Jewish culture within Israel and are just as much of the Israeli experience as the mainstream Jewish experience.
AF: Like any artistic director, your programming has to reflect your tastes and judgment. How do you balance that with your mission to present a representative overview of Israeli theater and society?
Ben-Aharon: I try to select plays that vary in genre, time period, and subject matter, so that our audiences get a broad perspective of Israeli theater and society. I also try and balance building relationships with new playwrights, while maintaining the ones I am already familiar with/am in contact with. I am really happy that our audience is able to get to know Israeli playwrights through our work—we have presented two pieces by [A. B.] Yehoshua and two pieces by [Savyon] Liebrecht. I was also very excited that we were able to introduce Motti [Lerner] in person and look forward to collaborating with him in the future. I hope that in seasons to come we are able to not only introduce works by new playwrights while presenting works by familiar ones, but that we will be able to host playwrights from Israel here in Boston.
AF: I found Motti Lerner quite impressive as both a playwright and in person and made a point of reading some of his essays following the reading.
Ben-Aharon: I am very happy we were able to introduce him to you and other Bostonians! He is a dear man and a very intelligent playwright.
AF: Lerner mentioned at the question and answer session that Israeli Stage's presentation of At Night's End had not merely been an American premiere but that the Hebrew original hadn't even been produced in Israel yet. He even seemed uncertain as to when it would appear in Israel. How is it that Israeli Stage managed to pull such a coup?
Ben-Aharon: Israeli Stage's connection to Motti Lerner and At Night's End was made by associated artist [Director] Melia Bensussen. Melia approached me about doing a workshop of this piece with Motti through Israeli Stage, and after reading the script and meeting Motti in Israel, I gladly accepted.
AF: Was Motti facing obstacles in getting the play produced, or was the play simply in very early a stage of development?
Ben-Aharon: I can't really speak to that because I truly don't know. I do think it's still in its early stages, hence Israeli Stage calling this previous event a "workshop" with a public reading as opposed to just a staged reading.
AF: Other than the mundane fact that Israeli theater might deal with Israeli topics, is there a national dramaturgy to Israeli theater that makes the plays distinct from American or perhaps British plays?
Ben-Aharon: I don't know if I'd call it a national dramaturgy, but one must recognize that the large theaters in Israel are repertory theaters, so shows are often written for large casts and to run for a long period of time (and to be able to tour within the country).
AF: Do you have a sense of how that affects the way Israeli playwrights work? Getting a large-cast play produced is something of a luxury for an American playwright. Does that translate into a greater freedom in terms of content than what we see in American plays?
Ben-Aharon: A big difference between American and Israeli theater is that Israeli theaters employ playwrights as "playwrights-in-residence," so those who are successful/produced can actually make a living off of writing for the theater. Savyon Liebrecht, for example, is one of Beit Lessin's playwrights, along with Hillel Mittelpunkt, and others.
The other big difference is that Israeli theaters, in the Russian tradition, rehearse for three months before a play goes up. And it's not just three months of rehearsals—it's 10 hours a day of rehearsal for five days a week! I think this allows the playwright to make changes to the script in the rehearsal room, a luxury that most playwrights don't have.
I don't know if that's true across the board, but again, when we are talking about the bigger theaters, it is. Since the big theaters are run in rep, there is a group of rep actors who are employed by the theater on a seasonal basis. The last few shows I have seen at Habima and Cameri were with casts of over a dozen . . .
AF: There must be challenges in getting the plays translated. Savyon Liebrecht's The Banality of Love had previously received a full production in New York, but your reading of Motti Lerner's At Night's End was not merely an American premiere, but as Lerner stated during his talk, it had not even been staged in Israel. (One friend of mine, a native speaker, praised Yoni Oppeheim's English translation for capturing the rhythms of Modern Hebrew.)
Ben-Aharon: Translation is indeed very difficult work! I am finding that out myself. I am currently working on an English translation of A. B. Yehoshua's latest play, which has yet to be published in Israel. The process is fascinating, to say the least.
And yes, Yoni did a fantastic job with Motti's play.
AF: Elsewhere, you have stated that you wanted American audiences to come away from Israeli Stage's presentations with a depoliticized relationship to Israeli culture and society, but some of the plays Israeli Stage has presented so far have addressed the very same issues that make Israel subject to political debate here in America. For instance, A. B. Yehoshua's A Night in May is set on the eve of the Six-Day War, and At Night's End is set during the Second Lebanon War.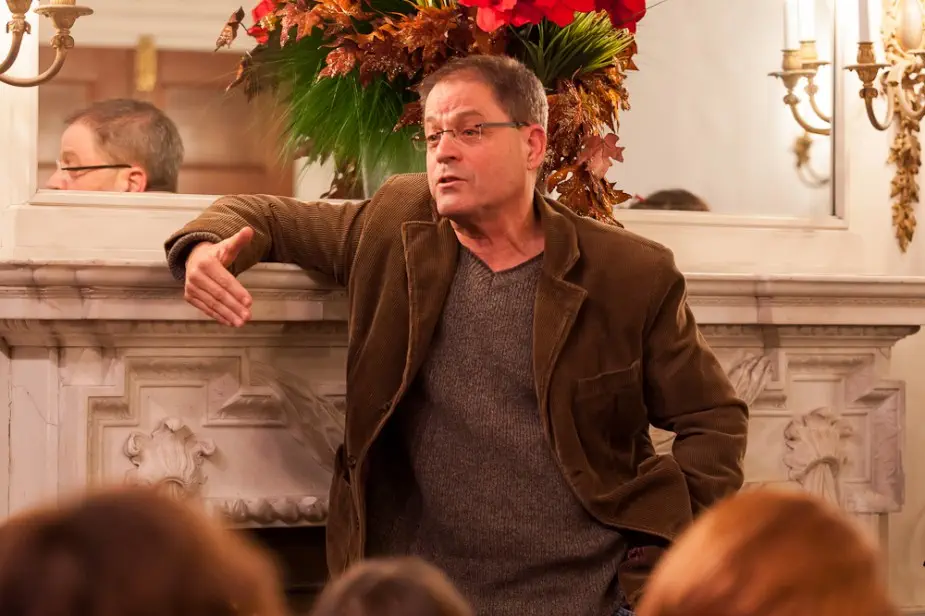 Ben-Aharon: I want to provide people a space to talk about Israel not only in terms of the political sphere but also in the cultural context. It is inevitable that our culture deals with war, but I think it is important for American audiences (and our actors) to come away with a sense of Israeli narratives. For example, in A Night in May, we can examine the fact that life goes on when there's a war. We explore all these issues and better understand the state that war puts us in—not only as Israelis but as Americans.
Israeli Stage does not present "one political side" of the argument. We are providing a platform for (Israeli theater) voices that are often not heard outside of Israel.
AF: Most Americans who are familiar with Jewish culture only know Ashkenazi [Eastern European Jewish] culture, and are only vaguely familiar with Sephardic [Spanish/Mediterranean], or Mizrachi [Middle Eastern] Jewish culture and their prominence in Israel, let alone the contributions of Israeli Arabs and other minorities, such as the Druze, who are almost unknown here. How much of that diversity is reflected amongst contemporary Israeli plays and playwrights?
Ben-Aharon: Israel's National Theatre, HaBima, was first founded in Moscow in 1913 as one of the first Hebrew-language theater companies, and it is one of the largest theater companies in Israel today. Needless to say, the theatrical traditions that Israeli theater is based on are mostly Soviet/Eastern European. The post Soviet-Union immigration in the early 90s also brought a Soviet influence with lots of new theater-going audiences who were seeking new institutions to cater to their aesthetic/demand, i.e. Gesher Theatre.
Of the playwrights we have presented, one is fully Sephardi—A. B. Yehoshua. That being said, Israel is a true melting pot, so playwrights who write about Israeli society write about all of its aspects—Mizrachi and Yekke [German Jews] alike. Take Apples from the Desert as a prime example: Savyon was born to Holocaust surviving parents and wrote this very revealing play about Orthodox Sephardi Jews.
AF: Apples from the Desert, which you are currently presenting as part of a tour of Boston-area universities, is the second play by Savyon Liebrecht (the first being The Banality of Love) that you are presenting this season. What is it about her writing that has you returning so soon to her work?
Ben-Aharon: I met Savyon last summer, when visiting friends and family in Tel-Aviv. We got together for coffee to talk about plays, theater, and life in general. It was lovely. Since then, she and I have developed a relationship where we share our work with one another.
I think that due to content and length, her work makes for very appealing readings. It was also important for me that Israeli Stage produce works by female playwrights, and I thought that this particular piece is not only written by a woman but from a feminine perspective. Savyon is one of Israel's most prominent playwrights, and I see it within our mission to present works that are successful in Israel, so that our American audiences can get a sense of what is popular in Israel, and what has become part of the theatrical canon there.
AF: Apples from the Desert ends with an awkward reconciliation typical of the romantic comedy genre, but it also presents episodes of violence in a naturalistic manner that is uncharacteristic for the genre (which usually relies on slapstick.) It's a very jarring effect that is largely absent from Liebrecht's original prose story from which she adapted the play. Is this jarring for the actors and director as well?
Ben-Aharon: The actors and I grappled with the abrupt departures from the comedy genre in a play that I would actually consider a drama. (Then again, Savyon seems to see it as "romantic comedy" in a more Chekhovian or Shakespearean sense). The way we made sense of it is by drawing on the fact that Dale's character, Reuven, is finally getting to express his thoughts to another man and, furthermore, a stranger. His interaction with Dooby allows him to air his grievances and talk about his hopes and desires as a young man. I believe this is what allows us to accept the ending; Reuven is a changed man, and his wife, sister-in-law, and daughter can recognize it immediately when he steps into Rivka's house silently and listens to the story about the apples.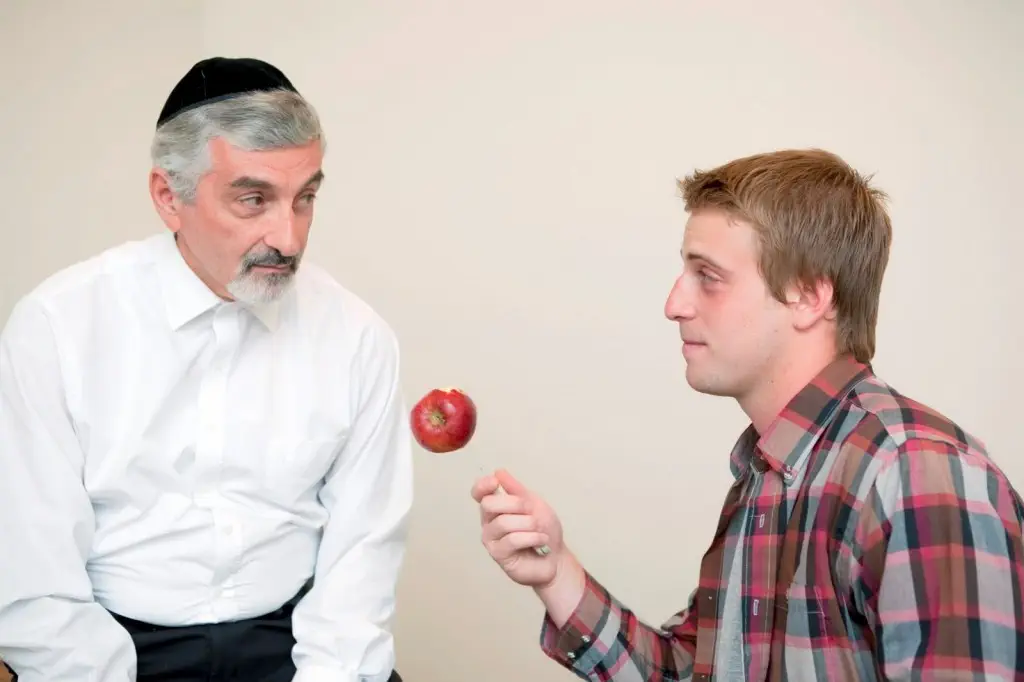 AF: Have you a sense of who your audience is? What portion of the audience strongly identifies with Boston's theatrical or artistic community versus what portion comes due to a general interest in Israeli culture and society?
Ben-Aharon: What is unique about Israeli Stage is that we produce cultural events. We invite our audiences to speak freely in talkbacks and to join us in a more intimate setting with receptions following almost all performances. We put the focus on our audiences by providing them an opportunity to be a part of the art form and by creating a space where they can get to know the people (actors, directors, core members) who create our theater and community.
There isn't one demographic that our audience fits into, a fact that I am really excited about. They vary in age, religion, ethnicity, and theatrical exposure; some are college students, some are culture vultures, and some are seasoned theatergoers. This is what makes our talkbacks so interesting—there's a wonderful cross-generational and cross-cultural conversation that occurs at our events.
AF: How essential has institutional assistance been for the success of Israeli Stage?
Ben-Aharon: Extremely essential. I am so grateful for our sponsors, co-sponsors, and the academic institutions that have commissioned us and hosted us. We couldn't do it without Israel Campus Roundtable and CJP, the Consulate General of Israel to New England, and the various departments we have collaborated with at Emerson College, Harvard University, Brown University, Northeastern University, Hebrew College, Boston University, and M.I.T.
AF: Israeli Stage has now been in existence for a year; what should your audiences expect in your second year?
Ben-Aharon: I can hardly believe it, but we're actually in our second season (2011–2012); our first season (2010–2011) was under our previous name, Israeli Staged Reading Series. I am happy to say that we are expecting to grow into our third season, and in 2012–2013 we are hoping to do two campus tours, two events with Israeli playwrights, and present more staged readings of American and regional premieres. I could not be more excited and thankful for our audiences who have continued to support us and express their enthusiasm as we have grown over these past two seasons and hope that the Israeli Stage family will grow as we grow and broaden our reach within the Greater Boston Area and beyond.
AF: Do you have any plays already lined up for next season?
Ben-Aharon: We do indeed! I am not quite ready to announce the season yet, but I can tell you that it is going to be a very exciting year! We are thrilled to be collaborating with playwrights whom we have already presented in the past and are looking forward to introducing some new voices (playwrights and subject matters alike.)
---
Apples From The Desert by Savyon Liebrecht. Directed by Guy Ben-Aharon. Presented by Israeli Stage as a tour of Boston area universities. At Boston University, March 23, at Harvard University March 25, and at Northeastern University March 28. See here for details.