The core claim of "All Things Shining" is that the contemporary culture is nihilistic in outlook, but unnecessarily so. The authors believe there to be a remedy to our debilitating amnesia —- to integrate our lives, in some ways, into the world as perceived by our cultural forefathers.
All Things Shining: Reading the Western Classics to Find Meaning a Secular Age by Hubert Dreyfus and Sean Dorrance Kelley. Free Press, 272 pages, $26.
By Joseph Patrick Burke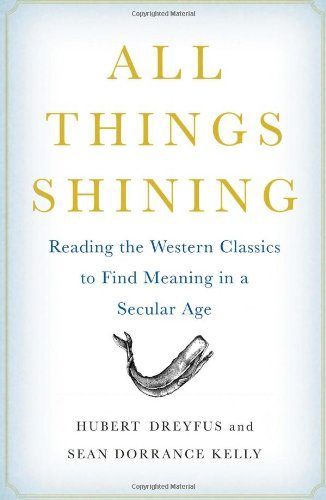 At some point during the Oscars, my mind wandered. The night's announcements were reminding me of a book first published in 2011. The book was All Things Shining–Reading the Western Classics to Find Meaning in a Secular Age by Herbert Dreyfus and Sean Dorrance Kelly, Berkeley and Harvard philosophy professors, respectively. As the choreographed jokes were rolled out, it became clear that many of the night's winners echoed the central question set out by Dreyfus and Kelly: Can we learn how to live a meaningful life by looking at the past for guidance?
When it was published, All Things Shining kicked up a flurry of philosophical gab. There was a loose association with a documentary film called Being in the World and a lively blog (All Things Shining – Luring back the gods). Kelly even braved, The Colbert Report, which provided some of the most enjoyable sparring between a Harvard philosopher and a renowned humorist since William James chatted with Mark Twain.
The core claim of the book is that the contemporary culture is nihilistic in outlook, but unnecessarily so. The authors believe there to be a remedy to our debilitating amnesia —- to integrate our lives, in some ways, into the world as perceived by our cultural forefathers. In little over 200 pages, it managed to take in Homer, Dante, Auden, and both Martin Luthers, amongst many others.
Indeed it was to another more recent author, David Foster Wallace, whom they anchor this nihilistic claim. Foster Wallace was, Dreyfus and Kelly argue, an author pre-eminently sensitive to the emptiness in Western culture but ultimately chose a self-defeating way to address it. Foster Wallace envisioned a person who could respond to pain and crisis with patient resolve through understanding his or herself as the master of his or her own meaning. Foster Wallace took his own life in 2008. The philosophers argued that when we look upon ourselves as the manufacturers of understanding, we in fact lose our way.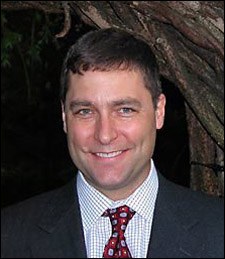 Walking through All Things Shining is like strolling around Paris with Gil, Woody Allen's protagonist in Midnight in Paris, which won Best Original Screen Play at this year's Academy Awards. Gil is nostalgic for 1920's Paris, but when he surreally enters that world, his initial ecstasy wanes once he realizes that this is not where he belongs. Just as Dreyfus and Kelly sprint through the Western canon, Gil finds himself pondering weighty issues in the company of, amongst others, Buñuel, Gertrude Stein, and Man Ray. In their own way, both Allen and the academics have the same message: The old masters have so much to tell us but nostalgia is a string-less kite. Just as Gil abandons his longing to live in the Paris of yesteryear and becomes rejuvenated in his own present, the philosophers cast worship of the past as "misguided," and see the classics as needing to be rethought when brought into our world today.
Despite this, Allen's oeuvre comes in for criticism in All Things Shining for being nihilistic, for seeing human lives as being heavily dependent on luck and chance. Allen doesn't celebrate intellectual salvation, but rather momentary respite through art. His Gertrude Stein in Midnight in Paris opines that "The artist's job is not to succumb to despair but to find an antidote for the emptiness of existence." For Dreyfus and Kelly, this would be a laudable but ultimately impossible aspiration —- if one views the universe as meaningless, then meaningless without end it will be. But for Allen, as the opening shot of contemporary Paris testifies to, a little hopeless romanticisation through art, whether of the past or the present, is all we can really have to ward off despair. Foster Wallace view shares Allen's sentiment: "Real good fiction could have as dark a worldview as it wished, but it'd find a way both to depict this world and illuminate the possibilities for being alive and human in it."
For their part, Dreyfus and Kelly argue that in the nooks and crannies of this deadening nihilism there are hints of more meaningful ways of living, remnants from the past to benefit from. If we could get a handle on them, we could bootstrap ourselves into more thoroughly meaningful lives Physis and poiesis are ancient Greek concepts that offer just this possibility, they argue, and they are still floating somewhere in the margins of our modern world.
Physis is what we may call the mood or the charm or the magnetism of a moment that overwhelms, intoxicates, or draws you out of yourself. It is that entrancing beauty of that moonlight, that hypnotically pleasurable song, or that exhilarating touchdown pass. It is indicative of something beyond us; we find ourselves involuntarily pulled in by it. All Things Shining suggests that sport (they talk of Roger Federer and Lou Gehrig as examples), offers us one of the few places today where we can experience physis full on.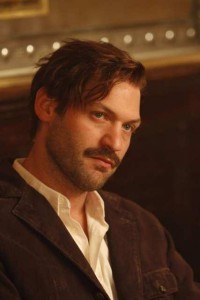 This year's Best Documentary Feature went to Undefeated, directed by Daniel Lindsay, Rich Middlemas, and T. J. Martin. It follows the unlikely hopes of the Manassas Tigers, a North Memphis-based, high school football team that had not won a single game in almost a decade. With the arrival of a new coach, Bill Courtney, a charismatic leader, there is a change of mood. Courtney at one point in the film crucially says, "You think football builds character? It does not. Football reveals character." With this sentiment, Courtney captures something of the essence of physis. For both Courtney and the philosophers, then, sport can be a conduit for physis. Life becomes more meaningful by giving oneself over to something, in this case football. In doing so, football brings out the best in us.
Poiesis, then, centers on the values of nurturing, cultivation, or practical understanding. It is most commonly seen in the slow maturation of a specific skill. The fostering of such skill is about partnering with a material, not dominating it; it is about communicating with, not dictating to, what is being worked with. For example, the master craftsman refers to his material as speaking to him, guiding him. Having this relation to the material enhances human character by teaching us about limits and uniqueness. The wood develops the person just as the person develops the wood. This is poiesis, and we would do well to protect it, posits the philosophers, because in a technological world "the extent that it takes away the need for skill, technology flattens out human life."
Hazanavicius's The Artist, winner of a stack of Oscars including, of course, Best Picture, has been acclaimed as a nostalgic look back to the masterful silent movies of the 1920s. It is also a tragic-comic exploration of the creative destruction brought on by technological innovation. The Artist is about a man whose days are up as a silent film actor thanks to the arrival of sound. A tradition is threatened, a craft is dying, and the film asks us both to empathize with the man and with the expiring genre.
Yet in both the development of the narrative and the film's own creativity, The Artist (Arts Fuse review here) manages to show that people can respond to the brutal vicissitudes of technological change, developing resourceful and imaginative new ways of living. The film's protagonist, George Vallentine, emerges from technology's dominating shadow re-energized, reborn through his talent and skill. Indeed, the end of The Artist seems to align itself remarkably with All Things Shining: "the appropriate response to this danger is not to reject technology per se, but to accept individual technological advances while preserving the poietic practices that resist a technological way of life." Vallentine achieves this, "with pleasure."
The philosophers claim that the first step towards such a restoration is to recognize people's ability to enjoy a multitude of experiences. The winner of this year's Academy Award for Animated Short Film is The Fantastic Flying Books of Mr. Morris Lessmore by William Joyce and Brandon Oldenburg. It too tells us that the classics can teach us about ourselves.
Lessmore's world is struck by a terrible and furious storm that drains the color from existence. But in this dreary, post-apocalyptic landscape, books are magically emboldened with life, injecting color into a mountain of drab. Lessmore writes in his notebook: "My further investigations have turned many of my long held opinions to mush! The many and varied points of view I have encountered do not confuse, but enrich." Dreyfus and Kelly, in a precious reading of Moby Dick, praise Melville's prophetic call to embrace a form of polytheism -— an opening up to the multiple ways life can be experienced. These various forms should be treated as sacred, as "gods."
The film's interest in multiculturalism raises a fundamental issue about All Things Shining: Who is it for? The book was replete with "we" and "our," but the blank expansiveness is suspicious. The readership longer collectively embraces the cultural heritage of Homer and Dante, Martin Luther and Melville. The wonderful writers lauded in All Things Shining may have valuable lessons to teach everyone, but it cannot be said that they encapsulate the culture(s) of today's "Western" world.
A Separation's win at the Oscar ceremony for Best Foreign Language Film is a genuine triumph. Despite the extremely conservative prohibitions erected by the Iranian regime on its film industry, the film's director, Asghar Farhadi, has created an impressive film. By placing a sharp lens on various tensions in Iranian society, he reveals the inescapable moral aspect of all human interaction. Instead of appealing to the exclusive lessons of one particular community, Farhadi shows us Iranian lives up close in order to illustrate what is common to us all.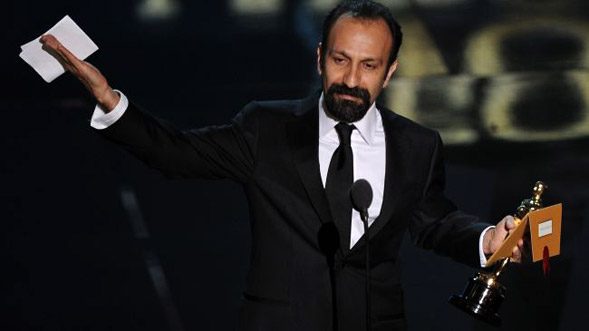 Farhadi's sincere acceptance speech underlined this and was a call to open up our understanding of other cultures and societies, not to dwell on an insular "we": "At this time, many Iranians all over the world are watching us and I imagine them to be very happy. They are happy not just because of an important award or a film or filmmaker, but because at the time when talk of war, intimidation, and aggression is exchanged between politicians, the name of their country Iran is spoken here through her glorious culture, a rich and ancient culture that has been hidden under the heavy dust of politics. I proudly offer this award to the people of my country, a people who respect all cultures and civilizations and despise hostility and resentment."
There are of course lessons to be learned from Dante, Homer, Auden, and so on. They are immense cultural reservoirs. But we cannot and should not focus exclusively on them if we are, as Dreyfus and Kelly wish us, to "become receptive to a modern pantheon of gods."