Fuse Jazz Critic Steve Elman is currently surveying works that illuminate the tradition of the jazz-influenced piano concerto. His series began with an examination of Chick Corea's current recording, The Continents. In part two, he takes a look at eight works by jazz composers that precede the release of Corea's work. This post is a detailed examination of one of the works discussed in part two.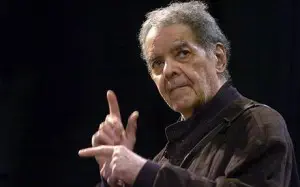 George Russell: Living Time
a. First version (1972) – Bill Evans, p & elec p; "George Russell Orchestra," a handpicked ensemble of New York-based musicians, including Stanton Davis & Richard Williams, tp; David Baker & Garnett Brown, tb; Jimmy Giuffre, cl; Sam Rivers & Joe Henderson, ts; Webster Lewis, org; Sam Brown, g; Eddie Gomez, b; Stanley Clarke & Ron Carter, e-b; Tony Williams & Marty Morell, dm; Marc Belair, per; Russell, cond [Rec. 1972, New York City; Columbia LP, 1972; Japanese Sony CD, 2010]
b. Second version (1995, adding full string section, supplemental brass, winds, and percussion, orchestrated by Pat Hollenbeck) – Living Time Orchestra (incl. Stuart Brooks, Stanton Davis, Tiger Okoshi, tp; Dave Bargeron, tb; Richard Henry, bass tb; Chris Biscoe, as; Andy Sheppard, ts, ss; Pete Hurt, bcl / ts / bari; Mike Walker, g; Brad Hatfield & Steve Lodder, kb; Bill Urmson, e-b; Billy Ward, dm; Pat Hollenbeck, per); with Paul-Christian Staicu, p; Cécile Daroux, fl; tuba, Frh, additional tp, additional tb, additional per, additional ts, 15 string players (Régis Huby, cmstr) drawn from Conservatoire national supérieure de musique et de danse de Paris, Conservatoire d'Aubervilliers, Conservatoire de Montreuil, & Orchestre de Picardie; George Russell, cond [Rec. 1995, Paris; Label Bleu CD, 1995]
The piece is divided into "events" rather than movements, in keeping with Russell's vertical form concept. The music is not intended to flow from point A to point B but rather to create a series of impressions that make a whole when they all have been explored.
Length of 1972 version: c. 37 minutes
The CD reissue of the 1972 "Living Time" offers much detail that couldn't be heard on the LP version. The pianissimo sections are particularly helped, and now seem much more than just atmosphere. My first impressions of the piece back in the 1970s were of how varied and diverse it seemed; now I hear how carefully knit together it is, how thematic material appears and reappears, and how sensitive Bill Evans is to every ebb and flow in the music. In this listening, I was also struck by the beads-on-tuned-drums in Event I, an effect that George used in "Jazz in the Space Age," where he played the percussion part himself. It sounds so much like the older performance that I wonder if George actually is playing the part himself. If so, this would represent his last recording as a performer. If not, Marc Belair gets the effect just right.
Soloists:
Event I – Jimmy Giuffre, cl; George Russell or Marc Belair, beads on tuned drums
Event II – Bill Evans, e-p / p; Eddie Gomez, b; Stanley Clarke, e-b; Sam Rivers, ts
Event III – Bill Evans, p; Stanton Davis, tp; Ted Saunders, clav; Webster Lewis, e-p; Marc Belair, gong & tymp
Event IV – Bill Evans, p; Webster Lewis, org
Event V – Bill Evans, p / e-p; Jimmy Giuffre, cl; Sam Rivers, fl; Webster Lewis, org; Eddie Gomez, b (arco solo); Dave Baker & Garnett Brown, tb; Richard Williams?, tp (solo in mute); Ron Carter, e-b; Joe Henderson, ts
Event VI – Bill Evans, p; Stanton Davis, tp
Event VII – Bill Evans, p; Ted Saunders, clav; Tony Williams & Marty Morell, dm (there are two trap kits; Morell plays straight time and Williams improvises freely)
Event VIII – Jimmy Giuffre, Sam Rivers, Joe Henderson, ts; Tony Williams, dm
Length of 1995 version: c. 48 min
We can assume that the 1995 mix, supervised by Russell, is how he wanted the piece to sound. It is much more expansive (less compressed, I suspect) than the Columbia version, which was produced by Helen Keane. This helps especially in the denser sections.
As for the music itself, the last three Events are slightly expanded, and the changes are particularly noticeable in the last Event.
Also, there are new parts throughout for 15 strings and 6 additional winds, horns and percussion, played by conservatory players from four different French orchestras. These parts are orchestrated by Pat Hollenbeck, according to the notes, but I suspect that Pat had something to do with the composition as well. Pat became one of the pillars of Russell's music, from the mid-1990s until his death. The way he integrates the additional instruments here is masterful. They add wonderful richness to the pianissimo sections.
Classical flutist Cécile Daroux has a beautiful spot in Event I, where Jimmy Giuffre had a clarinet feature in the original.
All the original Bill Evans solo spots for acoustic piano are taken by Paul-Christian Staicu, except one (Steve Lodder plays the part in Event IV). Staicu is a classically-trained pianist from the Conservatoire national supérieure de musique et de danse de Paris, and he gets Bill's parts right without imitating him, which is saying something. The electric keyboard parts that Bill originally played are given to Brad Hatfield.
One thing about Staicu's playing that I prefer to Evans's – his heartbreakingly beautiful interpretation of the principal theme in Event VIII, which I think is an expansion by Russell on the original score. Here Staicu's classical training and touch is shown off to great advantage – and his strong statement at the start really makes the last Event cohere brilliantly. For me, this Event has a much greater impact than it did in the first recording.
Event I – Cécile Daroux, fl; Pat Hollenbeck, mar
Event II – Paul-Christian Staicu, p; Brad Hatfield, e-p; Andy Sheppard, ts
Event III – Paul-Christian Staicu, p
Event IV – Brad Hatfield, org; Steve Lodder, p; Andy Sheppard, ts; Stanton Davis, tp
Event V – Paul-Christian Staicu, p; Brad Hatfield, e-p; Stanton Davis, tp;
Dave Bargeron, tb (solo played w. plunger; breaks played open); Mike Walker, g;Andy Sheppard, ss; Bill Urmson, e-b
Event VI – Paul-Christian Staicu, p; Stanton Davis, tp; Mike Walker, g
Event VII – Paul-Christian Staicu, p; Billy Ward, dm
Event VIII – Paul-Christian Staicu, p; Andy Sheppard, ts