Fuse Jazz Critic Steve Elman is currently surveying works that illuminate the tradition of the jazz-influenced piano concerto. His series began with an examination of Chick Corea's current recording, The Continents. In part two, he takes a look at eight works by jazz composers that precede the release of Corea's work. This post is a detailed examination of one of the works discussed in part two.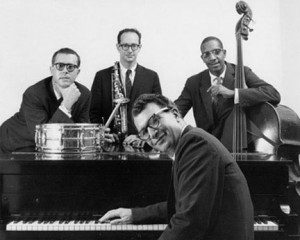 Dave Brubeck (ed. Rayburn Wright): Elementals (1963) – Brubeck, p; Paul Desmond, as; Eugene Wright, b; Joe Morello, dm; studio orchestra of unidentified New York-based musicians; Rayburn Wright, cond [Rec. 12/12/63, New York City; Columbia LP, 1964; re-issued on Columbia / Legacy CD, c. 2004]
The opening moments are ambitiously atonal, with an ominous pizzicato from strings, maybe to scare away the faint of heart. But the piece soon settles into a modal feel in 3/4 time, a sort of promenade before the main theme is introduced and the solos get underway. The mode Brubeck chooses suggests medieval music, even a hint of an ancient carol like "God Rest Ye Merry, Gentlemen." There is also a Frenchness to the piece right away, something of Couperin, or Bach in a French mood, dressed up in Stravinskyish orchestral colors. Solos come along, and there's a very nice one by Desmond over oboe and strings. Brubeck's two solos in this part remind us that this is one of the "time" albums; he uses something that has become familiar in his arsenal, playing in a rocking 4/4 over the underlying 3.
There's a big Kentonish flourish, and the piece moves to an orchestral reworking of the original theme, with 6/8 sections alternating with swinging 4. This second part of the piece has solos from Desmond and Brubeck, but the centerpiece is a Joe Morello drum solo in 6/8 over cowbell and orchestral percussion. Logically, this might have moved right to a big finish, but room has to be made for a Eugene Wright bass solo, which is almost drowned out by the orchestra. Maybe Wright's spot should have been in the more delicate first part.
An obvious edit takes us into the last section, with some dense polytonal stuff for orchestra, the return of a couple of big chords from the start of the piece, and a final pianistic swoop from Brubeck and orchestra together.