By Bill Marx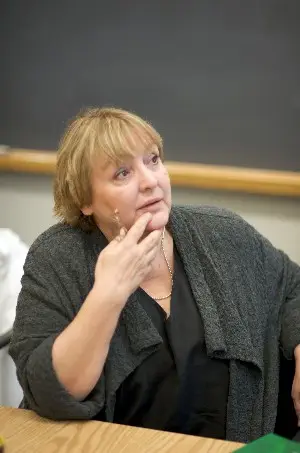 Novelist and critic Dubravka Ugresic
On this week's World Books podcast I talk to novelist and cultural critic Dubravka Ugresic about her latest volume of trenchant essays and commentaries, "Nobody's Home" (Translated from the Croatian by Ellen Elias-Bursac). My conversation with Ugresic circles around her contention that, despite European enthusiasm for culture, the word is becoming "a catch-all and nothing, a field for manipulation." For her, political, economic, and technological pressures are melting down old categories and cultural values – nobody knows what will be taking their place.
The pieces in "Nobody's Home" are more diagnostic than prescriptive, examining, among other topcis, the plight of public intellectuals, the increasingly fluid nature of identity in the age of globalization and the rising power of youth culture. Prepare to be unsettled. In her author's note, Ugresic warns readers that "this book breaks the rules of good behavior, because it bickers."
Ugresic left the former Yugoslavia in 1993, as her homeland was torn apart by war and ethnic cleansing. During the previous decade she had already begun publishing fiction and essays, but with her move to Amsterdam she found a more appreciative audience in English. Part of the reason for Ugresic's notoriety is her wryly spiky sensibility. Her essay collection "Thank You for Not Reading" deals with the global dumbing down of literary culture. Her most recent novel, "The Ministry of Pain," trains a refreshingly anti-romantic eye at the trauma of exile and the mixed blessings of teaching. "Nobody's Home" is the first volume from Open Letter, a new press at the University of Rochester dedicated to publishing books in translation. Ugresic's next book, BABA YAGA LAYS AN EGG, will be coming out from Grove Press next spring as part of its "Myths " series.