By Kate Vander Wiede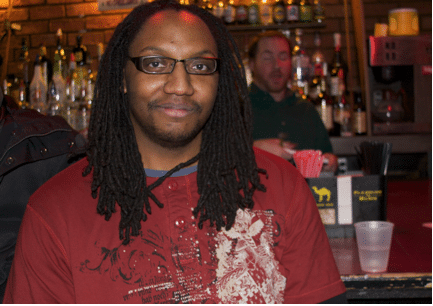 The Cantab, as the regulars called The Cantab Lounge, is like a quirky not-quite-speakeasy complete with a narrow stairwell leading below street level and smoke-perfumed attendees. This night, bass chords shake the ceiling, courtesy of the band headlining one floor up. Dim lights hardly illuminate the cramped room, which is lined with folding chairs. The room is packed, full of twenty-somethings who are all waiting for this poetry slam's feature act: Leslie McIntosh.
Since they first began in a lone Chicago jazz club in the '80s, poetry slams have been a form of live theater, the versifiers infusing their art with feeling and attitude, performing for an audience that then judges their "act." As the decades passed, slam poetry spread around the country, popping up in towns like Denver, Boston, and Philly, where youth and college teams now practice and compete at local in preparation for national competitions like the National Poetry Slam (NPS) and the College Union Poetry Slam Invitational (CUPSI).
It was at CUPSI 2006 that Simone Beaubien, the SlamMaster at the Cantab Lounge and some other Boston versifiers were blown away by poet Leslie McIntosh's performance. Three years later on Dec. 30, 2009, these poets convinced McIntosh to travel from New York and take the stage at The Cantab Lounge's weekly poetry slam in Boston.
Even after the audience greets him with a huge cheer, McIntosh still looks uncomfortable in front of such a large group and says as much. His voice wavers as he introduces himself, and his hands visibly shake as holds his first poem at arm's length.
This nervousness is nothing new. Naturally quiet and soft-spoken, McIntosh says for years he felt too scared and unprepared to be one of the individuals onstage and opted to sit in the audience. Nevertheless, he was inspired, especially by the poets at the NPS: "It was life altering to see these people take their words and give them a life that exists so separately from the page."
Since mustering up the confidence to join a team of poets and formally introducing himself to the slam world at CUPSI 2006, McIntosh says verse has stayed with him. "I've been living my life in/through poetry in one way or another ever since."
At The Cantab, McIntosh shows this passion on stage. The audience breathes a sigh of happiness at his first line. "When we first met," he says softly, "I told you my pelvis was the road map to Atlantis." A few more lines and some small stumbles in, McIntosh hits his stride. The nervous facade drops away, and a passionate, strong performer appears.
Later, he tells me how he doesn't choreograph his poems like some poets. Instead, he connects with the emotion he felt when first writing it. "There's always a feeling at the root. I try to tap that and fall into it completely . . . I never really know exactly what's gonna happen each time I do the poem." This emotion McIntosh recalls is felt deeply by the audience as he performs at The Cantab.
It is clear that McIntosh can genuinely woo an audience. His voice rises and falls in intensity; his anger becomes the audience's anger. His quiet words, in turn, calm the crowd. Nevertheless, he has what he calls a "performative clunkiness," which is seen as he drifts between reading from printed pages, notebooks and lined sheets before pulling out an iPhone for his last two poems.
This iPhone is a seemingly anachronistic reminder that slam poetry has stepped firmly into the 21st century since its humble beginnings. In recent years, though, the art of the "spoken word" has expanded beyond physical audiences and into the virtual reality of online social networks.
Beaubien, who as SlamMaster has helped to run and manage The Cantab's poetry events since 2004, tells me that the poets she knows are just like everyone else in their use of social networks. They "use MySpace for gig schedules, LiveJournal for feedback and tour blogs, and FaceBook for day-to-day communication, including quick crits on the text of new poems." In addition, she says poets pass around YouTube clips to criticize or use as inspiration.
There is also poetryslam.com. Launched in 2007 by the non-profit organization Poetry Slam, Inc., this site is an attempt to provide a one-stop shop for all things slam poetry. In addition to highlighting slam news and events listings, poetryslam.com also has a forum where people can converse on subjects ranging from how to start a regular slam in their home city to the pros and cons of slam poetry use in national advertising campaigns.
Poets use networks to stay connected, Beaubien says, but many first meet face-to-face at the national competitions where poets famous in the slam world and new poets like McIntosh perform.
At The Cantab, McIntosh runs through a gauntlet of topics in his nine-poem set, from racism and break-ins to identity, love, first impressions, couples who practice PDA on the subway, retail jobs, Daria, jealousy, love, waterboarding, and the frustrating value of hindsight.
Dramatic lines yield gasps and snaps from the audience ("I would be gracious enough to visit it upon your mother. I would say them to her the most filthy of sins was being pro-life"), clever metaphors draw laughs and claps, and others leave the audience breathless ("Make them take a number, Make sure they don't know how to count").
Other highlights include:
The experience of a break-in: The shot gun watches on with explosive interest.
They promised they would not make love to me tonight.

Retail jobs: Had I known that on that day, I would be taunted by angels, greeted by demons, tempted by murder and suicide, I probably would have called out of work sick . . .

An ode to MTV's Daria: Let's build an unremarkable home in the suburbs where we can go to be maladjusted together . . .

Love and losing ourselves: I never told anybody that my body wasn't always my body. Who would believe me? That a vessel this vast could be a ghost ship?
Almost everything McIntosh performs at The Cantab Lounge is autobiographical, but it wasn't always this way. McIntosh says when he first began writing poems he would write about others who had similar stories and lives.
"This was an enormous help for me at the time. Sometimes, the world is so big, beautiful, and horrifying you need to talk about it from the safe distance that another person's life gives you." Today McIntosh asks himself questions by "taking apart and re-assembling the building blocks of who and what I am." McIntosh understands that he's asking some unwieldy questions, but says that whether or not he finds simple answers, "there's an indelible, invaluable amount of discovery that comes from just the 'asking.'"
It's this kind of simple honesty and openness that gains McIntosh a respect beyond his ability to weave eloquent verse. People at The Cantab Lounge enthusiastically lined up to speak with him at the end of the reading. McIntosh graciously took time with each aspiring poet, each person who was touched or inspired by his words.
When I ask what's in his future, McIntosh discusses the Masters of Fine Arts he is working on in New York City (which fittingly has him "writing poems, reading poems, critiquing other peoples' poems, and generally writing about poetry"). His stint as a social worker also sparked his interest in promoting literacy and the arts for at-risk youths. "There are so many different ways to touch lives and help people besides just poetry. I believe that a lot of the true 'life changing' is done behind the scenes as well as from behind the mic."
While he doesn't rule out more performances in the future, McIntosh is focused on continuing to immerse himself in writing verse, meeting other poets, and helping others. "My poetry will continue to be my way to process and navigate the existence I find myself in," McIntosh says. "I'm not sure what I'll do with it, but it will definitely always be with me, and I'm always open to meet and share with people who feel that tug in their gut as well."
=====================================
The Cantab Lounge (738 Massachusetts Ave., Cambridge) hosts open mics, featured performers and poetry slams every Wednesday night for $3, unless otherwise noted on their website. Check for more information on dates and times here.
If you're interested in witnessing poetry slam performances for yourself, McIntosh says one of the best places to start is at CUPSI 2010, which takes place at Emerson College April 7-10.