More pithy reviews of Boston Jewish Film Festival fare, including some reflections on entries in the Short Films Competition.
By Joann Green Breuer.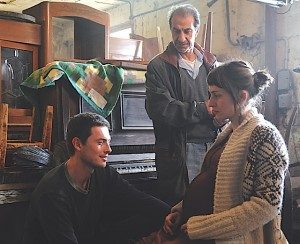 "Neighbors Near and Far" is this year's cut line for the 23rd Boston Jewish Film Festival (BJFF). Congratulations are certainly due for its longevity and general quality, along with sympathy for its effort to come up with a new cut line, even if it makes more politically correct sense than it does semantic sense.
I will offer an overview of a selection of the festival fare so far, including the Short Film Series. My comments will be brusque, partly because the BJFF no longer supplies a program with attributions to artistic contributors to the films: casts, designers, editors, etc. Financial contributors to the festival, however, are clearly listed.
Restoration, directed by Joseph Madony, is the inaccurate renaming of the Israeli film Good Morning, Mr. Fidelman. Yaakov Fidelman may be in the (failing) business of restoring furniture, but his life, and the lives of others in these carefully delineated character portraits, cannot be restored. They never were. They need construction and connection.
It has not been a good morning for the stolidly sullen Mr. Fidelman (Sasson Gabai). His business partner has died, suddenly, in flagrante. Yaakov is more alone than ever and more aware of it than ever. His wife died long ago, his son, Noah, is alienated from him, on both personal and practical levels. Moreover, Noah was very close to Yaakov's deceased partner, was regarded by him as a son, even to the point of betraying his own father's battered dreams, futile as they might be.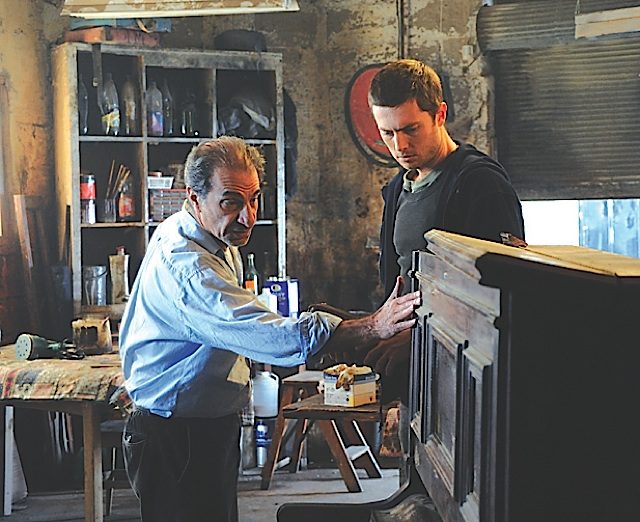 Into Yaakov's void dashes Anton, a young, handsome, and mysterious stranger, about whom neither audience nor other characters learn much but whose initial appeal is irresistible, and that seems to suffice as compensations both for uninterested son and for Noah's pregnant wife. Anton may be homeless, munching stolen apples for breakfast, but he has talent to match his looks and streaks of kindness and competence at just the right moments. Meanwhile, Yaakov's debts are out of control. Bleakness is present and daunting.
Yet, there is magic in this movie. And, if one ignores the inevitable questions with which one leaves the theater (who is this Anton, anyway?), the magic works.
It works partly because the cast are so true to character, because family relationships are painfully fragile, but primarily because Madmony has achieved a brilliant job of blending sound to situation. The film is awash with ambient tones, traffic, birds, incomprehensible passerby comments, and a sidewalk string quartet of old men in delicate contrast and sweet consonance with the neighborhood. Sound and music blend into each other, mood and measure of so much left unspoken.
In meditative modes, the traffic mutates to a deeply melodic cello. In the more hopeful moments, a piano's allegro brightens the dusky air. When the possible deus ex machina is an antique Steinway, the contour of the film makes masterful sense. It's all about finding music within dissonance, first in an insufficiently wound Victrola, then in repairing the cracked frame of that rare, still upright, Steinway, and finally in the voice and cry of children. Restoration remains incomplete only in what really barely matters. Good morning, Mr. Fidelman. Good work, Mr. Madmony.
Prima Primavera, an American premiere, offers diminutive evidence that the preposterous can yield delight. This Hungarian buddy movie, directed by Janos Edelenyi, makes charming use of countryside and its symphony of singing birds. A pair of unlikely outlaws find a peripatetic partnership in the woods. Gentleness supercedes felony murder, and a hearty meal is the reward for every misstep.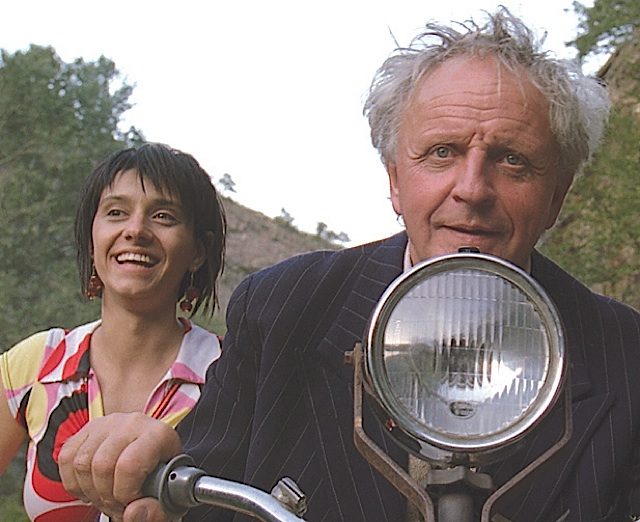 Gabor (Andor Lukas), an old man with the intellect of a child and the skills of an artistic eagle scout, and Jolie (Vesela Kazakov), young female abettor of crime, are pursued by police and criminal (Antoine Kamerling) for different reasons but with similar urgency. To grandmother's house they go, Jolie in red high heels as a dissipated Riding Hood, Gabor, holding a crystal chandelier aloft, acting the dignified Diogenes in a postwar world. They discover crumbling ruins, but their innocence is all. Optimism sustains consistent motivation. Morality is the map, however faintly perceptible.
The tale is as incredible as trotting though woods in Manolo Blahniks can be. Yet, as in all fairy tales, we enjoy accompanying the good guys and wishing the witch/warlock his (in this instance) blond, malevolent comeuppance. The technicolor is bright and cheery, the music always upbeat in tune. Even the bugs and bees are harmless dancers. Gabor's sketches are detailed and accurate, his sense of direction and character impeccable, his propriety solid. Jolie, if not the whore with the heart of gold, is at least the tart with the tender crust.
No fair-minded mythmaker would dare disappoint his flock. Not to give anything away, but I'll let it be known that Edelnyi loves his credulous audience as much as he does his improbable duo.
Another sort of fairy tale knots the plot of My Best Enemy, an Austrian confection directed by Wolfgang Luxembourg. Art hangs on the walls, identities hang by a thread, and thereby hangs the tale. This is a holocaust story with a willful blind eye to horror even as it celebrates the value of artistic vision. Sometimes one demands that art, even movies, reveal truth, but sometime one indulges in an art that is a temporary and reassuring diversion from truth. The latter is the role devised for this well-scrubbed, comfortably predictable script.
Herr Kaufmann is the wealthy, Viennese, Jewish gallery owner with undependable connections, a mania for aphorisms, and an unquestioned masterpiece. Rudi Smekal (Georg Friedrich) is the son of his deceased, non-Jewish housekeeper now returned to Vienna with bitter resentment about social class and a misguided regard for burgeoning Nazi power. Rudi and Kaufmann's son, Victor (the name gives the game away if one did not already sense it) will cross paths, fists, and fates in a series of twists of events and uniforms, almost too many twists.
This is certainly nowhere near the genius of the Charlie Chaplin farce The Great Dictator or the vulgarity of TV's (canned) laugh-a-minute Hogan's Heroes. As a playful narrative, it is infinitely more digestible than the poisonous, Academy Award nominee, Life is Beautiful. This Jew's amusingly improbable survival tactics are harmless, clever, so obviously apparent to anyone but those gullible Nazis that a viewer can relax in the fiction, fully aware that it is fiction. Fun with Nazis can be a justifiable pastime for some.
The film is constructed as a framed flashback. Two lives emerge from a downed and flaming plane. Immediately we know that the hero's injury is so minor, so actor-ish, that we need not brace ourselves against historical distress. Somehow, all that needs to be will be well, or well enough. It is. Victor, just as he had emerged from that plane with mere scratches, emerges from death camps sturdy, plump, and with a dandy haircut. When he redresses wrongs by redressing, the clothes are a perfect fit, cleaned and pressed to boot. Besides, the shoe fits.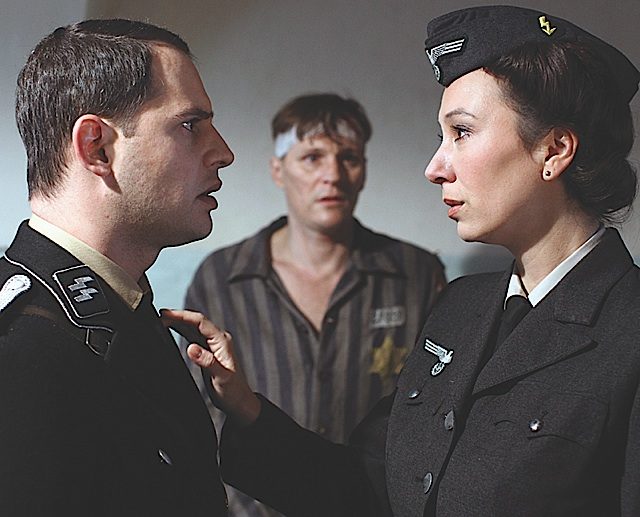 If one feels better watching the brave Jew out smart the villainous Nazi, this film is reasonable medicine. It may even be recommended for historical hypochondria. For subsequent integrity, however, I suggest a turn to the reflective, restorative foundation: Facing History and Ourselves.
Ahh, the French. Director Jennifer Devoldere devises a family of random quirkiness aplenty in her inconsistently toned film The Day I Saw Your Heart (Et Soudain Tout Le Monde Me Manque). Late middle-aged Eli Dhrey (Michel Blanc), his younger, by maybe 20 years, third wife, his two daughters by previous wives, a slew of abandoned boyfriends of the younger daughter (Melanie Laurent), and one present beau of hers try to make connections that alternately spark and short out. Justine, the younger sister, is an x-ray technician with a good diagnostic and artistic eye, if little vision of self awareness. Her older half-sister is unable to conceive a child, all those old beaux work for the sisters' dad, and dad finds the game of golf more satisfying than the fact of fatherhood.
The film's center skews awkwardly from Justine's vague lifestyle (she is sleeping on her half sister's sofa), that half-sister's adoption process, and their father's alternate odd communication and lack of it with them and with his present, pregnant wife. He is the Jewish character of the film, hence its inclusion in this festival. His Jewish-ness is introduced as a cultural joke, which turns unfunny indeed, mirroring the errant path of much of the film.
Each of the actors is competently committed to character, sometimes amusingly so, but the personalities themselves seem to exist solely for the awkwardly contrived situations within which they playfully and peculiarly contend.
---
Seven films comprise the BJFF Short Films Competition, judgment to be rendered by audience members who manage to sit through all these mostly elementary efforts at cinematic art.
The Academy Awards sets a 40 minute limit on short films for that annual statuette. The BJFF sets its time limit at half that length. Entries here need to be more poem than short story: imagery equals message.
Because brevity matters in BJFF ratings, I will concur with mine.
The Bris, from Australia, a first film by stage director/actor CJ Johnson is his adaptation of Eileen Pollack's short story of the same name. An old, dying Dad reveals that he is not Jewish by birth but, having married a Jew and lived his life as a devoted believer, he wants a deathbed conversion and circumcision. Rabbi and Mohel decline. It's up to his caring son. Leaving aside the old fashioned, blustery performance of the Rabbi, one must ponder the character's narrow, inhumane philosophy, which Johnson passes off as humor. Who is a Jew is a serious question.
Kosher, a 10-minute wordless work directed with loving focus by France's Isabelle Stead, centers on a young, Orthodox boy, a neighborhood outcast donning cartoonish spectacles, until a grunting pig wanders into his path and life. All the children are screen magnets, with the Orthodox boy's appeal singularly irresistible. However, once again one wonders what the heck the filmmaker is saying about Judaism when the father rejects the pet, the boy rejects the kippah, and then the kids come round.
David and Goliath, starring Grim the Dog, is the true story of David Bako (1913–2005), saved from Nazi pursuit by curling up in a German shepherd's dog house. The emotions, from fierce to friendly, of the dog are marvelously manifest. Here is surefire proof that it is the director far more than the actor who creates the film's mood. The movie concludes with snippets of an interview with the real Bako, whose relatives were part of the production team. Despite a somewhat clichéd opening chase sequence, these are 12 worthy cinematic minutes.
From Spain, Alejo Moreno brings her dark and unrealized version of the Granada fable, La Higuera (The Fig Tree). The glowing, golden figs benefit mightily from modern technology, but whatever the old woman, the child, or the story is saying, despite the stab at an explanation in the opening narration, remains an unstated and uninteresting mystery.
Grandpa Looked Like William Powell has been shown often before several Coolidge Corner Theatre feature films. I assume it is a favorite of the BJFF, and, indeed it is a favorite of mine among the competition. Penciled messages of an old autograph book are overlaid with stick figure drawings, matching the naivete of yesteryear with both insouciance and touches of randy implication. No conclusion here, no pretensions either, but these four minutes charmingly display the honesty of a grandson's quizzical admiration.
Starring David (David de Ster), directed by Netherlands's Ester Gould, eavesdrops on the 13-year-old son of an ethnic Chinese mother and a Dutch Jewish father at the time this delightful boy becomes halach-ily Jewish.
David's blend of reverence and irreverence may well be elegant improvisation. It's hard to believe that any adult could come up with David's endearingly pre-adolescent retorts and attempts at reasoning. The film becomes more than one boy's bar mitzvah and conversion lessons. Gould shoots segments of the film through double exposure of sky and cloud. She attempts to universalize David's religious growth and despite or because of David's unique heritage and temperament she pretty much does just that.
The final entry is Petra Luschow's The Little Nazi, a German farce with fangs. It's Christmas. Grandma and grandson are dressing the tree with baubles left over from the Nazi era of the 1930's and 40's. Guess what passes for decoration . . . They await a visitor from Israel. Generations later there are those who truly learned, those who never learned, and those who have not yet learned.
This fiction film offers the best acting of the evening; by itself it justifies the evening.