Next Fall is so anxious not to polarize or offend that it ends up as little more than well meaning. Something serious seems to happening on stage, but for all intents and purposes the conflicts that make for genuine drama fall by the wayside.
Next Fall by Geoffrey Nauffts. Directed by Scott Edmiston. Staged by SpeakEasy Stage Company at the Boston Center for the Arts, Boston, MA, through October 15.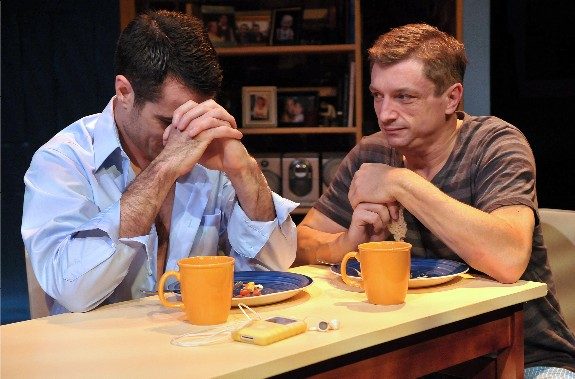 By Bill Marx
There's a type of dramedy that I call the "squeeze play," a sentimental hybrid of PSA and melodrama. A sympathetic but mistaken protagonist is led, via a mix of laughter, tears, and circumstance, to a foregone mature emotional realization the audience knows is coming from the beginning. Mainstream stage critics (The Boston Globe, The New York Times) adore this kind of earnest, tenderizing theater because the playwright usually stuffs in plenty of one-liners to make the sensitivity session relatively painless and palatable to all (aside from bigots).
Next Fall is a typical if at times irritatingly colorless version of the squeeze play. The unenlightened character prodded through his humanizing paces is Adam, an older gay man who falls for a younger guy, Luke, an evangelical Christian who prays after they have sex. Kevitch-y and anxious, Adam is a strong unbeliever, and even after he moves in with Luke he remains hostile, albeit generally humorously, to what he considers to be the hateful irrationality and political hypocrisy of his lover's religion. Meanwhile, Luke has not come out to his family, partly because of his fear about how his gruff, traditionalist father, Butch, will react. The point is made, often, that while the picky Adam should be grateful to have such a life-enhancing young lover, Luke may be endangering his soul by living the way he does.
Dramatist Geoffrey Nauffs doesn't take a chance by seriously testing the reasons for Adam's discomfort with Luke. None of the characters in the play have anything really bad to say about Luke, and why should they? Luke is one very reasonable evangelical: he may believe in the Rapture and pray at meals, but he is light years away from a Dominionist dreaming of a theological takeover of the American government. Luke is liberal in most of his political positions, doesn't work hard at converting those around him, and won't push Adam's hot buttons regarding the random horror of a meaningless universe. So live and let live, right?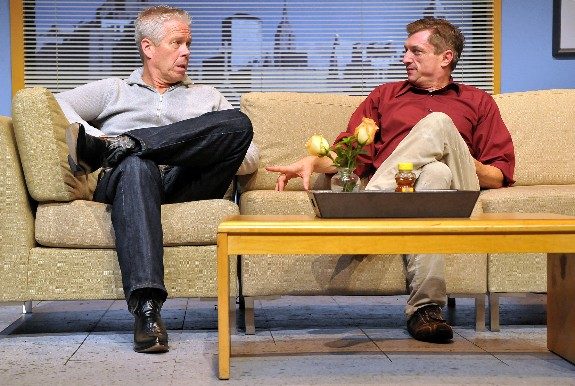 But life makes a complicating move: a car accident lands Luke on life support in a hospital (his past with Adam is conveyed through flashbacks). That brings in the commanding Butch, Arlene, Luke's chatty-to-the-max mother, Holly, friend and owner of a candle store (cue jokes about peddling candles), and Brandon, a rich, gay, Christian friend of Luke's who has chosen another way to deal with his sexuality. (By the way, why doesn't Luke's pastor or preacher appear? Didn't the guy go to church?) Adam steps into this volatile mix of personalities and beliefs, wanting to protect Luke's secret but also itching to assert his right to be close to his lover as he lies hovering between life and death.
With Luke comatose on a hospital bed, Nauffts assures the audience there will be no discomforting confrontations, no exchanges exploring the inhumanity of dogma or the narcissism of secularism—the focus is not on Luke but on whether Adam will learn empathy for all of God's creatures, no matter how benighted.
The SpeakEasy Stage production is careful, very aware of its duty to be fair to all sides: the carefulness of it all becomes cloying after awhile. It feels as if the performers are walking on eggs, aside from Robert Walsh as Butch, who comes on like the bull in an egg store. Director Scott Edmiston manages to move with skill from sitcom comedy bits to General Hospital tear-wringing, though Will McGarrahan is best as the Woody-Allenish Adam, cracking defensive jokes about getting old and bad wardrobe choices. He's less adept at pulling off blossoming humanity. As Luke, Dan Roach supplies the requisite nice guy; Kevin Kaine can't do much with the underwritten role of Brandon, Ameila Broome skirts good-old-gal caricature as Arlene; and Deb Martin is solid as the ever-understanding best friend.
Next Fall is so anxious not to polarize or offend that it ends up as no more than well meaning. Lessons in toleration are learned, so it seems as if something serious is happening on stage, but for all intents and purposes the conflicts that make for genuine drama fall by the wayside.
---
Bill Marx is the editor-in-chief of The Arts Fuse. For over three decades, he has written about arts and culture for print, broadcast, and online. He has regularly reviewed theater for National Public Radio Station WBUR and The Boston Globe. He created and edited WBUR Online Arts, a cultural webzine that in 2004 won an Online Journalism Award for Specialty Journalism. In 2007 he created The Arts Fuse, an online magazine dedicated to covering arts and culture in Boston and throughout New England.